Have you ever dealt with equipment leasing companies before?
If not, then it is high time to start doing so.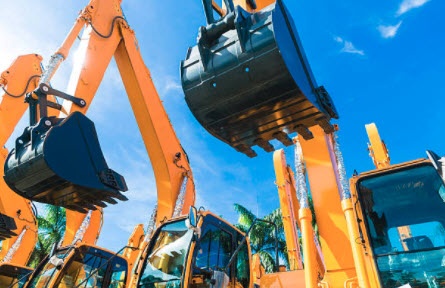 Regardless of the size of your business, it's recommended to help you save your capital and minimize your expenses without sacrificing your productivity. This can be done by establishing a partnership with equipment leasing companies.
But with so much at stake, it is vital that you choose the right company that can help you achieve your success.
To help you choose the best financial partner for your business, here are 10 important questions to ask when shopping for equipment leasing companies.
Learn More About Equipment Leasing Companies
Before you develop a business partnership, you will need to equip yourself with the knowledge to help you make the right decisions.
A business owner should never venture into something completely unfamiliar… in order to minimize the risks.
So how exactly can equipment leasing companies help you?
Before we dive into the questions, let's first talk about what are equipment leasing companies.
What Are Equipment Leasing Companies
Equipment leasing companies are non-banking finance firms that aim to give financial support to different types of businesses. The financial support given by these companies help businesses lease, finance, or rent equipment.
However, the financial aid provided by the leasing company is commonly used to lease equipment.
Once a borrower decides to lease, an agreement will be created. The agreement will grant the lessee the right to right to lease the equipment in exchange for a certain amount of money.
Usually, the lessee will have to pay a certain amount every month in order to continue using the borrowed equipment.
Just like traditional lenders or banks, equipment leasing companies give their clients different options. The two types of leases often offered are:
Operating lease

. This is the best option for short-term equipment leases. Typically 36 months. The lessee could cancel the agreement

but it should be done with a prior notice. This option is also known as the open-end lease agreement with a fair market value buy out.

Finance lease. This is also known as the capital lease and is the complete opposite of the operating lease. The finance lease is usually set up as a long-term arrangement where in the lessee is required to pay the lease until the end date of the contract. Some equipment leasing companies will allow you to buy out early and give you a 4-6% discount off the remaining balance. If you find the right financial partner they may allow you to pay off early and only pay the remaining principal left on the lease. This type of agreement is generally only obtained by businesses with 3 or more years in business and are profitable.
10 Questions To Ask When Shopping For Equipment Leasing Companies
Business owners need to save capital and minimize their expenses without sacrificing the productivity or efficiency of their business.
Choosing to lease rather than buy equipment can help your business' budget remain sufficient for a long period of time. Another main advantage of leasing equipment is having the capability to upgrade or replace the equipment without spending a large amount of money.
However, you can't get the best of leasing equipment if you form a partnership with the wrong leasing company.
To avoid this, here are the 10 questions to ask before dealing with an equipment leasing company:
1. How knowledgeable is the company with the equipment you want to lease?
The best equipment leasing company for your business should have an idea of the equipment that you're going to lease. You have to make sure that the leasing company is familiar with your desired equipment before you sign an agreement.
A company that has an expertise in a specific field can help you choose the equipment that's most suitable for your business. Aside from that, their expertise can help you save money because they can suggest possible solutions or fixes every time you need to repair or upgrade equipment.
The equipment leasing company that specializes in the equipment you'd like to purchase will generally offer the most competitive rates and most flexible terms.
2. How do the equipment leasing representatives approach customers?
It's always best to have a financial partner that knows how to treat their clients. Pay attention to how they approach you during your first inquiry or meeting with them.
An equipment leasing company with friendly and professional employees are the right financial partners. They will treat you as a business partner, instead of simply a client. They will have your best interests at heart and give you various options to help you operate your business.
3. What are my payment options?
When you're searching for an equipment leasing company, look for those that are offering a number of payment options.
If your business depends on seasonal income, opt for companies that will allow you to skip payments during slow months. It's advisable to look for equipment leasing companies that offer deferred payment equipment leases or any kind of solution that will help you deal with limited cash flow.
If you're cash rich. A step-down lease will benefit you more because your total out of pocket cost will go down drastically by budgeting to pay the lease off sooner than later.
4. Can I negotiate equipment leasing prices?
The better equipment leasing company allows you to negotiate the monthly payment or helps you redue the price of the equipment. If the lessor is too tight with their terms, then walk out and find a better deal.
Look for the equipment leasing companies that will let you sign a long-term equipment lease with low monthly payments to reduce your monthly expenses.
However, you should be willing to downgrade your equipment preferences a bit.
5. What is your company's policy if something breaks?
Your lease agreement with the company should also have terms regarding repairs and maintenance of the leased equipment.
It's advisable to look for the company's policy regarding this issue and see if they will fix the equipment in a timely manner.
During your discussion or negotiation of the lease agreement, ask the leasing the company how fast will a representative respond if an equipment breaks down.
Most equipment leasing companies will leave repairs and maintenance up to the lessee unless the lessor has a partnerhips with the manufacturer selling the equipment.
6. Do you offer TRAC Leases?
If you're leasing equipment that doesn't require replacement for a long period of time, then ask the leasing company about TRAC leases.
The terminal rental adjustment clause lease (TRAC lease) is an option to buy the equipment from the lessor at a reasonable price once the lease agreement ends. Many businesses that operate with heavy types of machinery such as forklifts or trucks demand this option.
You can save a lot of money if your equipment leasing company allows TRAC leases.
This will give you the right to use the leased equipment as long as you want or as long as it works.
7. Are there any tax benefits to leasing equipment instead of purchasing?
The benefits will be based on how you're setting up your agreements.
A Fair Market Value (FMV) lease is a common lease that typically provides low monthly payments and grants significant flexibility when the lease ends. Business owners that choose a FMV lease agreement will be able to write off all of their payments off their taxable income.
When you opt for a $1 Purchase Option lease instead, you'll get to "purchase" the equipment at the end of the lease for just $1. Compared to the FMV lease, the monthly payments will be higher, but you'll be able to utilize section 179 tax benefits just as you would if you paid cash.
8. Can you provide me a list of verifiable references?
Beware of equipment leasing companies that brag about the number of their satisfied clients but can't provide references.
To avoid the scams and red flags, ask for any contact information of their current and previous clients. They can help you determine if the company that you're dealing with is the right one.
You can also search the company's name on the internet and look for its reviews. A lot of people share their experience online and it could really help you make a decision. Check out Trust Capital reviews by Clicking Here.
9. Do you have records of their accreditations and government licensing?
Another way to ensure that you're dealing with a decent company is by checking the Better Business Bureau. The site will help you check if there are really no complaints or fishy-looking statements filed against the leasing company.
There are also other state-by-state financial regulatory agencies and financial licensing that can help you verify a leasing company's legitimacy. California is the only state that requires an equipment leasing company to have a lenders license to do equipment lease transactions in their state.
10. What information do you need about my business?
Ask for the information that the equipment leasing company will need from your business.
Expect them to ask for your business' basic financial information. Be ready to present documents such as a profit and loss statement, a balance sheet, credit references and bank statements to back up your application.
This is required in order to help them determine if your business is worthy enough to lease your company equipment. They also need the documents to guarantee that you can repay them in the agreed time span.
Final Thoughts On Choosing The Right Equipment Leasing Companies
An equipment leasing company is a non-banking finance firm that provides financial support for any type of businesses. The financial support that they give have many uses but usually, it's intended for leasing, replacing, or upgrading equipment.
There are usually two types of equipment leases that are offered: an operating lease and a finance lease ($1 buy out lease).
The support given by the equipment leasing companies can help your business in a lot of ways unless you made a partnership with the wrong ones. To help you determine if you're dealing with the right equipment leasing company, be sure to ask the questions we outlined in this blog post.
A wise business owner always tries to select the best option for their company.
If you want to know more about equipment leasing companies, call Trust Capital USA at (866) 458-4777.