When you're looking for tow truck leasing, it can be difficult for some businesses to get the funding they need to purchase or lease a tow truck. If you're a newer business, you may have noticed it's even more challenging to successfully apply for and receive outside leasing for a new tow truck.
Thankfully, it's not impossible to get funding in most situations, as long as you know where to look and what you can do.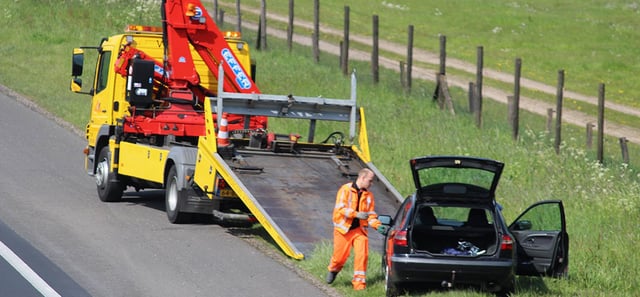 The first thing you need to consider, if you're just starting out, is what kind of tow truck business you want to run or the services you want to provide where a tow truck is necessary.
If you're already established, then you need to first ask yourself what your goals are for purchasing or upgrading a tow truck.
Try asking yourself some of these questions to get started:
Has your current tow truck run down and it's time for a new one?

Is this the first tow truck you're adding to your fleet?

Do you already have a truck but want to replace it for a newer a tow truck with more power?

Are you doing enough business and simply need more tow trucks available on the street?

What's the main service you are providing for your clients?
Understanding or re-evaluating what the roles are for buying a tow truck can help you to make better buying decisions, whether you're buying your first tow truck or trying to upgrade an existing fleet.
Below you'll find most of the common types of tow trucks that you can use tow truck leasing for, which will make your buying decision and capability even easier.
Common Types of Tow Trucks and Characteristics
Below you'll find some of the most common types of tow trucks and different characteristis that make a tow truck unique. Know that this is not a complete list of tow trucks, but are among the most common you'll see.
Boom. Somewhat like a crane, the "boom" allows the tow truck and operators to more effectively remove vehicles from troublesome areas, like a ditch. The boom is more regularly used for situations where standard towing strategies aren't an option. Each boom will have its own unique properties, such as fixed positions, a-frames, hydraulic powered components, and more.
Hook and Chain. Although it's older technology, the hook and chain is still used from time to time. The hook and chain works by snaking a set of chains around the vehicle's axle or frame, which then allows the tow truck to move the vehicle out of a ditch or other area where it gets stranded. However, the hook and chain is less common than before as it is known to cause more damage to vehicles than other towing options.
Wheel lift. As an evolution of previous tow truck technology (the hook-and-chain), the wheel-lift allows the tow truck to be fitted underneath the wheels of a vehicle (front or back) and "cradle them," while lifting the respective side of the vehicle off the ground. For heavier vehicles, there are modifications that can be made to allow the tow truck to lift the axle or frame of the vehicle instead. Knowing what type of vehicles you will be towing will make it easier to narrow your results as you search for trucks to use for tow truck leasing.
Integrated. For tow trucks and businesses that focus on specific roles (such as repossessing vehicles), an integrated tow truck combines different components (e.g., boom + wheel lift) to make the job easier, quicker and more efficient. Some tow trucks are efficient enough when integrated that the job can be completed without leaving the main cab of the truck.
Flatbed. The entire back of the truck is flat, but can be tilted to allow a vehicle to be "pulled up" onto the bed. Flatbeds are commonly used in situations where a vehicle is completely immobilized and can't be towed (such as with a wheel lift).
Lift flatbed. A lift flatbed is almost identical to a normal flatbed component, but the "lift" allows the tow truck to pick vehicles up vertically and place it onto the back of the tow truck. This is commonly used to remove vehicles that have parallel-parked.
Above are just the most common types of components you'll see on tow trucks, but with so many different needs out there and roles that a tow truck can fill, you'll likely find a variety of different components and features for tow trucks, as well as different configurations through integrated tow trucks.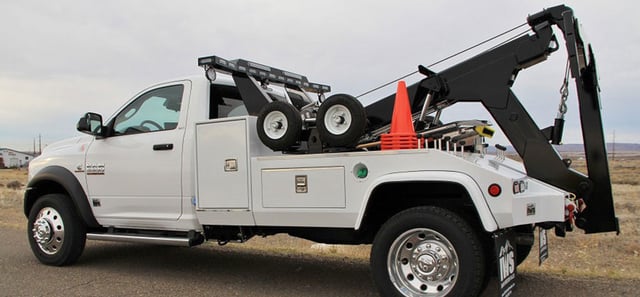 Special Roles for Tow Trucks
There are countless ways for a tow truck to be used. Below you'll find some of the common roles, as well as a few less common roles that a tow truck could be used for in special scenarios.
Emergency vehicle recovery. Accidents can happen anywhere and a tow truck can be the solution to many wrecks. If a vehicle gets stuck in a ditch, or if a crash causes your vehicle to be immobilized, a tow truck can help to recover it, take it off site and deliver it to a repair shop.
Specialty service delivery. Tow trucks can also be used to deliver specialty services to drivers, emergency personnel, and more. For example, a tow truck can deliver fuel to a vehicle, unlock a vehicle's doors, perform a jump start, or even make minor vehicular repairs on the spot.
High end vehicle delivery. For flatbeds especially, tow trucks don't need to be restricted to removing damaged vehicles and delivering them to a repair shop. A flatbed can also be used to deliver a high end vehicle to a new destination. For some automobile owners, keeping the car in good shape and making sure the total mileage is kept as low as possible is important to them.
Using Tow Truck Leasing to Purchase or Upgrade
Regardless of what role your tow truck needs to fill, or the specific services your tow truck related business provides, tow truck leasing can help businesses of all sizes capitalize on opportunities to start or grow their business.
Tow truck leasing allows you to skip the waiting game of having to build up enough funds to purchase a vehicle outright. With tow truck leasing you'll be able to start using any kind of tow truck you need, but stretch out its total cost and payments over a series of years.
Click here for a tow truck leasing calculator to calculate how much your tow truck leasing payments could be and how much of a tow truck you can afford to buy based on your monthly budget.
Where to get tow truck leasing
Tow truck leasing companies can offer the best choice on how you can finance your tow truck.
In fact, even the experienced tow truck owners will advise you to use tow truck loans because it can help you save a lot of money. Tow truck leasing companies will offer you to lease reliable trucks from trusted vendors.
If you are looking for tow truck financing companies that can offer you the best tow truck loan, look at companies like Trust Capital.
Trust Capital offers tow truck leasing with good credit. You can get a $150,000 worth of loan by just filling up a single page application on their website.
The best thing about their tow truck financing and leasing programs is that your application can be approved within 2-4 hours!
Their tow truck loan options are offered with flexible payment options such as no payments for 3 months or $99 for the first 6 months and they have better rates than banks for qualified borrowers.
Tow Truck Leasing Can Provide Huge Tax Savings
When you structure your tow truck lease on a $1 buy out lease agreement you get section 179 tax benefits. With the passage and signing into law of H.R.1, aka, The Tax Cuts and Jobs Act, the deduction limit for Section 179 increases to $1,000,000 for 2018 and beyond. The limit on tow truck purchases likewise has increased to $2.5 million.
Trust Capital can reccomend reputable tow truck vendors that have tow trucks for lease. Give Trust Capital a call to discuss your tow truck leasing needs at 866-458-4777 A tow truck leasing specialist can take your application over the phone.