Every city out there needs an auto repair shop, and if your city doesn't have one, that's a golden opportunity to jump on. Even if there's already an existing auto repair shop, there's still a great opportunity to capture a sizable portion of the market share in that area. Starting a business can be intimidating, but with a solid business plan, industry experience, auto repair equipment financing, superb marketing, and a few additional details, you'll be well on your way to starting an auto repair shop from the ground up.

Not only are you going to be providing a service to many people by offering auto repairs in a closer vicinity to them, but plenty of people will be willing to go the extra mile(s) to go to their favorite, trusted and reputable auto mechanic.

Today we'll explore the major steps you'll need to take in order to start an auto repair shop from the ground up, including creating a vision, making a business plan, securing auto repair equipment financing, and more.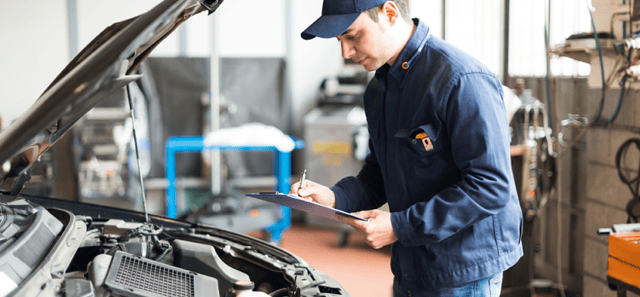 1.) Create the Vision for Your Auto Repair Shop

In order to have a successful business, you have to be able to envision what your auto repair shop is going to look like well before you even take the first tangible step. If you haven't already, take some time to consider what your auto repair shop will be in the long run.

Think about your 1 year, 5 year, 10 year plans (and beyond). What kind of services do you plan on offering? How large do you want your auto repair shop to be? What areas will you serve? How many people will you employ? What reputation do you want to have in your market? What name will you use? What do you want your branding to be? Identifying these goals will give you an idea about utilizing auto repair equipment financing and other long term loan options to ensure business success.

These are all questions that you'll need to figure out as you brainstorm what your auto repair shop will look like by the time you open your doors for the first time. This will also help you to stay true to your vision after you've launched and are looking to the future.
2.) Draft Up Your Auto Repair Business Plan

Before you jump into looking for auto repair equipment financing, you want to have a thorough business plan for your business. From yourself to your employees to investors, your business plan acts like a "map" that will showcase to anyone that reads it where you are planning on going with your business.

This is why it's important to have done some brainstorming prior to getting started. Now that you've spent time thinking about what your auto repair shop is going to look like, the business plan is what you'll use to articulate "how" you're going to create that vision.

● What services will you provide?
● Are you going to buy an existing shop or start completely from scratch?
● How many cars do you plan to service per day?
● What areas will you serve?
● Are you willing to travel or are you a stationary mechanic?
● What types of vehicles will you service?

These are just a few questions to help you get started. Your business plan should answer questions about your business, your plans for the future, how you will make money, what kind of outside funding you'll utilize (such as auto repair equipment financing), what you'll use that outside funding for, and more.
3.) Scout Out Locations for Your Auto Repair Shop

If you're starting completely from scratch, you'll need to scout out for properties that are for sale. These properties could either be existing buildings or an empty plot of land. Typically for an auto repair shop, you want to be as close to the city as possible, ideally within areas that get significant traffic in order to help with visibility of your brand as well as making it easier for your customers to get to you (or you to them).

If you're buying an existing property, make sure it has enough space for you to offer your services and/or has room for you to expand when the time is right. Particularly if you're planning on taking advantage of auto repair equipment financing, you'll want to make sure you have more than enough space to take on new equipment and use it to its full capacity.

If you're buying a plot of land, make sure to factor in both the costs of the land and the construction of the building itself. Starting a business isn't cheap and building from the ground up on top of other business costs will set you back even further.
4.) Research Required Auto Repair Tools & Equipment

If you're an experienced mechanic, then you already know what tools you'll need, and you may already have some of them. A lot of the same tools you trained with are the tools you'll utilize in your own business. But make sure to take extra time to research what other auto repair businesses are using so that you don't get caught without a basic tool that you need.

Auto repair equipment financing will allow you to acquire all of the equipment your mechanics will need.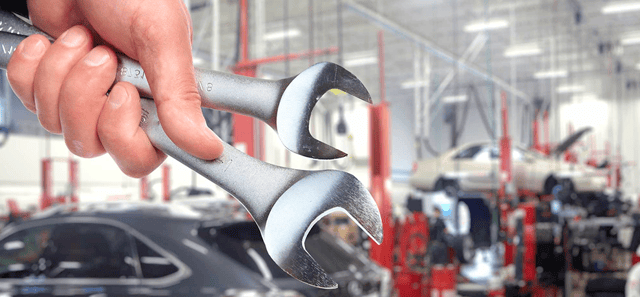 5.) Apply for Auto Repair Equipment Financing

Depending whether you're prepared or not. Getting funding might feel like the easiest or hardest part, especially for newer businesses. Whether you go to a bank or get outside funding (like auto repair equipment financing), knowing what your financial stats are and being prepared to get offered unattractive offers will help ease the process.

It's all about finding the right partner to help you fund your new venture. Whether you get an auto repair equipment loan from a bank or find an auto repair equipment financing company that specializes in new businesses, getting financed doesn't have to be the hardest part. Auto repair equipment financing is a great way to lower your startup costs while still ensuring you have all the equipment and tools necessary to help your business succeed.
Use our auto repair equipment financing calculator to calculate how much your auto repair equipment financing payments could be and how much auto repair equipment you can afford to buy based on your monthly budget.
6.) Acquire a Business License & Insurance

Before you can officially open your doors to the public, you'll have to be licensed and insured in your business. You can visit the business section of your local government's website in order to learn more about how to apply for and acquire a business license. Getting insurance will be your next "legal" step as it will help to protect you and your company. Employee insurance is a must because employees in the auto repair industry can get hurt very easily and you better be protected or it's going to cost you.
Especially once you've secured auto repair equipment leasing, acquiring a license and insurance is a vital step to ensure your business can open legally and safely so that you can begin making money to put towards your auto repair equipment financing payments.
7.) Start Searching for Your Team

Who you hire is going to make a direct impact on how well your business will do. You want to ensure that you're hiring people who have experience or exhibit the values you want to be presented at your company. These are the people that will be the "face" of your business, so these people need to be friendly, patient, and welcoming to everyone who comes through your doors. If you're considering auto repair equipment financing, make sure the team you're hiring has experience with the specialized equipment that you'll be financing so you can protect your investment.
8.) Begin Marketing for Your Grand Opening

If you don't put the word out about your business, no-one will know to show up or that you even exist! Utilize all the available media channels that you can get access to, or at least target the major players in your market. Radio, TV commercials, and more recently social media can be great places to get started.
9.) Launch Your Business with a Grand Opening

After you've gotten all the funding through auto repair equipment financing and other investments and built your team, it's time to open your doors! This is a great time to showcase to future customers what you're all about and how community oriented you are.

You can also offer tantalizing offers to people that come through your auto repair shop to increase the likelihood that they'll at least give you a try.
10) Plan for the Future - How Will You Continue to Stay Relevant in the Market?

Getting started is oftentimes one of the hardest things to do as a business owner. But even after you've gotten all the auto repair equipment financing you need, a steady flow of customers, and are otherwise doing well, you need to stay future focused.

How are you going to stay ahead in the market? Do you have your ear to the ground? What plans do you have for the rest of the year? In the next 5 years? Always be looking for ways to innovate in your area, which will set you apart as an industry expert to your customers and a force to be reckoned with by your competitors.

Ready to Apply online for auto repair equipment financing? Feel free to call Trust Capital and speak with auto repair equipment finance specialist that can take your application over the phone at 866-458-4777.