As a business owner, you're always on the lookout of how to best finance your auto repair shop and next ventures. Of course, if you've done any kind of research already, you know how difficult it is to find reliable auto repair equipment leasing that is both affordable and legitimate.
If you jump into just any auto repair equipment financing offer, you might be jumping right into the jaws of a shark whose only interest is in getting the most money out of you, not helping your business succeed.
The offers might look tempting on the surface, but it's only when you start to dig into the specifics that you'll realize that the claims might not even be legitimate in the first place.
When it boils down to it, getting auto repair equipment leasing and financing of any kind is going to depend on your situation. Every situation for any business is unique, so you need to factor in your needs, finances, situation, and more.
Therefore, there's no "one best option" for auto repair equipment leasing. Only a "best option for your situation."

Merchant Cash Advances for Auto Repair Shops
Getting auto repair equipment leasing through the form of a merchant cash advance is not something we advise. True, it's a form of financing, and it can be a valid way to get equipment, but in the long run you'll end up spending so much more money than you have to.
It's still considered a "best option," simply because it is an option and may be the only option available to some businesses, depending on how bad there credit is.
The general idea of a merchant cash advance is that you'll get your loan, and then pay a percentage of your profit or credit card sales back to the merchant cash loan company.
If you go this route, you have to make sure to be very careful and specific about the kinds of payments you're expected to make when a financier makes you an offer.
Auto Repair Equipment Purchase Through A Business Cash Advance
Like a merchant cash advance, this one isn't the most recommended option, but it's a step up because the rates are comparably lower.
Rather than being focused on your credit card sales (merchant cash advance), the amount you pay is fixed based on your checking account receibables volume. The payments will also seem higher because common business cash advances are shorter terms, which means a much higher chance of draining your business cash flow.
Long Term Leasing for Auto Repair Equipment
For anyone that's dealing with low credit, you're always going to be looking at higher monthly payments in general. This isn't the end of the world, of course: it's better to have your auto repair equipment so that you can continue to do business.
Generally the solution for businesses that have lower credit but still need the financing is to stretch out their loan term. You may still have to pay roughly the same amount, but the repayment cost per month will be considerably lower.
Click here for a auto repair equipment leasing calculator to calculate how much your auto shop equipment financing payments could be and how much auto shop equipment you can afford to buy based on your monthly budget.
Auto Equipment Leasing Through SBA Loans
Generally, a good option available to auto repair companies is an SBA loan. This is assuming that a business has multiple years of experience, a great credit score, and weeks (or even months) to wait around for a response.
This means that if you don't need the financing right now, an SBA loan might be a viable option. If you're looking at getting funds immediately, the SBA loan won't help - but it can be a great option to plan for ahead of time when you know you need to make upgrades in your business.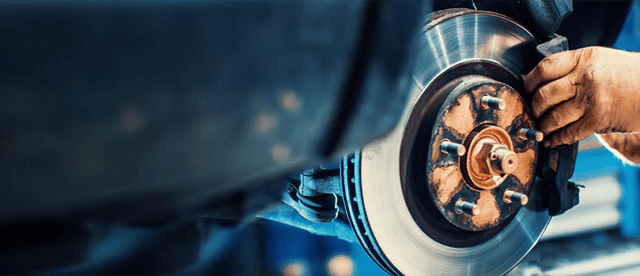 Other Notes to Consider for Auto Repair Equipment Leasing
When it really boils down to it, you have to look at the financial factors of your business and the goals you have, related to the leasing you're trying to acquire.
How long have you been in business?
What's your credit score at?
How much cash on hand do you have available?
How much money do you need to fund your auto repair equipment?
How long do you want to pay it off?
What's the maximum amount you can pay per month in repayment fees?
How much time do you have to wait to get your loan?
As you can see, there are a lot of variables that go into determining what the "best" option is. The lower your credit or the sooner you need your financing, the more expensive your payments may be. But if you can afford to wait or are in a better credit and financial situation, you'll probably get a better auto repair equipment leasing option.
Auto Repair Shop Equipment Leasing Tax Benefits
Having the most reliable and upgraded auto repair equipment for your business, acquired with affordable and fixed monthly payments, can have a lot of benefits for your business.
You can structure your autor repair lease as a FMV buy out and write off 100% of your payments off your taxable income.
But
With the passage and signing into law of H.R.1, aka, The Tax Cuts and Jobs Act, the deduction limit for Section 179 increases to $1,000,000 for 2018 and beyond. The limit on auto shop repair equipment purchases likewise has increased to $2.5 million.
Ready to Apply online for auto shop repair equipment leasing? Feel free to call Trust Capital and speak with am auto shop equipment lease specialist that can take your application over the phone at 866-458-4777.