Are you thinking about what kitchen appliances and equipment you'll need for your restaurant?
Restaurant owners should focus on the appliances and equipment needed in food preparation, because in any food-related business, the equipment is a key aspect in its success.
But having the right equipment means you'll need funding.
Many lenders decline a business loan application coming from start-up restaurants. Luckily, there are other ways to fund your restaurant equipment.
Restaurant owners can rely on restaurant equipment financing for their funding.
In today's blog post, I'll be sharing how restaurant equipment financing could answer your need to fund your required equipment.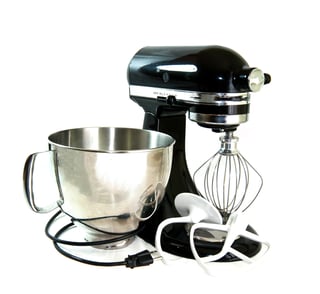 Setting Up the Kitchen With Restaurant Equipment Financing
When planning the kitchen layout of your restaurant, you need to make sure that it's tailored to the equipment that you're going to use. Having an appropriate layout and equipment could heavily affect the way the food is prepared.
If you're concerned about spending too much on your kitchen, you can get the funds you need through restaurant equipment financing. Once you have the equipment you need, repaying the borrowed money would be easy.
To ensure your success, carefully plan your kitchen to maximize its efficiency.
Maximize Your Efficiency
A big challenge in the restaurant industry, especially for a startup, is that you need to serve the best food if you want to be successful.
The location of your business, the ambiance of your restaurant and service of your crew are key factors of your success. But the way you prepare and serve your food is another important key that will determine your success.
The kitchen is the most essential part of a restaurant. This is where you prepare meals and other edibles.
A startup restaurant should pay attention to the equipment used in the kitchen, since the equipment will affect the taste and quality of the food.
Before you start purchasing kitchen appliances, you must first check your restaurant menu. Doing this will prevent you from spending too much on equipment that you don't actually need.
Appliances You Need
To fully maximize the efficiency of your business, we made a list of the important appliances you need for your restaurant.
Here are 10 essential pieces of restaurant equipment that you should consider.
Refrigerators And Coolers
Almost all food-related businesses need refrigerators or coolers. Having these appliances will prevent your goods from perishing quickly. Refrigerators and coolers preserve freshness and provide cold food storage space.
There are a lot of types of refrigerators and coolers available for a restaurant business. Acquire an industrial-grade refrigeration unit, since this type is designed and made to meet the unique needs of the food industry.
However, consider the size of your operation first before buying the right refrigerator.
For the cooler, there are many sizes and types to choose from. You could have a large cold storage space that can be built to fit any kitchen. But if you only have a small space, consider choosing the outdoor refrigeration and freezing options.
Food Preparation Counters
Just like refrigerators and coolers, prep tables, counters, and cutting surfaces are important equipment for your kitchen.
Choose those that are made of stainless steel because it's sturdy against corrosion, which is more practical. Stainless steel can withstand rust and can also withstand the test of time. You'll never have to worry about replacing it after a year or two.
For cutting surfaces, go for the wooden rather than the plastic cutting boards. Wood is tougher than plastic.
Slicers
A restaurant kitchen would be incomplete without slicers. Slicers are used in cutting meat, cheese, or other foods that require speed and precision.
Same as the earlier items in this list, there are things you need to consider before you buy a slicer. It's better to get a manual food slicer if your menu doesn't require a lot of sliced goods. Otherwise, an electric slicer would be the best choice for you.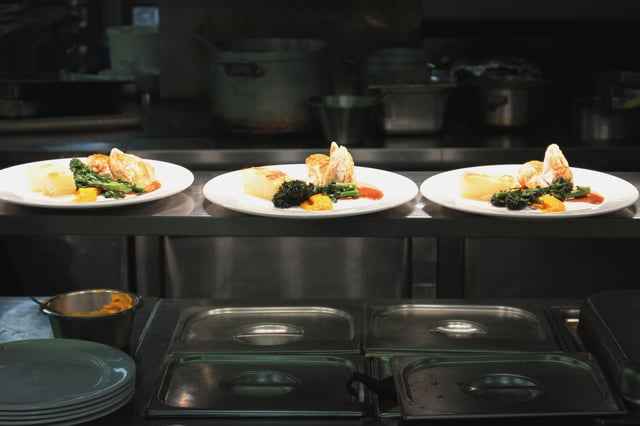 Mixers
If your restaurant offers foods that require bread or baking, then you will need mixers. Mixers also come in different types and sizes. The best choice for your kitchen depends on your operation.
It's best to acquire a spiral mixer if your menu contains foods that have dough such as bagels or pizza. A spiral mixer is known for having a spiral-shaped agitator and mixing at high speeds. Its power can handle fifty to six hundred pounds of dough.
But if you want a versatile mixer that can be used in preparing different types of foods, then a planetary mixer is better. It comes in both countertop and floor types. However, this type of mixer has lower mixing power than the spiral mixers.
Food Processors
Generally, there are four types of food processors:
Batch bowl processors, which can hold six quartzes but depends on its size. Its bowl is usually made of plastic, but you can still buy a bowl made of stainless steel. A stainless steel bowl is more durable and practical to buy.

Continuous feed food processors, which allow you to continuously add food to the processing unit while dispensing the food into a different container. This food processor can lessen the preparation time, even if your restaurant processes a lot of foods.

Buffalo Choppers, which is made for tough operations. These food processors are expensive and heavier than other food processors, and it's also multi functional. That is why it's a must-have to every restaurant kitchen.

Combination processors, which is a combination of batch bowl processors and continuous feed food processors. The chopped foods can be collected in a side container or in a bowl container.
Ranges
A must have for any kitchen are ranges.
When buying a kitchen range for your business, consider the best type that suits your cooking and aesthetic needs.
A gas range is the best choice for your restaurant if you prefer good cooking experience. It is also easier to judge heat of a gas range than its electric counterparts. But if you prefer to have ranges that offer convenience and presentable looks, then an electric range is the best choice for you.
Electric ranges often have an elegant design and are easier to clean.
Aside from that, it also eliminates the hassle of changing gas tanks frequently.
Ovens
If your restaurant mainly focuses on baked goods, then ranges with a convection oven setting would be the best choice.
A convection oven has a fan and exhaust system that blows hot air around the food. Aside from baking, these ovens are also suitable for roasting and toasting foods.
It's preferable to acquire a regular oven instead if your restaurant only serves custards, cakes, and bread.
But regardless of what kind of food your restaurant prepares and serve, it is advisable to have a ventilation equipment, especially if your kitchen has an oven. Financing a hood for your kitchen is common. Restaurant equipment financing covers installation and taxes of the hood as well.
Sinks
Don't just focus on the appliances that help you prepare foods for your restaurant. It's also important to focus on the sinks that you will use in your kitchen.
Sinks are a crucial aspect of a kitchen — this is where running water is provided and where your crew washes the food and dishes.
Since you're operating a commercial restaurant, you are required by local health authorities to install a triple-sink wash station and a commercial dish washing unit.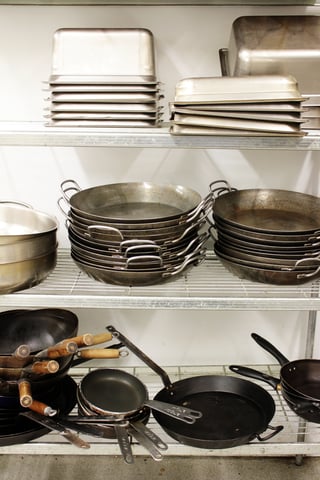 Shelving
You need to keep your goods, utensils, and dishes organized if you want to maximize the efficiency of your restaurant. That is why it's advisable to install proper shelving to help you have an organized storage system.
Safety Equipment
Don't forget to plan for safety equipment. Check your local fire department guidelines before you purchase any fire, safety, or sanitation equipment.
Having safety equipment will prevent a lot of possible accidents or emergencies such as having a fire in your kitchen.
Financing Options for Your Restaurant Equipment
Getting a loan for a newly-opened restaurant is harder compared to other types of businesses. Restaurants have higher startup costs than other types of businesses. Startup costs for a restaurant are closer to or more than $500,000 (this estimated startup cost is made through a survey by RestaurantOwner.com).
It's difficult to get funding because lenders perceive restaurants as high-risk businesses. This is a huge problem, especially if you plan to apply for a loan to acquire your restaurant equipment.
But don't let that hold you back. Take a look at the different ways to finance your restaurant equipment.
SBA Loans
SBA Loans is a good first choice if you have a fair and satisfying credit score and make over a hundred thousand on your tax returns. This is also the best choice if you already have a business that is already profitable.
Common clients of SBA loans are the business owners that are operating restaurants or other food-related business.
Though it seems like SBA Loans are intended only for established businesses, don't hesitate to try it as long as you have a fair credit and show sizable income on your taxes. You'll still have a chance to get a loan approval for your startup restaurant or if you're acquiring an existing restaurant.
Alternative Options
If your credit score prohibits you from getting an SBA loan, then your next choice is the alternative options.
The alternative lenders often provide the loan if you need to purchase restaurant supplies or goods. As alternative lender requires lower qualifications, they only lend a smaller amount of money than SBA loans.
Keep in mind that the monthly payment for alternative options is more expensive than SBA loans. But since you're repaying the loan in a shorter period of time, the interest will be lower.
Restaurant Equipment Financing & Leasing
Restaurant Equipment financing is the best choice for business owners with bad credits and low revenue.
If you need financing for your restaurant, then this type of restaurant equipment financing is the right one for you. Equipment leasing is the fastest and most economical source of funding than the other sources of loan mentioned in this article.
Rates for this type of restaurant equipment financing are lower and better than bank rates. The repayment period commonly lasts up to 60 months, but it can be extended. This restaurant equipment financing is often available for business owners with good and bad credit.
A borrower could get $250,000 with just first and last monthly payments due up front . Aside from that, restaurant financing companies often offer their loans with same day approval and next-day funding with pre-funding available for vendors. You can pick multiple vendors when utilizing equipment financing. The equipment finance company will pay as many vendors as you wish as long as the vendor can send them an invoice and they're a reputable vendor.
Use our restaurant equipment financing calculator to calculate how much your restaurant equipment financing payments could be and how much restaurant equipment you can afford to buy based on your monthly budget.
Restaurant Equipment Tax Benefits
Once you've purchased all your restaurant equipment and supplies. You can discover the tax write offs from your purchases. When you structure your restaurant equipment financing on an equipment financing agreement or on a $1 buy out lease agreement you can qualify for 2018 section 179 tax benefits. With the passage and signing into law of H.R.1, aka, The Tax Cuts and Jobs Act, the deduction limit for Section 179 increases to $1,000,000 for 2018 and beyond. So you can accelerate the depreciation in your first calendar year of purchasing the equipment and lower what you have to pay in taxable income.
Final Thoughts On Restaurant Equipment Financing
Today's blog post mainly focused on what a restaurant business needs when it comes to success.
Your restaurant's success can only be achieved if you have the right equipment and appliances in your kitchen. Having the wrong ones could greatly affect the efficiency of your business.
If you're worried about the cost, then financing can help you acquire all the necessary restaurant equipment you'll need. Any sort of tools, appliances, and equipment can be financed for your new or existing restaurant. As difficult as it may be, the are still options where you can get the necessary funds. A business owner could get loans from local bank, an SBA Loan, alternative cash lenders, or equipment financing & leasing companies that specialize in the restaurant industry. Among those options, restaurant equipment financing is the fastest and most economical source of funding.
Ready to Apply online for restaurant equipment financing? Feel free to call Trust Capital and speak with a restaurant equipment finance specialist that can take your application over the phone at 866-458-4777.