Should you buy or lease forklifts?
This is one of the biggest questions asked by businesses that operate with forklifts.
Forklifts are one of the most important machines for businesses to invest in. These make it possible move heavy materials at a rapid pace.
However, brand new forklifts can be rather costly and make a huge dent in your capital. Making the wrong decision may lead to numerous financial problems.
So how you can prevent making the wrong decision?
In this article, we will talk about a forklift lease and when it can be beneficial to your business.
How A Forklift Lease Can Help Your Company
Many businesses are using a forklift lease for different reasons. This type of leasing can help your business in a lot of ways.
And there are several benefits that come with using a forklift lease.
But before we enumerate these benefits, let's discuss what a forklift lease is.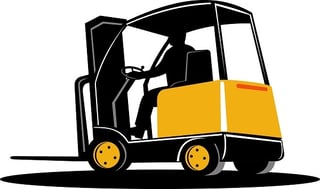 What Is a Forklift Lease?
A forklift lease is a type of leasing that's made to support companies that operate with a forklift. Startup businesses typically use this due to flexibility it brings to the business' capital.
Unlike purchasing that needs a huge down payment, leasing requires little to nothing due up front. Most of the time just one monthly payment.
While it is the common choice for businesses, the decision depends entirely on the type of operation you run.
The next section discusses the considerations to factor in order to determine if you need to buy or lease a forklift.
Do You Need to Buy or Lease a Forklift
There are a lot of factors that can affect your decision of leasing or purchasing a forklift.
To ensure that the right choice will be made, businesses often follow a basic rule: if the equipment increases in value over time, purchase it. If it decreases, lease it.
However, this isn't always accurate.
Purchasing a forklift is a better option if used infrequently. This is also a good idea if there is an excess in capital and the equipment will not be placed under severe environment.
However, if your business relies on the frequent use of forklifts, then your best choice would be to opt for a forklift lease.
When is it Time to Lease a Forklift?
Leasing a forklift for 48 or 60 months can help in saving money. It's also recommended if the business plans to use it for more than 1500 hours per year.
When used regularly, the forklift deteriorates faster and maintenance costs go higher.
Leasing a forklift ensures that the equipment will always be well-conditioned. This is also the best option if the business is experiencing budget constraints.
But if the forklift is needed only for a single use, then renting it will be the best option.
When Do You Need to Rent?
A forklift should be rented if you have a small warehouse and need the equipment for only a few days. Rentals are more suited to the temporary use of assets.
Usually, rental contracts are more casual than lease agreements. It's more specific in terms of using the asset.
Is Leasing Always the Best Choice?
Leasing a forklift is the go-to option for most businesses. However, it isn't the right choice for all. Though many businesses choose to lease because of its benefits, your decision still depends on the type of business being operated.
If your business is using a forklift for less than 1000 hours a year, then purchasing it could be the best option. Consider buying a forklift if your company has no issues with capitalization and depreciation of your assets.
Why Many Businesses Choose to Lease Forklifts
A forklift lease rarely requires a down payment. Forklift leasing companies have no payment for the first 90 days programs available to businesses looking to finance a forklift.
If it does, your business will be able to acquire a forklift without using much of its capital. The payments will instead come from your operating budget, not from your capital reserves.
Aside from financial benefits, leasing also frees your business from obsolescence.
At the end of the lease, you are given the option to buy or upgrade the forklift.
Most forklift financing companies also allow their clients to replace and upgrade forklifts regularly.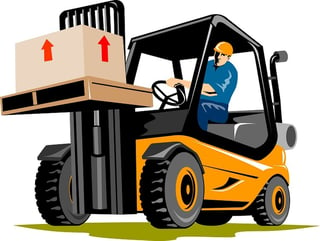 Benefits of a Forklift Lease
The terms of forklift lease agreements are always tailored to the situation of the client. Many forklift leasing companies give their clients flexibility to achieve a faster return on investment.
The common benefits of a forklift lease are:
Low monthly payments by the way of low forklift lease rates,

Makes your company look good on your balance sheet, and

Better forklift pricing.
Low Monthly Payments
Most forklift leases are offered with low monthly payments required. This allows business owners to budget expenses monthly.
In addition to this, paying low monthly payments give business owners the opportunity to allocate more of their budget towards other aspects of the business.
Here's an example of some forklift leasing rates.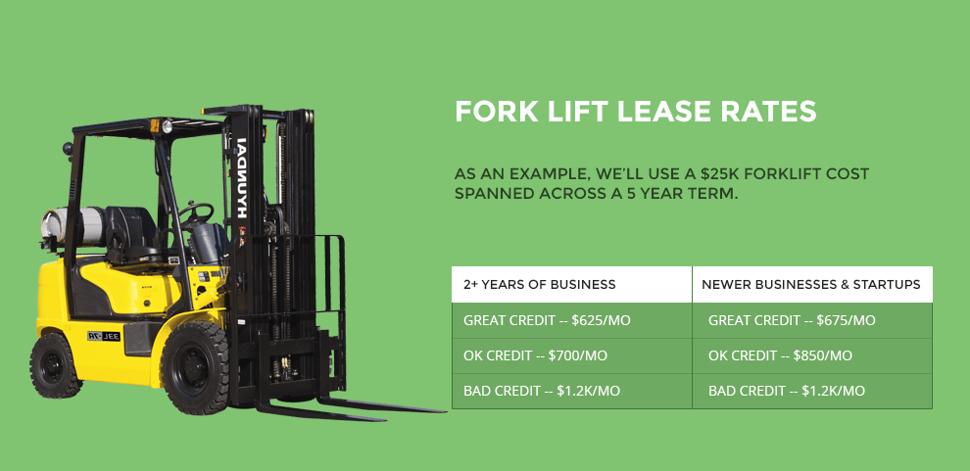 Makes Your Company Look Good on Your Balance Sheet
The forklift lease payment will not affect your business' credit line. The forklift lease will be viewed as a business expense, instead of long-term debt.
Forklift Leasing preserves your credit line in order to secure your future business loans.
A forklift lease has tax benefits too. Lease payments may be fully deductible as a business expense.
Better forklift pricing
On brand new forklifts. Some forklift manufacturers associate such a high residual value to the forklift that you only end up paying 90% of the invoice over the term of the forklift lease. The forklift cost is very competitive when you go to lease a container mover forklift. Forklift leasing will give your business the capability of finishing the job faster and efficiently. Having the latest small forklifts to move around your warehouse also allows your business to gain a competitive advantage over other companies. Speed and efficiency mean happy customers.
A forklift loan allows you to replace outdated or worn-out forklifts at an affordable cost. Forklift finance rates are competitive and be sure to ask if you can buy out of your forklift loan early and only pay the remaining principal if you choose to get a forklift loan over a forklift lease.
Final Thoughts on When Do You Need a Forklift Lease
For a lot of businesses, a forklift is one of the most important assets to acquire to ensure a smooth operation. Forklifts allow heavy materials to be carried quickly, which subsequently quickens operations.
As important as they are, particularly in construction, the cost of forklifts are expensive and can cause a huge dent in a business' capital. This is where a forklift lease comes in handy.
A forklift lease allows a business to use a forklift without using much of its capital. Forklift leasing is the common choice of many large businesses, with benefits such as:
Getting low monthly payments to fall in your budget,

It makes your company look good on your balance sheet, and

Better forklift pricing.
However, the decision of leasing still depends on the operations of your business. If your business only uses forklifts infrequently, then renting a forklift is another option to consider. Check out Toyota forklift costs first. It's only when forklifts are used regularly that forklift leasing becomes the best option.
If you want to know more about a forklift lease, you can contact Trust Capital at (866) 458-4777.