Demolishing and grading are both heavy-duty jobs that a construction business owner like you probably deals with regularly.
However, you can't do the heavy lifting yourself, that's for sure. You need the proper construction equipment to get the job done.
A skid loader is one of the pieces of construction equipment you'll find yourself using most often, especially for demolition and grading. It's a must-have for every construction company.
So now you might be thinking about how you can choose the right skid loader for your business being business owners. You may also be worrying about how to afford it, which is why you'll need to know your options in skid loader financing.
Well, you're in luck because I'm going to help you with both things. In this guide, you'll learn how to find the best skid steer loans for your needs and how to get skid loader financing for it.
The Basics of Skid Loader Financing and Selection
When seeking a company skid loader, you want to take your time finding the right one. Apart from being a construction must-have, as we've noted, it's also a big-ticket item.
The biggest, most powerful skid loaders can cost as much as $60,000. In fact, even second-hand ones with less horsepower and lower capacity can still run to a third of that.
That's why you want to go carefully over your purchase options before you even start looking into skid loader financing.
Treat this is as a major purchase for your business -- one that may have long-term effects on your working capital and revenues.
So it's a good idea to be organized and take this process step by step. Let's begin with how to find yourself the right skid loader.
Choosing the Right Skid Loader
There's a checklist you can go through when seeking the right skid loader. But it all starts with your needs.
Why are you getting the skid loader?
What do you need it to do?
Having a clear idea of the jobs you're going to make the machine run is critical. Otherwise, you may end up choosing a skidsteer that can't handle the task.
Alternatively, you may end up shelling out more working capital than you have to by getting a machine that's too large for your needs.
Keep your purposes for getting a skid loader in mind when you go over the following steps:
Choose an Efficient Size for the Job
Skid loaders differ when it comes to sizes and dimensions. They differ in weight too and can range from 1,750 pounds to 2,200 pounds.
Thankfully, job sites and job descriptions can determine what size skid loader you'll need. You should also consider the open space available (for your skid loader to move around).
In general, bigger skid loaders mean more power or higher capacity. A small skid loader usually has around 50 horsepower or less.
On the other hand, a larger skid loader usually has more than 70 horsepower.
Note that bigger isn't always better. The efficiency of your skid loader may be a function of both its size and the working space.
For example, smaller skid loaders can move better in tight spaces during demolition. On the other hand, a large skid loader can cover a larger amount of land when doing grading work.
Just aim for whatever fills your needs without overshooting them too far. That should keep your skid loader financing manageable later.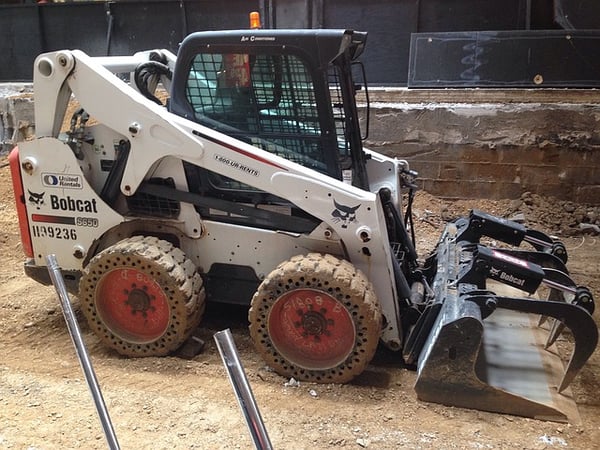 Consider Its Terrain Compatibility
The terrain a skid loader is ideal for is the next consideration. This is usually known as the "wheel vs. track" debate.
Loaders with wheels work well on flat and hard surfaces. Ones with tracks, on the other hand, work well on more challenging terrain.
This is worth noting because demolition work usually has difficult terrain due to debris. You don't want to struggle with demolition work just because you've chosen the wrong machine.
Tracks can also glide on wet surfaces. This is important because the terrain for grading work will often have wet mud or puddles.
That doesn't mean you should choose compact track loaders automatically. Tracks wear out more quickly, for one thing, and will incur replacement costs sooner.
Furthermore, it would be silly to waste your skid loader financing on a compact track loader if most of your construction work is on dry and flat terrain.
Test the Skid Loader's Lift
Another important aspect of skid loaders is their lift. Different skid loader lifts have different capabilities and limitations.
Vertical lifts are optimal for work that's at eye level or above. Radial lifts, on the other hand, are optimal for work that's closer to the ground.
If most of your work for the skid loader will be grading, it would be smart to get skid loader financing for a radial lift. That's because you'll be working close to the ground.
Demolition jobs may vary, however, so if you do more demolition, it may be better to get skid loader financing for a vertical lift. This will compensate for both ground and eye-level tasks.
Check the Skid Loader's Controls
The skid loader's controls are next on the list.
Traditional skid loaders have lever and pedal controls. Modern skid loaders, however, have joystick controls that can be operated with less force.
In this case, you should definitely consider your employees when assessing the controls. Most operators feel that they're more precise when using joystick controls.
Remember, the output and efficiency will depend on your operator's comfort with the controls. There's no point in taking the trouble to get skid loader financing for a machine your employees don't even want to use.
Check for Other Functional Features
Some skid loaders pack a few extras too. You should check the skid loader for additional features that can help you work more efficiently during certain tasks in the united states.
These features could include things such as spotlights that can help when doing construction at night. Larger tires can also offer improved stability.
Some models even have 360-degree views for better visibility. These features are useful because more dangerous tasks such as demolition benefit from improved visibility in all directions.
Grading work also requires bucket visibility because if you can't see the bucket properly, it will be harder for you to grade.
Make sure the extra features don't add too much to the price, though. Otherwise, you may bite off more than you can chew with your skid steer loaders financing afterwards.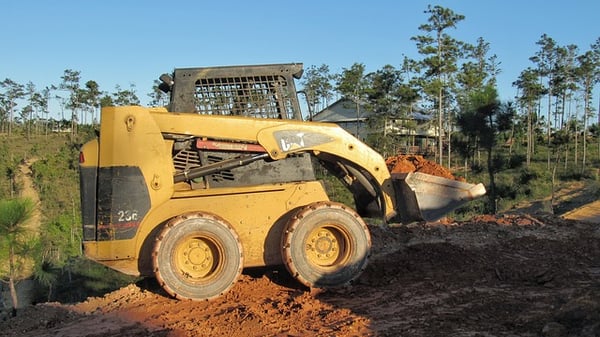 Financing Your New Skid-steer Loader
By now, you should know how to choose the most efficient skid-steer loader for your business. You should also choose the right company to help you with skid loader financing.
Thankfully, most equipment financing companies are more than willing to do skid loader financing. For example, Trust Capital has a broad range of equipment financing options for construction companies.
Trust Capital skid loader financing options vary to suit your needs, whether you're a startup company or already established.
These options include the following:
Up to $150,000 application only construction equipment for start ups.

Up to $350,000 application only for businesses with 2+ years in business.

Up to $10,000,000 with full financials.

No down payment requirements for qualified borrowers.

Lowest construction equipment leasing rates in the industry for qualified borrowers.

Eligibility for all new and used construction equipment purchases under monthly payment options.

90-day deferral for your skid loader financing repayments.

Seasonally-varied repayment plans to match payment schedules to a business's uneven cash flow and to grow your business.
In addition, Trust Capital makes skid loader financing even easier with a simple one-page application up to $350,000. If you have bad credit and still need construction equipment financing, then a down payment of 40% can help get you the skid-steer approval.
Final Thoughts on Skid Loader Financing and Selection
Skid loader financing and selection can be managed easily if you go about it one step at a time even if you have good or bad credit.
Start by clarifying what kind of skid loader you need and which skid loaders on the market are good options for you.
After that, you can look into the skidsteer financing possibilities available.
Look in particular for experienced partners such as Trust Capital who've done skid loader financing before. This is so you can get proper skid loader financing help.
Ready to Apply online for skid-steer loader financing? We invite you to call Trust Capital and speak with a skid loader financing specialist that can offer you a no obligation approval, run payment scenarios for you subject to credit approval and go over your tax benefits at 866-458-4777.