Are you a new construction company? Or a tried-and-true business leader? In either case, you may be looking at Caterpillar equipment financing to meet your business equipment needs.
You may be looking to purchase or upgrade your current caterpillar equipment to meet the rising demands of your business. A business opportunity may have knocked on your door that requires you to have newer and better caterpillar equipment.
Should you purchase, rent, or lease Caterpillar equipment? Let's walk through each option and determine what might work best for you.
Caterpillar Equipment Financing Options
First it helps to know what financing options are available to you before you try and guess what the cost of financing will be, as each type of financing will have a different final and monthly cost.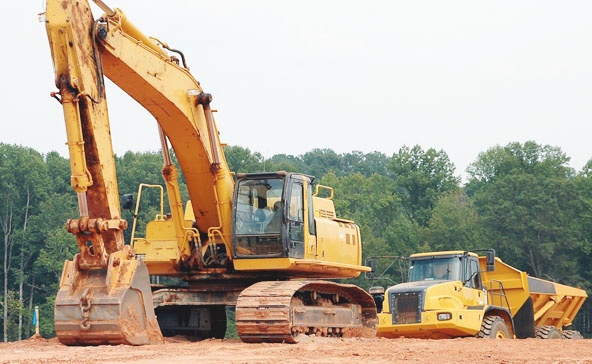 Purchase Caterpillar Equipment
When business is good or you have enough money saved up in your business, buying caterpillar equipment from a dealer is often the best way to go.
In many cases, dealers can provide the cheapest financing rates anywhere you can find, as long as you can meet their financial requirements.
Typically, when you purchase equipment, it is a loan over a period of three to five years. The payments are generally lower. When you're working with lower monthly rates, you'll end up spending considerably less money on the overall cost of your caterpillar equipment.
You get to depreciate and write off your purchase over a period of time.
Any financier would look at how long you have been in business, your credit, and host of other factors. You must also be prepared to make a down payment towards the purchase of the equipment.
Not all businesses can do this, though. If you can, great! But if not, you still have other Caterpillar equipment financing options.
Rent Caterpillar Equipment
If instead you don't need to use caterpillar equipment on a regular basis, then you can choose to rent the equipment and avoid caterpillar equipment finance.
This reduces the hassle and can potentially save you a lot of money when you are batching your projects together and tackling them all at once when you rent the equipment.
Unless your need for Caterpillar equipment is rare, honestly, batching your projects may seem feasible and look good on paper but hard to execute.
Renting is far from ideal if your projects are scattered all over the place. You may as well lease at that point.
Caterpillar Equipment Leasing
If the construction equipment you are looking to buy doesn't have a dealer that can offer caterpillar finance, or you don't meet the requirements, you can get an outside lender to provide you the funds to make the purchase or start the lease.
While this may be slightly more expensive than working with a dealer, it's still a great option for businesses that require the use of a caterpillar to succeed in their daily operations.
There are several advantages when you lease equipment:
Affordable fixed Payments: Your monthly or quarterly payments are more affordable.
No Down Payment: In most cases, you don't need to put down any down payment.
Tax Advantages: When you structure your caterpillar financing on an equipment financing agreement or on a $1 buy out lease agreement you get section 179 tax benefits. With the passage and signing into law of H.R.1, aka, The Tax Cuts and Jobs Act,

the deduction limit for Section 179 increases to $1,000,000 for 2018 and beyond. The limit on construction equipment purchases likewise has increased to $2.5 million.

Flexibility to Upgrade: At the end of the lease period, you can renew your lease or upgrade to newer equipment. With flexibility to upgrade periodically, you will keep up with competitors or be ahead of them in your operating efficiency.
Option to Purchase: You may have the option to purchase the equipment at the end of the lease.
The main draw back with leasing is that you would end up spending more over the course of the lease as opposed buying the equipment outright.
If you are just starting your business or relatively new, it might be better to have your cash reserves and just lease your equipment until your business stabilizes.
This way you ensure that you have working capital and position your business to cope better with seasonality and the ups and down that come with running a business.
In other words, leasing may be slightly more expensive, however, offers a lot of advantages.
New Caterpillar Equipment vs Used Caterpillar Equipment
Buying new or used will greatly impact the total cost of your caterpillar financing.
New equipment will operate better, more efficiently, and may have more features, but will be the highest priced option.
Buying or leasing old caterpillar equipment is considerably cheaper, as long as you are okay with a little wear-and-tear on the equipment. Considering that most heavy equipment is designed to take a beating, that's usually not a problem.
Once you know the type of caterpillar financing you prefer, then you can move on to determining the actual costs. Cat used equipment financing is a great choice for start up construction companies that are trying to keep lower monthly payments. In the equipment finance industry lenders generally like to see equipment that is 10 years or newer so financial institutions don't have to worry about the equipment breaking down and then you can't make payments.
Their are construction equipment leasing companies that have zero age restrictions so you can buy used caterpillar equipment. If you buy from a cat dealer they generally inspect and service equipment they take in on trades. Buying used caterpillar equipment from a private party or auction is much riskier but you can find better deals if you're lucky.
Factors That Affect Caterpillar Equipment Financing Costs
Below are the most significant factors that will impact the resulting monthly and total caterpillar leasing cost.
Credit Score: the higher the better. Even if you don't have the best credit score, you can still get great deals on caterpillar financing.
Time in Business: it's better if you've been in business for a couple of years, but it's not impossible to get funding even if you're just starting out.
New or Used Equipment: naturally, buying new equipment will be more expensive but more effective. Buying used equipment is cheaper if you can overlook work related wear-and-tear.
What will my Construction Equipment Finance Payment Be?
Here's a resourceful equipment loan calculator tool to see what your construction equipment loan payments could be. Also includes an amortization schedule for your accountant.
Use the amortization schedule to give to your accountant during business tax season to help him decide the best way for you to get the best tax write offs now and in the future to lower your taxable income.
Use our Construction Equipment Financing Calculator to estimate what your caterpillar leasing payments could be.
Caterpillar equipment leasing has an easier and faster application approval process than traditional bank loans.
At Trust Capital, the approval of an equipment leasing application only takes approximately 2 - 4 hours. The company offers an easy application process that can be found on their website. You won't need to wait for a long time before your application gets approved.
You don't need to worry about your credit when you apply for your leasing program.
Once your application is approved, Trust Capital can offer you same-day funding and pre-funding for caterpillar equipment vendors. You get up to $1,000, 000 to finance your equipment and receive the tax deduction from it as well.
Trust Capital can also approve you for a construction equipment sale leaseback. This will give you 70% LTV of your appraised CAT equipment to inject working capital back into your business for operational expenses such as expanding your concrete plant & hiring more employees.
Trust Capital will show you how much you can save when you apply for your affordable equipment leasing program from construction equipment vendors. You can choose any vendor you wish or we can help you find a reputable caterpillar equipment vendor that we have dealt with in the past.
Final Thoughts On How Much Caterpillar Equipment Leasing Cost
To get an idea of how much the cost will be, if you're buying a used caterpillar at $50K over a period of 4 years and have decent credit, you're looking at monthly payments of about $1,250 to $1,550.
Once you know about what you can afford to spend every month on construction equipment than you can back into how much construction equipment you can afford to lease for your construction business. Here's a handy construction equipment financing calculator.
Use our
construction equipment loan calculator
to calculate how much your caterpillar leasing payments could be and use our
equipment lease calculator
to calculate how much cat equipment you can afford to lease based on your monthly budget.
Caterpillar Leasing can help you take advantage of caterpillar equipment while distributing the cost over a term of many years. Check out the official Cat Website to learn more about all of the available equipment and components to help your business succeed.
Take advantage of caterpillar equipment leasing by applying today.
Ready to Apply online for construction Equipment Financing? Feel free to call Trust Capital and speak with a construction equipment finance specialist that can give you monthly payments and a no obligation approval at 866-458-4777.