If you're a restaurant owner, you should know that there are many types of restaurant business loans… You could get equipment loans, working capital loans, inventory financing, and a line of credit.
But out of all those options, many restaurant owners choose the line of credit.
That's because the line of credit is one of the best choices in terms of flexibility. You can use it any way you want.
Aside from that, the line of credit is also the best option if you need to get quick cash. Many lenders of lines of credit have low restrictions and fewer requirements.
Indeed, the line of credit is one of the best ways to get additional funds for a restaurant. However, getting this type of loan sometimes confuses business owners.
That's why in today's blog post, we'll talk about how to get restaurant business loans like lines of credit.
Things to Know About Line of Credit for Restaurant
First, keep in mind that lines of credit are restaurant business loans. Like all such loans, they still have requirements.
So even though lenders for the line of credit often have low restrictions, you can't assume that you'll immediately get one just by applying. You still have to meet some qualifications.
Also, just because you can use the line of credit with freedom, there's no assurance that it will help you turn your business around or improve your restaurant. You still need to use it properly to guarantee your success.
To know more about using lines of credit properly, here's what you need to know about these restaurant business loans.
Requirements for Business Line of Credit
Lines of credit, even among the many types of restaurant business loans, are very flexible. They can help you finance any aspect of your restaurant.
They can be useful too if your revenue is seasonal or if your restaurant is growing quickly.
Also, lines of credit are often cheaper than other types of restaurant business loans. That only adds to their appeal for restaurant owners.
However, even if some lenders for a line of credit have low requirements, that's not universally true. For example, banks also offer lines of credit -- and they tend to have strict prerequisites.
So, to give you an idea of what you'll be looking at, let's talk about the usual qualifications for getting such loans. To secure your line of credit for your restaurant, take a look at these common requirements.
Time in Business
Lenders of restaurant business loans, particularly lines of credit, often look for businesses that have experience and collateral. This is to make sure that the borrowed money will be paid.
Lines of credit are also available to startups. However, the business owner must have a good personal credit score (about 620) in such cases.
Businesses that have operated for less than 2 years can get lines of credit from some lenders… but their line of credit will usually last for only 6 months. Again, this varies by lender, however.
Reliable Revenue
One of the major requirements for a line of credit is reliable revenue. Your restaurant must be getting stable revenue because this is where you'll get money for the repayment.
So about how much revenue is expected? Basically, your revenue should be enough to cover your expenses while you are repaying the borrowed money.
If you're hoping to get restaurant business loans from online financing companies, make sure you are earning about $25,000 a month. Most lenders have this as a requirement for restaurant business loans or lines of credit.
How to Get Lines of Credit
If you believe lines of credit to be your best option among the many restaurant business loans, then make sure to prepare the right documents.
You can follow this simple checklist below, so you can get the best restaurant business loans.
Check Qualifications
You already know the common requirements of a business line of credit. If your restaurant has those, you're done with this first step.
But what if you don't meet the usual requirements? Let's say you have bad credit.
If you have bad credit, it's best to just look for other financing options or lenders than the first ones you approached or the ones that turned you down.
Like I said earlier, not all lenders have the same requirements. You might find a lender that offers restaurant business loans even if you have bad credit.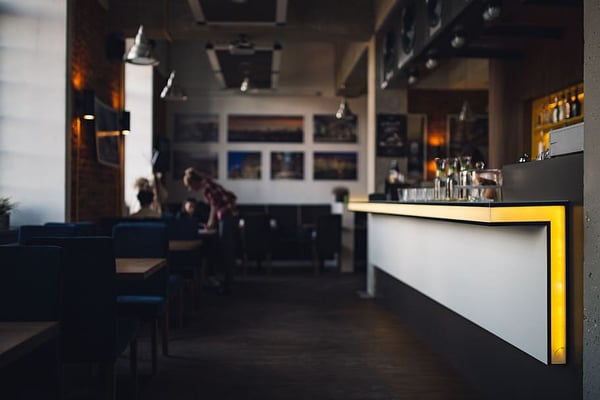 Compare Your Options
You need to think about what type of business line of credit is the right choice for your restaurant. You can choose between secured and unsecured lines of credit.
Apart from that, determine if you want to have short or long repayment terms.
The repayment period can affect the outcome of your restaurant business loans. It could either give you a hard time or help you have a healthy budget.
You need to look for the right lender as well. You can get the loan from a bank, after all, but you can also get it from an online lender.
We'll talk a bit more about how to compare options for a lender later. For now, let's take up another tip that can help you secure a line of credit.
Prepare the Right Documents
First, you need to check the required documents of your chosen lender. More often than not, lenders require you to submit the following information:
Basic personal information including your name, social security number, and ID
Basic business information including business name, entity type, tax ID number, and industry
Personal and business credit score
Business financial information including annual revenue, bank statements, balance sheets, profit and loss statements, etc.
After gathering the required documents, you then need to check your preferred lender's process of application. Follow it to the letter.
Best Lender for Business Line of Credit
Banks are among the first options for most businesses. However, banks are known for having very strict requirements.
Usually, banks require the following, aside from a formal application:
2 years of business tax returns,
2 years in business,
2 years of financial statements, and
3 months of bank statements.
You still have no guarantee of approval even if you submit all the necessary documents. So, to avoid wasting time and money in preparing the documents, consider getting lines of credit from online financing companies like Trust Capital.
For one thing, Trust Capital has a simple one-page application. Moreover, they require only 6 months in business and 3 months of bank statements.
They also tend to produce decisions on applications quickly. This allows you to get your funds immediately.
You could get pre-approval within 2 hours and a final decision in as fast as 24 hours. You can even get same-day funding with an option available via wire transfer.
Final Thoughts on Restaurant Business Loans
In this blog post, we talked about restaurant business loans.
There are many forms of restaurant business loans. However, many restaurant owners get lines of credit when they need added funds.
A business line of credit is easier to acquire than traditional loans, after all. It has fewer requirements and low restrictions too, for the most part.
Despite that, you still need to prepare the right documents to make sure that your application for lines of credit will get approval. You also need to pick the right lender.
The advice provided above should help you with both things. To further ensure that you get the best restaurant business loans, contact Trust Capital at (866)458-4777.