Leasing Equipment Offers Your Office the Newest Technologies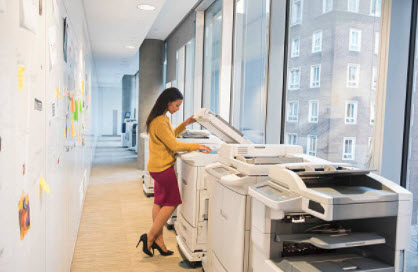 Running an office can be extremely expensive and keeping up with competition can be difficult without the newest technology. Everything from computers to business software to printers to scanners and more require updates or replacements on a regular basis since technology continues to change every year. Since the newest technology costs so much money, looking into office equipment financing is a good way to stay competitive without hampering your business with excessive costs.

One great benefit of office equipment financing is that you can create terms that allow you to change out and replace equipment when it is necessary due to damage or age. Maintaining operating equipment is important to run a profitable office and staying current prevents problems since software and computers have trouble relating to each other as the newer versions are released.

Taking time to hire the best employees is important, but even more important is office equipment financing as it allows you to offer your employees top of the line equipment to make their jobs easier and them more productive. A large reason employees are frustrated with their jobs is faulty or old equipment not allowing them to do what they need to do daily. Staying current resolves this complaint and allows for happy employees and increased productivity.

Tax and Cash Benefits of Financing Office Equipment

Most business owners do not want to purchase office equipment and office furniture that will cost a lot of money out of their cash supplies because there are so many benefits of doing it through office equipment financing. When you utilize this feature, depending on the furniture financing, you can either write off the depreciation of the item that you are purchasing, utilize section 179 tax benefits with a $1 buy out lease or use the lease payments as an operational expense to save on your taxes if you structure your lease with a fair market value buy out. Either way is beneficial to your company's bottom line.

When using office equipment financing, you are also able to preserve your line of credit so that is still available for other things like operating expenses, payroll, advertising, marketing, services or a number of other areas that will allow your business to grow. Using your line of credit on office equipment is not necessary or advised when you can utilize office equipment financing.

Another huge benefit of office equipment financing is that you free up your cash for other things like supplies and inventory. Purchasing your office equipment with cash ties up those funds when you may need to use them in other ways. Having plenty of operating cash on hand is advised because you can never know what may happen tomorrow, next week, or next year.

Save Money on Maintenance Costs with an Office Equipment Lease

As with any advanced technology, the items that you get with your office equipment financing may be expensive to repair and maintain. The advantages of leasing your office equipment is that most leases from manufacturers and dealers provide maintenance as part of the lease agreement. This is beneficial because you will not have to allocate repair and maintenance costs into your budget.

When you purchase any item, including office equipment, office printers, office copiers, there are going to be warranties offered on the items. This is no different with office equipment financing; the warranties still apply since you usually pay off the office equipment during the warranty time, or there may be clauses in your equipment financing agreement dealing with maintenance of the equipment. Making sure your items are running efficiently is a priority to your business as well as a priority to the equipment finance company because eventually they may own the items again and need to sell them off.

New equipment and advanced technology often includes the need for training and updates to the hardware or software. In an office equipment financing agreement, those features are usually included so that your employees can use the equipment to the best of their ability. There is nothing more frustrating than receiving a brand new piece of equipment and not having a clue how to operate it properly or efficiently. Dealing with your office equipment leasing company can help resolve this issue.

Lease Terms Are More Reasonable with Office Equipment Financing

Once you have determined the type of equipment you need, you can approach an equipment finance company that provides office equipment financing to work out the terms of the office equipment financing agreement. Now is the time to determine the leasing program, the lease terms of the agreement, the financing amount, and your related monthly expenses. Depending on how long you want to use the equipment and the monthly amount you want to spend, there are usually flexible lease terms available that can fit into most budgets.

When you decide on the terms and length of your office equipment financing, you may be able to adjust your payments to fit your needs. Your office equipment lease company will work with you to determine the amount that you will pay at the beginning and then calculate the monthly payments into a lease term that will work out for you. This way, you will be able to afford the new office equipment you want your employees to have at a monthly rate and period of time that is reasonable for you.

Many equipment leasing companies now offer no payments for the first 90 days or $69 for the first 6 months followed by terms up to 72 months for all new office equipment and typically cap at 60 months for business software financing.

Use our office equipment finance calculator to calculate how much your office equipment financing payments could be and how much office equipment you can afford to buy based on your monthly budget.

New information technology comes along often and when it does, we all want the newest and best equipment. Your office equipment financing can include a term that allows you to buy out the terms with no pre payment penalty and get newer equipment to stay competitive. Office equipment leasing will make staying ahead with all the latest technology and upgrading your business equipment easier with new office equipment every 24 - 60 months. Keep things looking and feeling up to date so your employees are happy.

Office Equipment Leasing is a Less Expensive Way to Obtain Equipment than Paying Cash

When you purchase equipment with a traditional bank loan, your down payment is usually much larger than going through an equipment leasing company that specializes in office equipment leasing. This makes it easier to obtain the newer equipment that your office and staff need to make your business a success.

Office equipment financing terms can be worked out so that you are paying for the equipment during the time you are using it and then upgrading to newer equipment when it comes around. This also allows for you to be able to lower your payments, and the flexible terms will allow your company to have the newest office software and equipment when it's available when otherwise you may not be able to.

Final Thoughts On How To Provide Your Office With The Office Equipment It Needs

Many small business owners don't realize what CFO's of mid market companies have been doing for 30 + years. That's putting all of their office equipment and furniture on an operating lease for cash flow purposes to allocate cash towards expenses that appreciate like payroll, advertising, etc. Meanwhile utilizing an operating lease makes their balance sheet look better to investors, the board and banks while taking advantage of the huge tax write offs because an operating lease is viewed as a rental expense and as a business owner you can write off 100% of your rental expenses off your taxable income.

Small business owners can also structure their office equipment purchases on a $1 buy out lease or equipment finance agreement and take advantage of 2018 section 179 tax deduction and accelerating the equipment deprecation entirely the first year for a sizable first year tax write off up to 1 million dollars.

Having the most reliable and upgraded office equipment for your start up business, acquired with affordable and fixed monthly payments, can have a lot of benefits for your start up business.

Ready to

Apply online

for an Office Equipment Loan? Feel free to call

Trust Capital

and speak with an office equipment finance specialist that can give you a no obligation approval that's good for 90 days with just a simple soft credit inquiry at

866-458-4777. For office equipment Trust Capital can approve businesses that have been in business over five years with an equipment approval and waive their personal guarantee.