Are you looking for the easiest way to acquire construction equipment?
Having the most updated equipment is important for a construction business. Updated equipment has the efficiency and the capacity to provide better results. With the improved equipment, your output can be doubled or more… leading to better cash flow.
However, buying equipment is expensive. The application for getting a business loan from a bank is long and time-consuming. And there is no guarantee that you'll get the business bank loan.
So what's the best way for you to have the most updated equipment?
The answer to that is construction equipment leasing. Heavy equipment leasing provides a lot of benefits. That's why today I'll share with you the benefits of construction equipment leasing and how you can take advantage of it today.
5 Benefits Of Construction Equipment Leasing
Heavy equipment financing can be a good option for business owners when they need equipment for their business. The reason is because a heavy equipment leasing program can help them cashflow the equipment that they want so they can invest their hard earned cash into things that appreciate. Heavy equipment financing doesn't have to be a big hassle process of buying or purchasing the equipment.
Good construction equipment leasing companies will make it easy for you and give you a no obligation approval and fund the deal fast. Most construction business owners choose to lease equipment rather than purchase them. But before we discuss more of the benefits of construction equipment leasing, let's first start by answering the question...
What Is Construction Equipment Leasing?
Since construction equipment is expensive, the working capital needed to purchase the necessary construction equipment can be a challenge. That's the case whether you are starting new or need to upgrade existing equipment.
Upgraded equipment is a great investment for a business. In today's competitive world, having the best and most reliable equipment is a big advantage over competitors.
So then how can you get an upgraded construction equipment that can help you gain a better return on investment?
The answer is through leasing. That takes us to the main question...
"What is construction equipment leasing?"
Construction equipment leasing is the process of easily obtaining new and used construction equipment for an affordable price. Equipment leasing helps speed up the process when it comes to acquiring upgraded construction equipment. When you lease a backhoe, you get to have affordable monthly payments that fit your budget, so you don't have to dip into your working capital.
If you have good credit, equipment leasing doesn't have an upfront cost so it helps you gain an increase in your return on investment sooner than later. What you save as down payment for buying new equipment can now be used to cover up other expenses in your business like payroll and fuel. If you have bad credit, not worry, 30-40% down should get you a heavy equipment lease approval.
This can help you build up your working capital and not hurt your business line of credit.
With heavy equipment financing, you get to own the equipment such as bulldozer, bobcat skid-steers, cranes, and excavators easier and owning updated equipment means you can have business tax deductions from your gross income.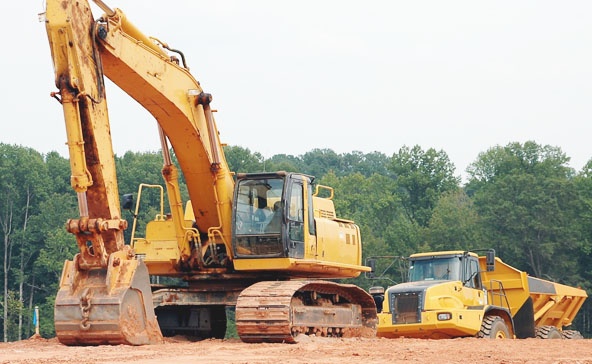 1: Have Flexible Construction Equipment Upgrade
With construction equipment being run down by new employees and just normal wear and tear, equipment always gets upgraded. Construction equipment leasing can help you with acquiring the updated equipment that you want in a way that works with your business situation.
Applying for an equipment leasing approval means you get the benefit of easily replacing old equipment, or equipment you are no longer using, with new or equipment. It's a flexible way of replacing old equipment with upgraded (or latest) equipment.
The construction industry requires specific equipment depending on the project. And because of this, equipment can be left dormant for the rest of the year or it may end up being used only once for that specific project.
Equipment financing helps provide flexibility. You can either choose a short-term or a long-term lease depending on how long you want your equipment. It can also depend on how much you have for your budget or the duration of the project you are working on. Heavy equipment financing companies like trust capital will offer no pre-payment penalties so you can buy out at anytime.
If you want to own the construction equipment and just finance it with a construction equipment loan, ask yourself early on in the budgeting phase what's more important to you. A shorter term with less total out of pocket cost or a lower payment with a longer term. If you can budget for a 36 month equipment loan it's usually the wisest option because it keeps your monthly payment manageable and your total out of pocket low. Not all heavy equipment finance companies will give you a discount if you pay off early like trust capital will.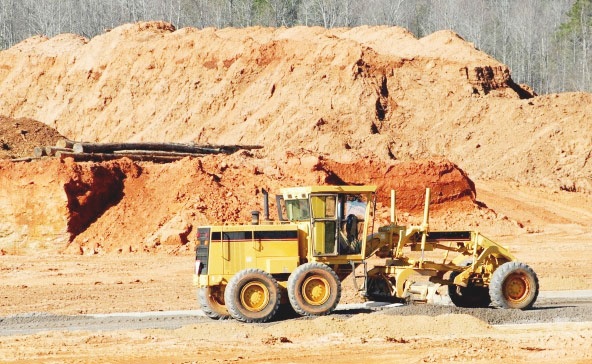 2: Gain Access to Construction Equipment Faster
In some cases, buying a backhoe may end up in you having waiting times before you have access to it. Certain types of equipment, such as cranes, pipe layers, and conveyors have a long processing time before you can purchase it.
The high demand for some construction equipment is one of the main reasons why the process for acquiring the equipment takes a long procedure. Keeping your concrete trucks updated can improve efficiency and it lessen the cost of maintenance.
If the heavy equipment is needed sooner than later, then heavy equipment leasing will be a better choice. Heavy equipment leasing provides a faster option of getting access to the equipment.
3: Save On Taxes With Construction Equipment Leasing
Construction equipment leasing can have certain tax advantages.
Under Section 179 of the Tax Code, the tax deduction for the full purchase price of equipment is given to business owners in the fiscal year the equipment was acquired. It must be a capital lease such as a $1 buy out lease or 10% PUT lease. Where there is a predetermined buyout at the end of your lease. You can write off up to $1,000,000 with tax code section 179 now.
Quick way to calculate section 179 tax savings is by taking the equipment funding amount and multiplying it by .35%. This will give you your total cash savings on your purchase under Section 179 Tax code.
Even if you are only in the first few months of the lease, it's already considered eligible for tax deduction.
Although almost any type of equipment can be considered for deduction, it's still wise that you first consult with an accountant or a tax consultant. Make sure that your tax advisor agrees that the equipment qualifies for a tax deduction.
You can also structure your agreement as a FMV buyout lease or some form of buy out where it's open ended and you can walk away from the equipment with no obligation. Than you can qualify to write off 100% of your monthly construction equipment lease payments off your taxable income. That's your principal and interest lowering what you would pay to uncle sam every year.
4: Low-Cost But Definitely More Sales
The construction industry relies heavily on equipment. That is why having the most updated equipment is important.
But... buying construction equipment is very expensive.
You need to have the down payment. On top of that you still have the monthly installments.
Yet there are advantages to having the equipment now. Have up-to-date and efficient equipment is essential to your construction business. It helps improve performance and speed of the work. This results in more satisfied customers (and the ability to do more jobs).
With construction equipment leasing, you can reduce the cost of purchasing updated equipment.
A few of the financial companies that offer equipment leasing have flexible payment options. The type of the heavy equipment leasing program greatly depends on the client's needs and the capacity to pay the equipment finance agreement.
Leasing equipment will also have lesser requirements than traditional business loans. When you lease a backhoe, there's no need to pay for a down payment. Whatever amount you save from the down payment can now be used for your business' daily operations. If you have bad credit, heavy equipment financing companies will give you an approval with 30-40% down.
Heavy equipment lease programs such as $99 for the first 3 or 6 months of your excavator lease are offered by equipment lessors to business owners with good credit. This will allow you to generate revenues for your business before your regular excavator lease payments begin. The smarter business decision is to do larger payments the first year and have your monthly payments gradually go down each year for three years. This will dramatically lower your total interest paid.
5: Easier Application And Approval From Independent Construction Equipment Leasing Companies
Construction equipment leasing has an easier and faster application approval than traditional business loans.
At Trust Capital, the approval of an equipment leasing application only takes approximately 2-4 hours. The business finance company offers an easy application process that can be found on their website. You won't need to wait for a long time before your application gets approved.
You don't need to worry about your credit when you apply for a heavy equipment leasing program. If you can prove good cash flow, have collaterl
Once your backhoe lease application is approved, Trust Capital can offer you same-day funding and pre-funding for construction equipment vendors. You get up to $1,000,000 to finance your backhoe and receive the tax deduction from it as well.
Trust Capital can also approve you for a construction equipment sale leaseback. This will give you 70% LTV of your appraised equipment to inject working capital back into your business for operational expenses such as expanding your concrete plant, more concrete trucks & hiring more employees.
Trust Capital will show you how much you can save when you apply for your affordable equipment leasing program from construction equipment vendors. You can choose any vendor you wish or we can help you find a reputable equipment vendor that we have dealt with in the past.
There is a simple application process available at Trust Capital's website. If you complete the application form completely, you can be approved within 2-4 hours. We offer no obligation app only approvals up to $300,000. Monthly equipment finance terms up to 84 months.
Final Thoughts On The Benefits Of Construction Equipment Leasing
Being in a construction industry, it's important that your equipment is efficient and up to date. Buying the construction equipment that you need for your business costs a lot. The application process for getting a bank loan is not easy and it's time-consuming. That's why you'll want to consider construction equipment leasing to help you get the equipment you need.
As I discussed earlier, construction equipment leasing can provide you a lot of additional tax and cash flow benefits. Utilize section 179 to gain a greater ROI on your construction equipment purchases. It's wise to budget for a 36 month equipment loan to keep your total out pocket low to recognize a greater ROI on your construction equipment acquisition. If you did a 36 month lease term with a FMV buy out your tax write off would be very large as well since you can write off 100% of your equipment lease payments off your taxable income.
Take advantage of construction equipment leasing by applying today. Be sure to check out our other blog how to avoid construction equipment financing scams.
To learn more about construction equipment leasing, call Trust Capital at 866-458-4777.