If you're starting up a new laundromat business in town, chances are you've already looked all over for ways to fund your new venture. If you've spent anytime online looking for solutions, then you've already noticed that there's not a lot of useful or reliable knowledge out there.
A lot of sites out there these days don't provide a lot of actionable information that you can use right here and right now. Most website will provide generic information that talk about the kind of equipment you can use laundry equipment leasing on.
And if you spend enough time browsing around, you'll realize that you can get just about any kind of laundry equipment financed through leasing and other financing options.
So what do you do when you already know what kind of equipment you need to get, and just have to get the funding? Figure out your total cost and whether or not you qualify.
What's the Cost of Starting Your Laundromat?
Before you can even start looking for financing, you have to know your total costs will be to get started. Chances are you already know the general cost of the equipment you need to finance. If that's all you need to finance, then you're good to go.
But have you considered the costs of opening up the store, the first few months of maintenance and rental costs to use the space on a regular basis?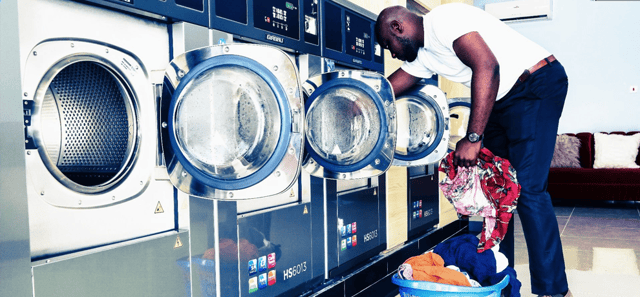 Will You Qualify for Laundromat Financing?
There are a few key areas that financiers are going to look at before they consider giving you any amount of funding for your new laundromat.
Credit score. Depending on how new you are, you're going to want to get as high of a credit score as possible. This may not always be an option, especially for newer businesses, and that's where other qualifications become more important (like collateral).
Time in business. If you're an established laundromat and just need to upgrade your existing equipment, then having a couple of years of experience and a proven track record can help you in the long run.
Available collateral. If you don't have a lot of laundromat business experience to work with and your credit score isn't the best, you may just have to provide some kind of of collateral upfront. In some cases this could be a larger down payment or having to take on more expensive monthly repayments.
Every situation is unique, so it's worth consulting with a financing expert before ruling out laundromat financing or laundry equipment leasing completely.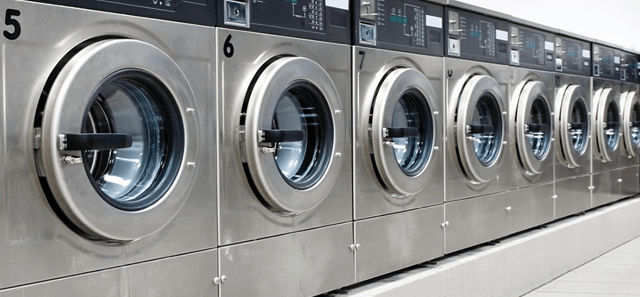 Available Financing Options for Laundromats
The options that are available to you will depend on how you'll qualify to different kinds of financiers. In general, there are a handful of options available to you, from SBA loans to borrowing cash from people in your personal social circles.
Bank Loans & SBA Loans
Arguably one of the "best" options for financing of any kind, a bank or Small Business Association (SBA) loan will often get you the most affordable financing rates. However, loans of these kinds have higher requirements and may take considerably longer to apply for and get your financing.
Laundromat Equipment Financing
A popular option for laundromats, especially those that have most of their other expenses covered, is laundromat equipment financing or laundry equipment leasing. Financing equipment is great for businesses that have either already been established or are just starting out.
Use our laundromat equipment financing calculator to calculate how much your laundromat equipment financing payments could be and how much laundromat equipment you can afford to buy based on your monthly budget.
Using Your Own Cash
An option for individuals or teams that have a fund already developed is to simply pay for your business expenses out of your own pocket. This isn't always an option for most newer businesses, but can be a great way to help you save money in the long term. An alternative would be to use your own credit cards to make the purchases you absolutely need for your business.
Borrowing Funds from Friends & Family
This option should be used as a last resort, because getting money involved with friends or family is usually a risky venture and can complicate things. But if you know a family member or friend that you can rely on and supports your venture, they can be a great ally in helping you get started.
Big Tax Breaks On Your Laundromat Equipment Financing Options
When you structure your laundromat financing on an equipment financing agreement or on a $1 buy out lease agreement you get section 179 tax benefits. With the passage and signing into law of H.R.1, aka, The Tax Cuts and Jobs Act, the deduction limit for Section 179 increases to $1,000,000 for 2018 and beyond.
Final thoughts on Laundromat Financing Options
Many entrepreneurs are buying existing laundromat locations and replacing the old equipment with new laundry equipment. This is a great long term supplemental income plan for your family. Finding the right laundromat business for sale can be a long and daunting process but it's a great plan to build wealth.
Ready to Apply online for laundromat Equipment financing? Feel free to call Trust Capital and speak with a laundromat equipment finance specialist that can take your application over the phone at 866-458-4777.