Planning to open a restaurant?
There are a lot of things to do before you can open your restaurant. Just like other businesses, you need to have a plan, a good location… and enough capital.
After all, setting up a restaurant isn't the cheapest thing in the world. Most people can't shell out the capital required for it on their own. Fortunately for those who need help in that area, restaurant owners have a number of finance options, especially for their equipment. Some of these are better than others, however -- and that's the topic of our article today.
You see, using the right equipment finance options is important. It's a major factor that can decide the success of your restaurant, even if your restaurant is one that has already been running for a while. Restaurants need to change equipment often to make sure that food preparation is done properly, for one thing. They also regularly find themselves in need of equipment to stay competitive.
Unfortunately, outfitting your restaurant with new kitchen equipment and furniture is costly. Often, trying to acquire that new equipment with your working capital alone can cause financial problems down the road. That's why you need to know and use the right equipment finance options at low interest rates.
Restaurant Equipment Finance Options to Choose From
As I said earlier, you have several restaurant equipment finance options. Pick the right one and you're likely to see excellent returns from it later on. However, that depends on the state of your business and how you use the equipment finance options you choose. With that said, let's talk about the best equipment finance options for your restaurant and find out what each one has to offer. Knowing more about each of them can help you choose the right one for your restaurant business.
SBA Loans for Restaurants
One of the best equipment finance options is the SBA loan (US Small Business Administration loan). That's because the SBA loan can be the most affordable loan option, especially with its long monthly payment terms.
Furthermore, an SBA loan is the ideal business financing or leasing option for purchasing long-term investments such as a restaurant remodel.
Apart from that, the SBA loan is the best option for borrowers with a strong personal credit profile. Restaurant business owners can easily get an SBA loan as long as their credit score is somewhere over a 700 and they're showing an income of over six figures and can inject 10-30% equity into their business.
However, if you need to get restaurant equipment quickly, SBA loans are not the ideal equipment finance options. That is because SBA loans typically take the longest to fund.
Usually, you will need the following to qualify:
700 + credit score,
Over 100,000 a year in income, and
10% down payment.
In some cases, collateral is also required, especially if you're a startup business looking for a large SBA loan.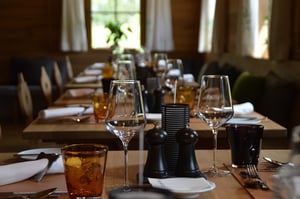 Restaurant Equipment Loans
Restaurant equipment loans could be a better solution than other business finance options for many. Restaurant equipment loans could be a good solution because this type of loan is relatively easy to acquire if your credit and cash flow are decent, e.g. you have no open tax liens.
Part of this stems from the fact that most equipment lenders offering these loans don't demand collateral. With restaurant equipment loans, the equipment itself is the collateral. In fact, most equipment lenders only ask for a short easy equipment loan application. That means there are fewer documents to prepare, making applying for restaurant equipment loans quite straightforward.
This can also benefit you in terms of how quickly you get the equipment lenders' decisions for these loans. Remember:
You can submit the requirements faster.
Lenders can look over them quicker (again, partly because there are fewer documents to review).
That means the whole process is expedited compared to the review process with your local bank. You have a chance of getting a decision faster than you would with other business finance options.
Now, if you get approved, the funding you will get still depends partly on your credit application. The better your financial circumstances are, the more attractive the loan terms that will be offered. Either way, using restaurant equipment loans may help you acquire the equipment you need as soon as possible. This is why it tends to be among the preferred restaurant equipment leasing and business finance options.
Business Cash Advance
Your restaurant equipment finance options also include the business cash advance.
The business cash advance is a better version of a traditional merchant cash advance. In this type of financing, you will sell the "future sales" of your business. This is one of the best ways to get additional funds quickly. That's why a lot of people seeking quick equipment finance options tend to consider it.
However, you need to repay the funds right after a few days or weeks of receiving it. You will share your profit with the lender until the debt is paid.
On the bright side, even though you need to repay the finance quickly, it won't affect your capital too heavily. That's because of the way these cash advances are repaid. The lender will get 8% to 13% of your sales. This is lower than average, but it's worth pointing out that it will affect your cash flow during the off-season.
The way you repay a business cash advance usually shouldn't give you financial problems. But you may have to consider it with more circumspection if your business has a seasonal income. You will also have a hard time repaying the borrowed cash if you have low sales, naturally. So, if your sales are not continuous or dependable, it's best to use other equipment finance options.
Business Lines of Credit
This is one of the equipment finance company options for restaurants. That is because you only need to pay for what you use with these.
Business lines of credit can help in many ways. They can be used in bulk purchases, to fix short-term cash flow problems, and to give you fast access to working capital.
Among other equipment finance options, this option can be recurring too.
Fortunately for those interested in this option, getting funds through business lines of credit is easy. You just need the following to qualify:
600+ credit score,
2 years in business, and
$150,000+ in annual business revenue.
Terms are usually 3 months to 24 months. You only pay interest on the money you take out so you can get approved for a hundred thousand dollars and only use twenty thousand dollars and just pay interest on the twenty thousand dollars.
Short-Term Restaurant Loans
A short-term restaurant loan is typically used to plug short-term working capital gaps. Sometimes, it can also be used to invest in company growth.
Moreover, this can also help you finance equipment for your restaurant. This loan can amount up to $500,000 and can be funded within 1-3 days. That amount of money can help in acquiring the necessary equipment to run your restaurant.
Short-term restaurant loans are easy to acquire. Lenders just focus more on recent business history, not personal creditworthiness. The interest can be high, however. That being said, you can have a lower total cost of capital compared to traditional loans. Also, you can usually pay off the borrowed money within a year or less.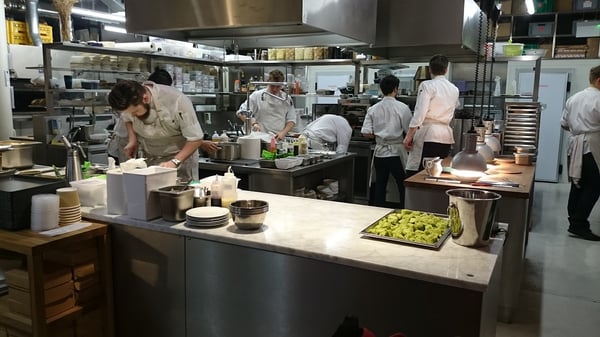 Finding a Business Finance Partner
Any of these equipment finance options can help your restaurant. However, you have more to think on than choosing which of them to use. That's because the success of your restaurant equipment financing may also depend on your choice of equipment financing partner.
Unpleasant as it is to hear, some lenders take advantage of their clients. They are the only ones who get any benefit out of the equipment finance options they offer.
As such, you need to partner with trusted finance companies who care about their clients' success as much as their own. There are a lot of equipment finance companies nowadays that you can choose from. However, only a few of them can be trusted like Trust Capital.
Trust Capital is one of the most reliable equipment finance companies. They are known for helping their clients grow and succeed by offering the best equipment finance options. The lease company covers a lot of industries as well. They serve clients even in the restaurant industry. Trust Capital can aid your restaurant business through the companies who offer financing with only a few requirements, such as these:
Business license or active business entity with the secretary of state,
Personal guarantees required from all owners,
Minimum 600 credit score,
No bankruptcies in the last 7 years, and
No unresolved tax liens.
Once you qualify, you can even get access to multiple benefits such as these:
100% purchase financing program,
Up to $250,000 with a simple one-page application,
Up to $5,000,000 with financial disclosure,
Next-day funding with pre-funding available for approved equipment vendors,
Deferred payment options and terms up to seven years,
No down payment requirements,
Same-day approvals in two hours,
Eligibility for all new and used restaurant equipment purchases, and
No age restrictions.
Consider using a restaurant equipment loan calculator to figure out what your monthly payments and interest rate will be.
Final Thoughts on Equipment Finance Options for Restaurant Owners
In this blog post, we talked about equipment finance options for restaurant owners. Restaurant owners usually have problems regarding their capital. That is because they need to replace their equipment regularly. To replace the equipment, they need a lot of money. That's because most restaurant equipment is expensive.
However, they can solve that problem easily because there are many equipment finance options to choose from.
The usual equipment finance options include SBA loans, restaurant equipment loans, business cash advance, business lines credit, and short-term restaurant loans. Those equipment leased options can help a restaurant owner. However, success can still depend on the chosen finance partner.
That's why it's best to make a partnership with reliable equipment finance companies like Trust Capital. They are one of the most respected equipment financing solutions through the companies.
Trust Capital offers different restaurant equipment leasing and business finance options. To know more about it, contact them at (866)458-4777.