Planning to get a new phone system for your business?
Phone systems allow mid-market (medium sized) businesses to thrive by optimizing productivity in the workplace.
Aside from improving communication within the organization, it also allows a business to provide better customer service.
Every business has varying communication needs.
So...
In choosing a phone system for your business, it's important to determine what features will suit your business needs the most and fit your budget.
In this blog post, we will discuss how to choose the best phone system for your business and acquire it through phone system leasing.
Let's get started.
Acquiring Phone System through Leasing
A phone system can be critical to the profitability of your business. That's why it's important to identify what phone system will work best for your business needs.
For a mid-market business, a phone system that is scalable and has advanced features to accommodate future growth is recommendable. It should also be able to support between 250 and 1000 users to ensure that every person in the business is able to use it.
So what are the different phone systems you can get through phone system leasing? Let's talk about your options...
Choosing the Best Phone System
A business phone system is a calling network that allows internal and external communication, and are designed to meet the complex needs of businesses.
There are four main types of phone systems. These phone systems are differentiated by the technology used, cost and service provider.
They are:
Multi-line phone system. This is a basic system that can handle several lines running through one unit, allowing operators to answer each number individually. This is ideal for small businesses.
VoIP phone system. Instead of using traditional phone lines, this system uses your Internet connection. This allows you to have unique phone numbers, handle toll-free numbers and route calls to certain employees.
PBX phone system. PBX stands for private branch exchange. This system is a private network used exclusively by the company and allows centralized routing of incoming and outgoing phone calls through the company's phone lines.
Cloud phone system. Call routing and signal processing are done remotely for a small monthly fee, with the infrastructure kept offsite.
These systems are ideal for smaller businesses with 1 to 250 users. For a mid-market business, the ideal phone systems are VoIP systems and PBX systems.
For that reason, let's talk about VoIP systems and PBX systems in more detail.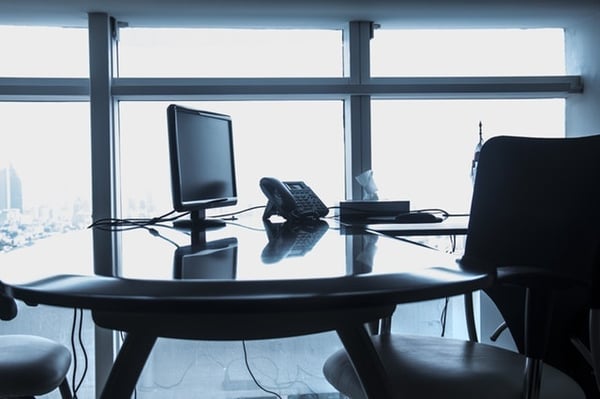 VoIP
In a VoIP (voice over internet protocol) phone system, the voice and data communication equipment is hosted by a third party at a remote location.
The VoIP system relies on an Internet connection with the burden of maintenance placed on the service provider.
Costs of VoIP Phone Systems
VoIP phone systems typically involve one-time setup fees. These setup fees cost approximately $5,700.
However, once the system has been set up, an ongoing monthly subscription fee of approximately $600 must be paid to the service provider. This covers the use of the system and maintenance cost.
These phone systems require a good Internet connection for quality calls.
The price of these systems depends on the Internet service speed and the service provider.
VoIP Features and Benefits
Call Hold



VoIP can help in improving customer service through Call Hold, Call Routing and Auto Attendant.

For instance, Auto Attendants can answer calls and route your customers to the appropriate location or department.

With call hold, customers won't have to deal with a busy line since the system will automatically play a hold message until an employee is available.

Wide Range of Business Functions

A VoIP system can also carry out a wide range of business functions from call screening to hosting video conferences.

Detailed Reports



In addition, it can provide detailed reports for a wide range of practices from voicemails to call detail reports to ensure that better service is provided each time.
PBX
A PBX (private branch exchange) phone system consists of a private network on-site. This phone system has a central unit into which all phone lines within the organization are tied, and the cost is generally lower than a VoIP system.
Costs of PBX Phone Systems
The set up fees for a PBX phone system cost around $2,500, while the installation fee is around $1,700. The monthly fee is around $600, which covers both the Internet and phone service costs.
PBX Features and Benefits
Operates through Electricity

A PBX phone system is very reliable because it can operate without Internet access and electricity. In instances when the Internet speed slows down, the quality of the phone calls will not be affected.
One Centralized Number

PBX also helps in enhancing your business's image as it allows you to have one centralized number that directs to multiple lines. This centralized number can be used when marketing your business.
Customer Support

Lastly, PBX improves customer support. This allows your clients to directly contact an individual or a department in your organization with ease.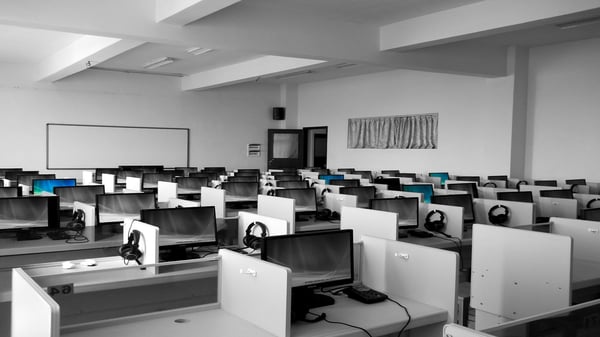 Obtaining a Phone System through Leasing
Phone systems can be costly.
Using your business capital to buy your system may not always be a wise move.
That's because phone systems depreciate over time and become outdated easily, as technology continues to progress.
So...
If you really want to get the benefits of having a phone system with a price you can afford, consider using phone system leasing. With phone system leasing, you can get the equipment you need as fast as possible without the hefty cost.
Phone System Equipment Leasing Simplifies the Process
With the help of an equipment financing company, the process is simplified. You can get an approval of up to $300,000 with a simple one-page application.
When leasing phone systems businesses will also lease furniture and computers all wrapped into one master lease agreement.
You can pay as many vendors as you'd like at separate times under one master lease agreement.
If you also apply with a financial package, you can get approved up to $50,000,000.
Choose Among Flexible Phone System Leasing Payment Programs
Big mid-market companies usually choose an operating lease to purchase a phone system around $100,000 to 200,000.
With an operating lease, these companies can opt to buy the equipment once the lease ends.
However...
Payments that will be made then would be for the equipment's current fair market value. Most equipment leasing companies can cap your FMV with a 10-20% purchase option if you ask.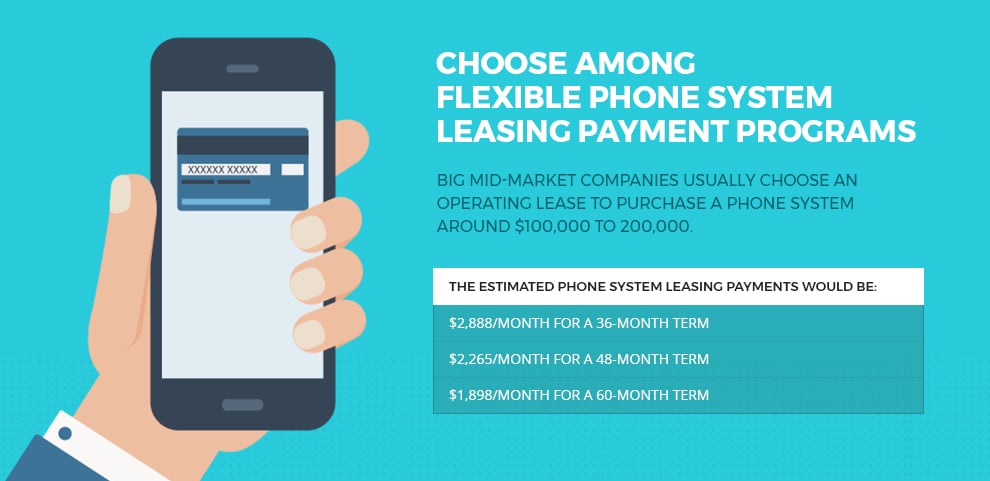 For example:
Suppose you bought a phone system package for $100,000.
The estimated phone system leasing payments would be:
$2,888/month for a 36-month term.
$2,265/month for a 48-month term.
$1,898/month for a 60-month term.
One payment due up front, FMV Buyout, not to exceed 10%.
Improve Your Cash Flow
Phone system leasing involves lesser upfront costs, as there is no down payment required to obtain it.
In fact, you can even delay the payment for the first 3 - 6 months if you ask the equipment leasing company up front when you apply.
Equipment leasing also saves money by reducing monthly costs through tax benefits. With a FMV buyout, You can claim the monthly lease payments as an operating expense deduction.
More Options with Fewer Restrictions
We cannot emphasize this next point enough.
Technology depreciates with time.
This means your business will need an updated equipment to cope up with technological changes.
But with phone system leasing through preferred phone system vendors, you can easily exchange your equipment to one that you prefer.
That means you'll always get benefits from having the latest phone technology, without having to constantly buy a new one.
Unlike traditional lenders, most equipment financing companies have no restrictions. If you have a good credit score, good rates can be expected. If your business has a poor credit, you can still get 100% financing.
Final Thoughts on Phone System Leasing for Mid-Market Businesses
Phone systems are important in optimizing productivity and providing better customer service. Knowing each type of phone system will help you in deciding which one offers the features your business needs.
There are four main types of phone systems: multi-line, VoIP, PBX, and cloud. For mid-market businesses VoIP and PBX phone systems are recommended.
VoIP and PBX phone systems have different prices and features. However, the choice between the two depends highly on your business needs and budget.
Once you have made your choice, you can save money through phone system leasing.
With phone system leasing, you'll be able to get the benefits of having a phone system at a low cost and without having to worry about paying more for upgrades.
One great benefit is you can choose among different flexible programs and even qualify for tax benefits.
With equipment leasing, you'll get to finance 100% of the equipment's cost with a flexible plan that suits your budget. Include soft costs like tax, warranty and installation. Add on other asset needs like office furniture. You can even get working capital added onto the same equipment lease term. You could add working capital up to 25% of the equipment cost to your agreement.
For more information about phone system leasing, you can contact Trust Capital at (866) 458-4777.