Is your automotive shop not as successful as you were expecting it to be? If you're experiencing this, you probably need to make changes in your business.
You see, you have to make your automotive shop stand out from among its competitors to succeed. There are so many other auto shops out there that it can be difficult to carve out a space for your own.
That's not to say it's impossible.
There are ways of making your shop more attractive than others.
You can do it by offering different services or by charging the most attractive fees. You can also do it by ensuring that the services you offer are top-notch.
Aside from that, there are qualities that an automotive shop should have to be profitable. Usually, you can achieve most of those qualities by improving your operations.
To improve your operations, you need to upgrade or add equipment and hire skilled employees. Those things take a lot of working capital.
Fortunately, there are business cash loans at low interest rates that you can use to help defray the costs.
Make Your Automotive Shop Profitable with Business Cash Loans
When you need to improve your automotive shop, it's often best to do it with business cash loans.
Business cash loans can do a lot for your automotive shop. They can help you expand your operations since you can use them to finance different aspects of your business.
You just need to use the business cash loans properly to ensure your success.
To do that, you must be clear about your goals in using the business cash loan.
We'll help you out with that here by showing you what to aim for. Your goals should be the qualities we list here, as they're the ones the most successful auto shops have.
Aiming for these will thus help you get a better ROI from your business cash loans with good business tax returns.
Qualities of a Successful Automotive Shop
You should use your cash loans for business to achieve the qualities of a profitable automotive shop. Doing this can help in setting apart your automotive shop from nearby competitors.
Let's go over the qualities of a successful small business owner one by one.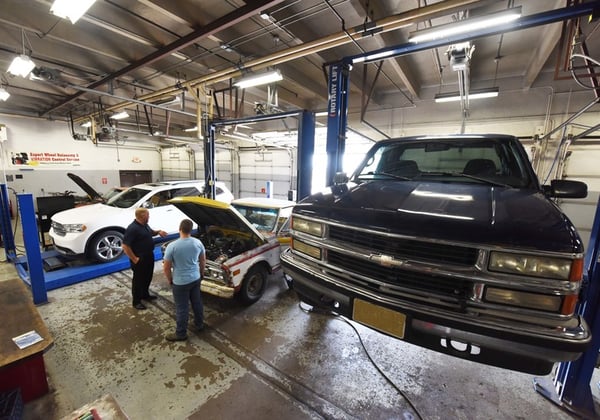 Preferred by Insurance Companies
You should use business cash loans to meet the qualifications of insurance companies. You could have more profit and a better cash flow if they prefer your automotive shop to others.
Insurance companies don't want to spend lots of time and money on vehicle repairs for their clients. As much as possible, they want to make sure that any repairs are completed efficiently since they're footing the bill.
So when you spend business cash loans, use them to improve the quality and cost-efficiency of your work. This can help in getting the attention of insurance companies.
Insurance companies can provide you clients. When this happens, your automotive shop will have a steady source of income.
A Wide Array of Services
Aside from repairing vehicles, you can use business cash loans to add more in-demand services to your automotive shop -- like towing, for example.
Many of your potential customers might have a damaged vehicle somewhere, after all. Since they can't drive it to your shop, why not offer them a towing service too?
That convenience can make a difference. Your potential customers might consider going to a different automotive shop if they have to look for a separate towing service with yours.
Other than that, consider offering services like automotive detailing and cleaning as well. There are many repaired vehicles that need cleaning.
Certified Technicians
It's best to hire skilled technicians because they can assure your customers that their car is in good hands. Errors will be eliminated or at least minimized if your work is done by skilled and certified technicians.
Hiring such technicians is tricky, though. Just because a technician asks for a high salary doesn't mean that they have the best skills.
To make sure that you are hiring the best technicians, check if they have ASE Blue Seal of Excellence.
That is because a technician must pass a vast array of tests to acquire the ASE Blue Seal of Excellence.
Besides, certificates like the ASE Blue Seal of Excellence must be renewed after a year or two. You can be sure that the technician is updated on the latest technologies then.
Up-to-date and Adequate Equipment
Always consider using business cash loans to upgrade or add to your equipment. That's because upgrading or adding equipment is another way to improve your operations.
Your technicians can use their full potential if they have access to the latest equipment in the industry.
Furthermore, your operations will be faster and of better quality if you're using the latest equipment in the market.
When you're acquiring equipment for your automotive shop, just make sure that they will help you improve your operations. You must get a good ROI from your newly acquired and upgraded equipment.
You don't want to end up wasting money on equipment that you don't need for your operations.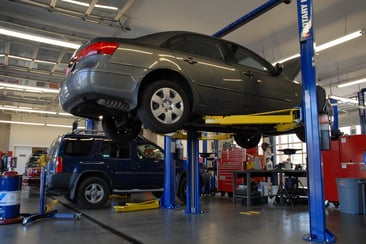 Why Use Business Cash Loans
You should consider getting business cash loans to achieve the above qualities if you don't have enough capital to fund them all yourself.
Even if you do have a little bit of extra capital, you still shouldn't risk it. That's because changes to a business often cause some financial instability… and you'll need that bit of extra capital to get you through it.
Business cash loans offer a safer way of improving or expanding your business. Here are other reasons to make use of them for your auto shop's improvement:
You need lots of capital if you hire skilled technicians. Their salary will be more expensive than the average technician's.
You also need capital if you're planning to offer more services in your business days. Since there will be more things to do, you need more employees.
There's a chance that you also need to extend your workstation or rent a new facility to accommodate the expansion of your operations.
Huge capital is needed too if you're planning to upgrade and add equipment to your automotive shop.
Most equipment for an automotive shop is expensive. Buying it could cause an imbalance in your budget.
Every improvement you make should be backed by lots of money. You also have to be prepared for unexpected expenses.
You will have a hard time funding even your daily operations if ever there's an unexpected expense. That's why you need to look for business cash loans to increase your working capital.
This will give you a 'financial cushion' while doing necessary upgrades or improvements just within 24 hours. You won't have to worry about halting operations even in the worst cases.
Finding the Best Business Cash Loans
Luckily for auto shop owners, there are many working capital lenders of business cash loans. You can even approach traditional lenders like banks. However, keep in mind that banks have strict requirements regarding loans. Banks usually require their clients to have a good credit score and a steady flow of income.
So if you have a startup automotive shop, your chances of getting business cash loans are low. Banks aren't willing to take a risk because there's little to no chance that you have collateral to offer. Having that in mind, you should look for other alternative lenders like online financing companies by filling out an online application.
Usually, business financing companies have fewer requirements. They are willing to lend you money even if you don't have a good credit score.
Companies like Trust Capital offer businesses a line of credit that businesses can pay back at anytime and only pay the remaining principal balance back as long as you have a FICO score greater than a 620 and have six or more months time in business. The business line of credit is the most affordable type of short term business financing.
This type of short term business financing works like business credit cards. If you're qualified, you'll access a line of credit from which you can pull working capital. You can repay the business line of credit from 3 to 12 months.
You just need to make sure that you can present the required documents. Which is as simple as a one page application and three months business bank statements. Also, be sure that you have a concrete plan of how you're going to use the business cash loans.
Final Thoughts on Business Cash Loans
If you're not happy with the results you're getting from your automotive shop, be sure to consider making changes.
The changes you're about to make should be aimed at making your automotive shop different from its competitors.
To do that, make changes that will help you achieve the qualities of a profitable and successful automotive shop. We listed those qualities above and explained them.
But before you make the necessary changes to your automotive shop to achieve those qualities, consider getting business cash loans first.
The improvements that you're going to make will need money. If you want to get business cash loans to increase your working capital, contact Trust Capital at (866) 458-4777.