Keeping up with technology's advancements can be a real challenge for a lot of people. But if you're tech savvy or willing to learn, you can keep up with innovation and even go so far as to make a profitable business out of it.
But just because there's a new type of technology available, does that mean you should use it to start a business? In some cases, not always. But in a few select scenarios? They can be absolutely profitable. By utilizing 3D Printing equipment leasing you will recognize profits sooner than later on your investment.
Like any business, there are a lot of factors that go into deciding whether or not it's worthwhile to open up a business.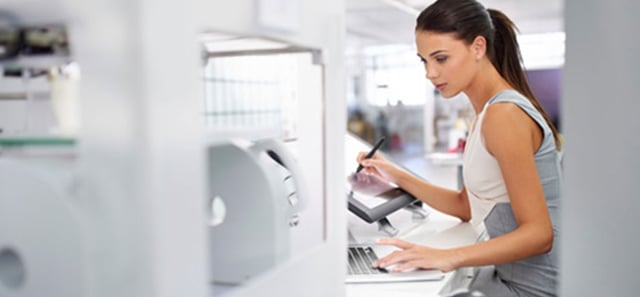 The Benefits of Starting a 3D Printing Business
At the core of 3D printing, there is tremendous flexibility in the market you want to serve with 3D printed products. Truly, one's imagination is usually the largest limiting factor when it comes to the different industries and niche communities you can market to with 3D printing, especially when you're utilizing printing equipment leasing to help you save money.
Because 3D printing's technology is advancing so quickly, products created through 3D printers are evolving in diversity due to the ability to print in different materials. While plastic is one of the most common types of printing materials, technology is advancing in a way that will allow users to print with a wide range of different materials.
For example, these materials, known as filaments, can include metal, carbon fiber, sandstone, glow-in-the-dark, and many more materials. There are over 30 different filaments you can choose from, depending on the type of product you want to create. With printing equipment leasing, you can utilize these various materials and offer incredible 3D printed pieces.
Therefore, with the wide selection of filaments to choose from, the only resulting is the imagination you have for the product you want to create and (depending on your 3D printer) the size of the product.
As long as you are able to create (or find) a "blueprint" for the product you want to create, generating them is almost as easy as pressing a button. This means that you can not only print virtually anything you can imagine, but you can truly customize any product that you create, particularly if you have several different pieces of printing equipment. Utlilizing 3D Printing equipment leasing for these various pieces of equipment is a great way to try them out and see if it's worth purchasing more.
Maybe you will find that your customers like personalized products, with names and messages built into the product. As long as you have a model for it, you can create it.
Are You Tech Savvy to Operate a 3D Printer?
While your imagination is the largest limiting factor, you also have to know how to operate a 3D printer and be relatively familiar with basic computer usage. If you are not the most tech savvy person, but you are still interested in 3D printing, you can partner with or hire someone who can be your 3D tech specialist. If you invest in printing equipment leasing, you can sometimes get a tutorial on how to run the equipment. A company who offers printing equipment leasing will want to protect their equipment and make sure you know how to work it, so if you're not exceptionally tech-savvy, consider3D printing equipment leasing tutorials and assistance to begin with.
What Industry Will You 3D Print For?
If you're already thinking about 3D printing, chances are you've already thought about the different kinds of items you want to start printing. If so, figure out if there's a market or niche that you can serve with your particular interest or initial idea in mind. If not, think about the different industries in the commercial market today.
Just to name a few to get your ideas going: think about industries like medical, entertainment, fitness, wedding, photography, automobile, children's toys, computers, etc.
While you don't necessarily need to be an expert or particularly passionate about the industry you decide to start 3D printing for, having an interest in, knowledge about, and a general passion for it will help tremendously. It's better off to know a great deal about the industry you're serving, or at least partnering with someone who does.
You can always learn more about an industry but you will have an advantage on day one if you already have knowledge, expertise, passion in that particular field.
Here is just one article you can use to get some more industry and product ideas to start off your 3D printing business, and be sure to check out your options for printing equipment leasing to get the most out of your time, money, and equipment.
Funding a 3D Printing Business
Once you've decided to get started with your 3D printing business idea, you'll need to figure out how you're going to fund the entire operation. In an ideal situation, you won't have to get outside funding once you've fully established your business and begun serving clients. But if you foresee funding issues in the future or need a way to save some money in the long-term, printing equipment leasing is a great way to minimize your upfront costs while still utilizing the best equipment available.
Getting started is usually the tricky part, especially for new or first time business owners who don't have a lot of experience.
Thankfully, getting funded for a business of virtually any kind is not impossible. Some industries are easier than others, but that doesn't mean that a business is inherently out of luck if they don't fit the bill. You just have to figure out the best method of financing your business. You can also explore printing equipment leasing to save some startup costs and get going creating pieces for your customers. Below are just a few common financing situations you can explore to get started.
Paying Out of Pocket
If you have enough savings set aside, being able to pay for expenses and equipment upfront with your own cash is the only way you'll be able to start a business without having to pay monthly repayment fees and interest.
But for most people, this isn't usually an option, which is where other forms of financing come into play, such as bank loans or printing equipment leasing.
Bank & SBA Loans
Getting a loan from an established bank or the Small Business Administration (SBA) is one of the most "affordable" financing options, because rates are generally lower. The downside is that getting approved is typically much harder and you may wait weeks or months at a time before you get an approval or denial.
In short: ideal for business owners that have good financials and have enough time and patience to wait out the approval process.
Borrow Cash from Friends & Family
While not always advised, having the option to borrow funds from friends and family can allow you to get your business started sooner rather than later. Chances are, friends and family will be more flexible with how they get repaid. This method isn't advised as it can ruin great relationships if financial issues arise.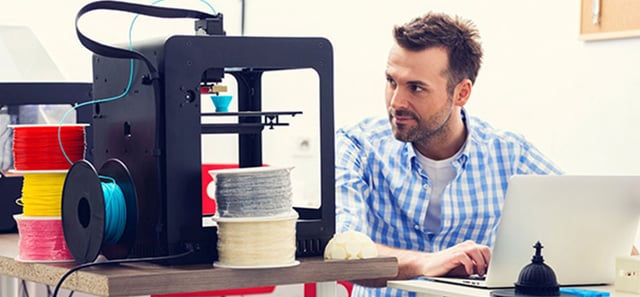 3D Printer Financing VS 3D Printer Leasing
In both situations, you get to utilize the 3D Printer on day one, as if you own it. The major difference is the end of the agreement.
Do you want to own the equipment at the end of the agreement OR upgrade?
There are tax implications that can factor into your decision making. Remember to always talk with your tax professional, as specifics can change from year to year.
3D Printer Equipment Financing
As a business owner you can choose a $1 buyout lease or equipment finance agreement. With these two types of agreements business owners presume ownership at the end of the agreement. A 3D printer loan enables business owners too utilize Section 179 tax code where business owners can accelerate their depreciation and write off the entire purchase price in year 1 off there taxable income, or they can depreciate the asset over its useful life and take a small tax break each year.
Having the most reliable and upgraded 3D Printing equipment for your business, acquired with affordable and fixed monthly payments, can have a lot of benefits for your business. When you structure your 3D Printing equipment lease on a $1 buy out lease agreement you get section 179 tax benefits. With the passage and signing into law of H.R.1, aka, The Tax Cuts and Jobs Act, the deduction limit for Section 179 increases to $1,000,000 for 2018 and beyond. The limit on 3D Printing equipment purchases likewise has increased to $2.5 million.
3D Printer Equipment Leasing
With printing equipment leasing structured as a FMV buy out business owners can write off 100% of there monthly payments off there taxable income each year. This will give you the biggest tax write off each year after year as long as you're leasing equipment. At the end of the term you can renew the equipment lease, negotiate a final cash payment with the lessor or return the equipment and upgrade to the latest and greatest equipment.
Getting 3D printing equipment leasing, in many situations, comes out as one of the best ways to finance a portion of your business. While you could use a loan to cover all of your major startup expenses, getting printing equipment leasing can help you to diversify your financing methods.
What does it cost to lease 3D Printing Equipment?
To access a 3D Printing equipment lease calculator Click here to calculate how much your 3D Printer leasing payments could be and how much of a 3D Printer you can afford to buy based on your monthly budget.
By using printing equipment leasing, you can dedicate the funding of your 3D printers to equipment leases and save other business startup and 3D Printing equipment costs for other forms of funding (e.g., bank loans). Make the right decision and lease a 3D Printer.
Are you ready to get started with your own 3D printing business?
Ready to Apply online for 3D printing equipment leasing? Feel free to call Trust Capital and speak with a 3D Printing equipment leasing specialist that can take your application over the phone at 866-458-4777.