Planning to acquire CNC equipment via leasing?
Without a doubt, all equipment, either new or secondhand, is rarely budget-friendly, especially for A startup business. More often than not, business owners would rather turn to other methods of equipment acquisition rather than cough up the cash upfront.
These "other methods" are recommended as they help you save your capital for future use.
Fortunately for business owners, leasing can help them get the equipment they need at a much lower deferred cost.
CNC equipment leasing allows you to make small monthly payments depending on your credit score. To make it even better, leasing does not require a down payment. If you have good credit could qualify for no payments for 90 days or the first 6 months at $99 to give your business time to ramp up before your regular payments begin.
Does this sound just like what you need? In this post, we'll talk about CNC equipment financing rates for both bad and good credit, as well as for startups.
Acquiring Equipment with CNC Equipment Leasing
The different equipment used in an operation is inarguably one of the most crucial assets of a business. Thus, determining the most cost-efficient means to acquire them is necessary for the business' thrift.
In recent years, many businesses experienced a decline in sales.
However, some businesses remained profitable.
Those that have experienced upward trends in sales were able to manage their cash flow properly and found a way on how to acquire equipment that suits their budget… which is often through equipment leasing.
Let's discuss how CNC equipment leasing can benefit your business.
How CNC Machine Financing Help Your Business
CNC (Computer Numerical Control) machining is widely used in the manufacturing industry with the aim of easing the operating process through the use of computer programming. The machine also increases the speed and precision in any task.
CNC machines may be incorporated into various equipment such as mills, lathes, routers, and grinders.
With CNC machine financing, you'll be able to acquire the equipment you need. This can be used to start your own machine shop or keep up with the increasing machination demands of the modern world.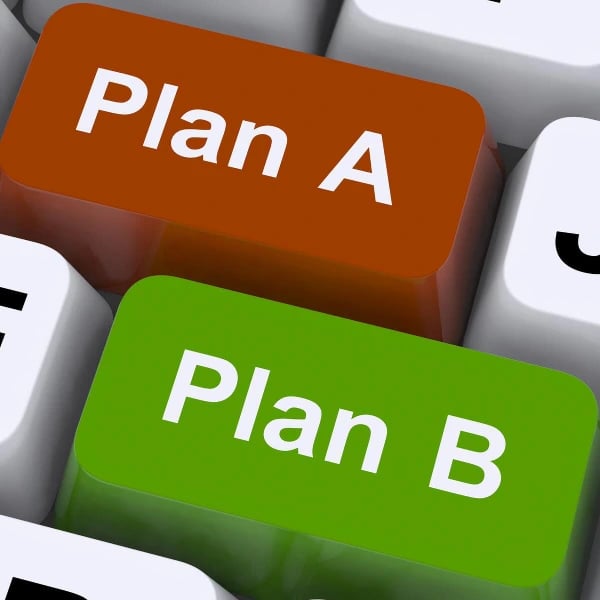 CNC Equipment Leasing Options
Regardless of your capital or cash inflow status, CNC equipment leasing allows for flexible payment terms that meet your business' needs. Equipment leasing companies who choose to invest in you will offer varying rates and adjust to fit your budget, so long as you agree to their terms.
With that said, here are some of the payment options most leasing companies can offer:
10% PUT Lease
With this program, the lease payments are lowered during the term. You'll own the equipment at the end of the term, upon payment of the PUT (Purchase Upon Termination) sum.
For example, you lease an equipment for $100,000. You'll have to pay a PUT sum of $10,000 (10% of the original cost) at the end of the lease term.
$1 Purchase Option Lease
A $1 Purchase Option Lease has higher monthly payments as compared to PUT lease.
However, you'll only have to pay $1 plus any applicable taxes or fees to purchase & own the equipment.
But what are the rates for CNC machine financing?
Paying for the CNC Equipment
A wide variety of CNC equipment can be yours for the taking through equipment leasing. Rates can vary according to the equipment's cost, type, etc.
Nonetheless, the most important determining factor remains to be the lessee's credit.
CNC Equipment Lease Rates for Good Credit
Good credit scores mean one thing—you have been a good payer during your past transactions.
Good credit scores increase your chances of having your future leasing applications approved in the most reasonable time frame. Leasing companies are more willing to invest in you when proven your trustworthiness and are considered to have a very low risk.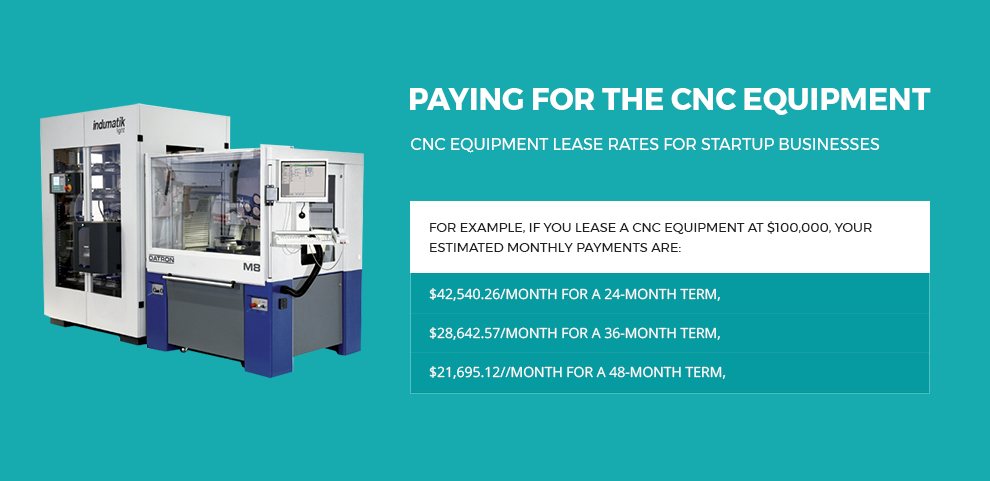 As an example of a leasing rate estimation, consider the following:
If you choose to lease a CNC equipment for $100,000 under 10% PUT, your monthly payment is approximately:
$2,845/month for a 36-month term.

$2,225/month for a 48-month term.

$1,855/month for a 60-month term.
Under $1 Buyout, you'll have an estimated monthly payment of:
$3,091/month for a 36-month term.

$2,400/month for a 48-month term.

$1,991/month for a 60-month term.
Rates for Bad Credit
Having a bad credit does not exclude you from leasing approvals.
Regardless of your score, some companies may still offer you a lease — although you must understand and expect that the rates will be higher for you.
Now if you lease an equipment at $100,000 under 10% PUT, your estimated monthly payment is:
$3,328/month for a 36-month term.

$2,869/month for a 48-month term.

$2,475/month for a 60-month term.
And if you choose to lease under $1 Buyout, you'll have an estimated monthly payment of:
$3,538/month for a 36-month term.

$2,725/month for a 48-month term.

$2,378/month for a 60-month term.
CNC Equipment Lease Rates for Startup Businesses
Startups can opt for an application-only program where they can get an approval of up to $100,000. As a general rule, if you have a FICO score of 650 or better, you'll be offered lower rates.
For example, if you lease a CNC equipment at $100,000, your estimated monthly payments are:
$3,156/month for a 36-month term.

$2,469/month for a 48-month term.

$2,060/month for a 60-month term.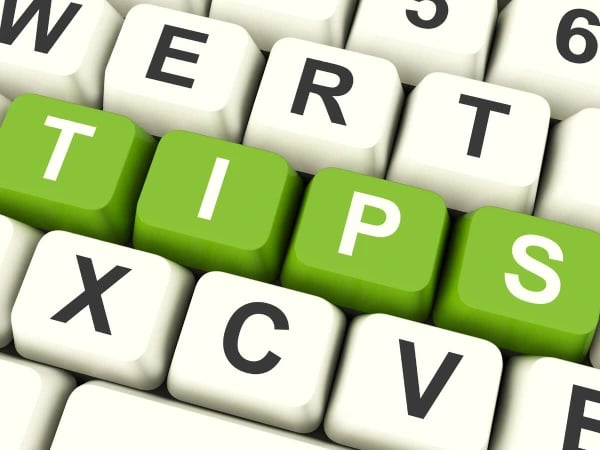 Tips for Improving Your CNC Equipment Business
It's not surprising that startup businesses face a lot of difficulties. As there is a lack of experience, funds, manpower, etc., challenges are in fact pretty common.
If you're a startup, it's common to have so many concerns. Here are a few tips for achieving success in your CNC equipment business:
Establish Partnerships
Making business connections should be a priority for startup businesses.
With partnerships, you may connect with a few people who would give advices and lead you to growth. You also increase your client reach and gain ideas for your future plans.
Maintain Organization in the Workplace
A well-thought out and organized company results to an increase in productivity and more streamline operations. Risks and accidents are also avoided as the workforce follows strict standard operating procedures.
When there is clean organization, your employees will never have to guess what to do next, or what to do when something doesn't go according to plan.
Invest in a Tool Management System
A tool management system can help you manage and track your inventory a lot faster than counting them manually. It also helps you avoid overstocking or under stocking of the tool supply.
In addition, having this in place will help you keep track of which equipment is currently present, missing, or those that needs maintenance.
Schedule Repairs and Maintenance
Lastly, check your equipment from time to time to prevent any disastrous failures.
Consider having a high-pressure coolant system to prolong the life of your CNC equipment.
Final Thoughts on the Different CNC Equipment Leasing Rates
Acquiring new equipment via CNC machine loans eliminates the need for paying a huge amount upfront. With CNC equipment leasing, you just have to make small monthly payments without straining your cash reserves. Ask for no payments for 90 days when applying for financing.
In CNC machine financing, you have three buy out options methods: the 10% PUT Lease, FMV or the $1 Purchase Option Lease. The rates for these options vary according to many different factors, the most important one being your credits score.
In general, the better the credit score and more time in business the lower the rates.
If you're a startup business who's looking to make it to the top, there are a few tips for improving your CNC equipment leasing:
Establishing good partnerships,

Maintaining good work ethics and organization,

Investing in tool management systems, and

Scheduling periodic maintenance to ensure that your equipment is still performing at its best.
Get
CNC Machine Financing
with the Help of Trust Capital
Are you ready to Apply online and get pre-approved for CNC equipment financing? We invite you to call Trust Capital and speak with an industrial equipment lease specialist that can offer you a no obligation approval and run payment scenarios for you subject to credit approval at 866-458-4777.