Are you considering the idea of using office equipment leasing?

Starting up a business requires an investment in good office equipment. Depending on the size of your company, purchasing office equipment can put a dent on your cash flow and even more so when you've outrun their usefulness.

Office equipment leasing companies offers is a new way business owners can invest in high-quality office equipment and furniture for their business. Through this, they can also manage cash flow and ensure a smooth running of their operations.

In this blog post, we will discuss the important factors to consider when looking into acquiring office equipment leasing and furniture financing.
Factors to Look Unto Office Equipment Leasing
Office equipment leasing terms helps business owners to easily manage their business without having trouble if any financial crises arise. Unlike buying, you won't have to spend a lot on office equipment that will outrun over time.
Whether you're a startup business or already an established business, the idea of investing in an office equipment lease is always a good one along with having a good flow of working capital.
However, it's important that you look over some factors to help you make the right decision for your business.

What Makes Office Equipment Leasing Necessary
What makes an office equipment leasing necessary and what are the benefits of leasing?
Office equipment leasing is a good option if you wanted to be updated with the latest technological advances and other advancements in the market without shelling out the money. In office equipment leasing, the lender buys type of equipment and rents it to you for a period of time.
This flexibility has made leasing the ideal choice over buying for small businesses.
Aside from this, here are more reasons why you need to start leasing for office equipment financing options.
Stay on Top of
the

Game

with Leasing for Office Equipment

Having a tech-savvy equipment as well as the computer systems helps you to stay on top of the game. Leasing allows you to do this by enabling you to upgrade your equipment whenever you wish to.

By the end of the office equipment lease contract, you will have the option to either upgrade, continue with the lease, or return the equipment to the lessor.
Avoid Steep Upfront Costs
Unlike purchasing which needs upfront cash, leasing doesn't require down payments. Instead, office equipment can be used before the payment of the monthly lease financing.
Opting to lease office furniture allows you to avoid invaluable expenses and efficiently manage your cash flow.
Qualify for Tax Deductions
Leasing for office equipment helps you in qualifying for tax deductable using Section 179. There are two sections where you can qualify for tax deductions: fair market value price (FMV) or $1 buyout lease.
In an FMV lease, you're not considered as the owner of the leased equipment. That means you can deduct the monthly lease payments as an operational or business expense.
On the other hand, a $1 buy out lease agreement means office furniture appears as an asset on your balance sheet. This makes it possible to deduct the entire lease amount as a business expense under Section 179.
Leasing Gives Financial Flexibility
One of the great things about financing office equipment as well as fax machines with a lease is that it gives you the advantage of a financial flexibility.
Buying outright requires paying sales tax as soon as you purchase the equipment or get lease office done. In leasing, tax payments are spread over the entire term of the office equipment lease.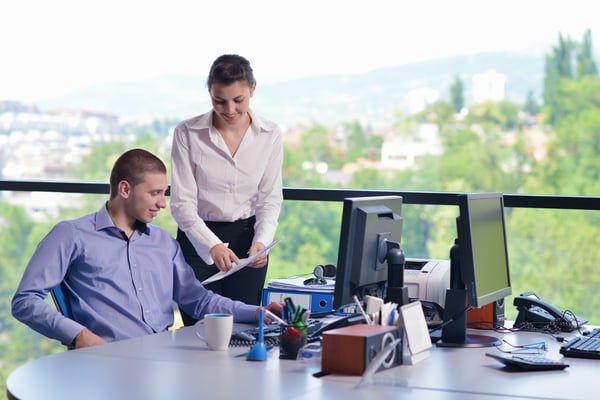 Office Equipment Lease Rates
Leasing agreement is the ideal option if you're looking to buy expensive equipment or small office equipment in bulk.
With that said, knowing your monthly lease payment will help you in budgeting your expenses. To know how much your monthly lease payment will be, you have to know the lease amount, lease rate, and lease term.
Let's check out some of the expected lease rates for existing business and startups...
Monthly Office Equipment Lease Payment for Existing Business
If you're on a tight budget, opt for a lease that offers lower monthly payment in order to spend money wisely.
If you choose level payment structure, you'll have to pay for the first payment in advance before your office equipment vendor is funded. There's also a 90-day deferral payment structure where you can use the equipment without paying for the first 90 days.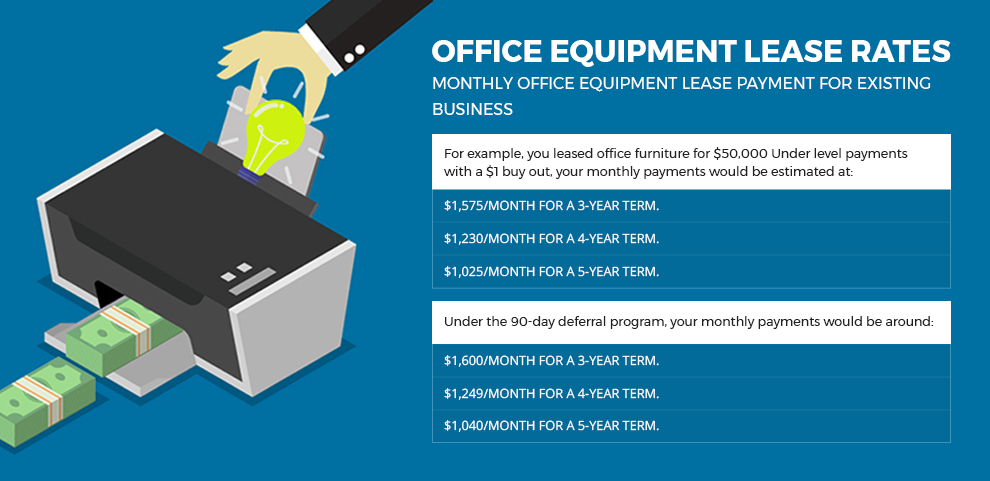 For example, you leased office furniture for $50,000 Under level payments with a $1 buy out, your monthly payments would be estimated at:
$1,575/month for a 3-year term.

$1,230/month for a 4-year term.

$1,025/month for a 5-year term.
Under the 90-day deferral program, your monthly payments would be around:
$1,600/month for a 3-year term.

$1,249/month for a 4-year term.

$1,040/month for a 5-year term.
Monthly Lease Payment for Startup Business
A startup business has slightly higher monthly payments which is the most cost-effective option. Using the same example above, an office equipment leased at $50,000 under level payment structure would have monthly payments estimated at:
$1,660/month for a 3-year term.

$1,315/month for a 4-year term.

$1,112/month for a 5-year term.
With a 90-day deferral program, monthly payments would approximately be:
$1,708/month for a 3-year term.

$1,355/month for a 4-year term.

$1,155/month for a 5-year term.
Moving into a new office can come with a lot of other expenses so taking advantage of not having to make your office equipment lease for three months after you move can really help your cash flow starting up a new office.
Final Thoughts on Things to Consider in Office Equipment Leasing
Your equipment plays a big role in attaining your success. However, high-quality office equipment can be expensive to obtain. Most businesses don't even realize they can finance all the office furniture, phones, servers, storage, software and anything else that's mission critical for your new or upgraded office space. Instead of shelling out a bunch of cash for office equipment you can use that cash flow to hire more employees to boost your revenues.
This is where office equipment leasing comes in. Office equipment leasing provides an affordable way of getting your necessary equipment and help your business get on top of its game.
It allows businesses to grow and compete in the heavy competition of smart business tricks and strategy. Also make sure you are investing your money in the right furniture and office equipment to keep your employees happy.
Get Started with Office Equipment Financing Today
If you're ready to get the lowest rates on new office furniture and equipment, call Trust Capital at 866-458-4777 and discuss how to get funds for your office today.