For a lot of business owners, finding the right heavy duty truck can be a bit of a chore. It doesn't help that most of them also have to choose from among heavy duty truck leases and business finance companies to help them purchase a truck.
Buying expensive commercial vehicles for your business or company is rarely ever fun. When buying a new truck, for example, you'll have to go through a lot of research, paperwork, truck dealerships and heavy duty truck finance companies.
However, more often than not, these purchases are essential to boost your business or even save it. Searching through a handful of heavy duty truck finance companies to find the right one is usually worth it.
Now, we all know that "time is money". Therefore, it would be ideal for you to not waste too much time looking for a heavy duty truck to purchase or finance. So how can you make the process of finding a heavy duty truck easier? Is there a faster way to find a truck, partner up with heavy duty truck finance companies, and get your heavy duty truck?
Actually, yes! There are tips you can follow so your financing process with heavy duty finance companies will go faster and smoother.
What to Remember About Heavy Duty Truck Finance Companies
If you've ever worked with heavy duty truck finance companies, you already have an idea of the business financing process when you are looking to finance a dump truck.

But if you haven't, no worries!
Fortunately, many heavy duty truck finance companies are really easy to work with. Heavy duty truck finance companies want their application process to go as smoothly as you, as the business owners, do. That's because there is a lot of working capital involved. As heavy duty truck finance companies, they need to make sure setups and payments are well-organized and settled.
Of course, you need to work with heavy duty truck finance companies as well. You should be able to comply with their requirements for the sake of your equipment and money. You need to choose carefully from among heavy duty truck finance companies too, because there are a lot of options. But we'll cover that later in this blog. For now, you should take note of what you should do when choosing equipment financing with heavy duty truck finance companies.
Budget Accordingly
Heavy-duty trucks cost way more than regular vehicles because they are specialized equipment. This is why heavy duty truck finance companies encourage business owners to finance their trucks.
You should review your budget before even considering the specifications of the heavy duty truck that you want to buy. While reviewing, you should focus on Return of Investment (ROI) when you apply online for business financing. Keeping an eye on your ROI helps you measure the success of your business over time. Doing so also helps you in making future dump truck business decisions. Therefore, monitoring your ROI can help you create better financing decisions. Heavy duty truck finance companies will greatly appreciate this as well!
Reducing your monthly payments on truck loan can also greatly assist your business finances. You can reduce your monthly payments by providing a larger down payment. You also have the option to partner up with heavy duty truck finance companies with no prepayment penalty, like Trust Capital. When you partner up with them, you can choose to take a longer term and pay it off early if you can or want to.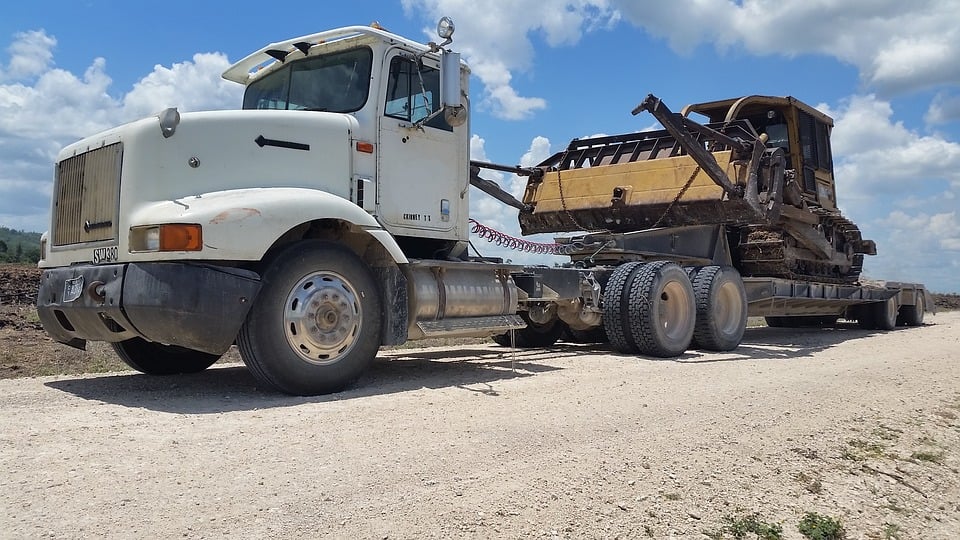 Find a Dependable Heavy Duty Truck Brand and Model
Now, something most heavy truck finance companies like is financing equipment from a reliable brand. This is mostly because it reassures them that the equipment can be put to work until it gets paid off.
Luckily, most American truck models are fairly easy to assess for quality and dependability. Often, heavy duty truck finance companies can even assist you in finding a reliable model along with some good monthly payments. You should focus on finding heavy duty truck models with the lowest breakdown tendencies. This ensures that your commercial vehicle won't break down while you're still paying for it. You should also choose commercial trucks that are very easy to repair. Luckily, well-established truck companies have repair parts that are easy to get and install.
Compare Your Options
Once you've found a reliable model, you should start being more specific.
In other words, look for what you need.
Unfortunately, heavy duty truck finance companies often won't be much help at this stage. That's because only you know what your business needs are and how to grow your business. Most guides will tell you that should start by determining if you need a heavy duty or light duty truck. It would be silly to ask you to do that here, though.
After all, you wouldn't be reading a blog on heavy duty truck financing programs because you need a light duty truck. So instead, your task can be to try using a gross combined weight rating (or GCWR) to find out how much capacity you need. GCWR is actually the total weight of the vehicle itself, with passengers, what's in the bed, and the trailer. To use this, assess what your business will usually work with. For example, if you need to regularly tow over 10,000 pounds, a three-quarter ton or one-ton pickup might be what you need.
Take note that the terms "three-quarter ton" and "one-ton" refer to the amount of weight that could fit in the bed. All of these specifications will help you determine the best heavy duty truck to get for your small business. By making sure a heavy duty truck has all the things you need, you won't waste your (and heavy duty truck finance companies') time!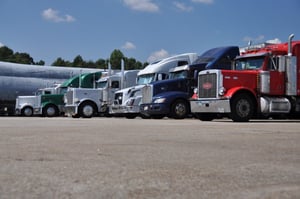 Determine the Right Measurements
Now, on the subject of specifications, you should also mind measurements for your truck. Keep in mind that heavy duty trucks are a lot larger than daily commuter cars.
You need to take into consideration the streets where you'll have to drive your heavy duty trucks. If you work within tight spaces or streets, a wide truck might not be ideal for you.
Some garages also can't fit heavy-duty trucks with long beds. That's why you should measure your own garage or parking space too.
But other than taking up a lot of space, larger heavy-duty trucks can also eat up more fuel. So if business owners don't really need a large heavy duty truck, it might be cost-efficient to use smaller light duty truck alternatives.
Check the Engine
While you're choosing a heavy duty truck, you should also take a peek at the engine. The engine will determine the balancing act between getting fuel and still having enough power.
Luckily, most trucks nowadays offer fuel efficiency. Less fuel wasted is less money wasted!
You can even use the money you save that way to pay off installments with heavy duty truck finance companies. Fundamentally, you'd want diesel engines. This is because diesel engines are better at towing since they can provide high torque for hauling at low speeds.
Find a Heavy Duty Truck Finance Company that Works With Your Budget
Finally, you'll need help actually purchasing the truck that you want. This is where heavy duty truck finance companies play a huge role.
Luckily, it can be easy to find heavy duty truck finance companies. However, you need to make sure that they have setups compatible with your business and budget. Commercial truck finance companies like Trust Capital can provide proper commercial vehicle financing for business owners looking to finance heavy-duty trucks.
All they need are these credit requirements from trucking companies:
Business license or active business entity with the secretary of state,
Personal guarantees required from all owners with good credit,
Minimum 600 credit score,
No bankruptcies in the last 7 years, or any bad credit and
No unresolved tax liens.
Home ownership helps,
3 years or more experience helps.
If you want to get approved faster, they also have a preferred truck program:
No age restrictions.
Low rates.
Terms up to 84 months depending on the age of collateral.
A to B credits approved.
Deferred payment plans; up to the first 6 payments at $99.
100% purchase financing.
Up to $300,000 with a simple one-page application.
Up to $5,000,000 with financial disclosure.
Next-day funding with pre-funding available for approved heavy duty truck vendors.
Deferred payment options and terms up to seven years.
No down payment requirements that can hamper your working capital.
Same day approvals.


Choose the best from among heavy duty truck finance companies so that your wallet doesn't suffer. The whole point of getting new construction equipment is to make your wallet happier, after all!
Final Thoughts on Buying a Heavy Duty Truck
Choosing a heavy duty truck to add to your business can definitely sound like something you need months to plan for.
Partnering up with heavy duty truck finance companies can also sound like a huge leap for your business (and budget). However, adding a heavy duty truck to your business with the help of heavy duty truck finance companies can be easy, even if you have a bad credit score. It can also be done faster if you remember what you need to do.
So, as with any purchase, you should keep your budget in mind. You'll be paying large amounts for your equipment, after all!
You should also find a model or brand that you can trust. You need to make sure that you can rely on their products and foresee the possibility of repairing your equipment.
Next, you need to be careful with your truck's specifications. Go over everything you need and have, like storage space and engine capacity.
Lastly, you should choose from among heavy duty truck finance companies carefully. In the end, you should be able to partner up with a company that won't make financing a truck feel like a huge burden.
With all of that in mind, you'll be able to bring home a truck that best fits into your business. At the same time, your budget won't be flushed down the drain!
For the lowest rates, lowest money down and no pre payment penalties on your next heavy duty truck purchase, you should feel free to contact a business loan specialist with Trust Capital at (866) 458-4777.