Knowing how to maintain car wash equipment is vital for car wash owners. It extends the life of their business's equipment besides ensuring the quality of its operation.
If you're a car wash owner, that means several things. First, it means equipment maintenance helps you build a good reputation and attract customers owing to the quality of your services. Second, it also means that you're less likely to have to replace car wash equipment often. That can save you money, as will needing to pay for fewer "major" repairs. Of course, even if you take care of all types of car wash car wash equipment, it will eventually need replacement. This can be a problem because acquiring new car wash equipment is often costly.
Fortunately, there are options like car wash equipment leasing companies nowadays. You can turn to these when your existing equipment can no longer be maintained or used properly. Even then, you will still need to perform car wash equipment maintenance, though. Leased equipment has to be kept in good condition -- all the more as you don't technically own it.
In this blog post, we'll talk about how to maintain your car wash equipment, whether owned or leased. Furthermore, we'll discuss the importance of car wash equipment leasing companies when trying to keep car wash services at a high quality.
Car Wash Equipment Leasing and Maintenance Tips
As mentioned above, equipment review and maintenance should be part of your daily operations.
Keeping equipment in good condition ensures better services for customers. That can lead to better profits, as it can attract new clients and help you keep current ones.
But sometimes, your review may also reveal that maintenance isn't enough any longer. You may need new equipment to keep the quality of your services.
That's why you should be familiar with car wash equipment leasing companies too. They will help you to use, replace, or upgrade your equipment without paying huge money up front.
But before we talk more about that, let's go over how to maintain the quality of your car wash equipment first. We'll cover both maintenance and review of it in the following tips.
Have a Daily Routine
As we noted earlier, an equipment maintenance routine is of use whether you own your equipment or are leasing the car wash equipment from car wash equipment leasing companies. If you take good care of the equipment, it will obviously work better for longer. Doing this will help you sustain efficient operations at your business.
It's not just about the equipment being more cost-effective to operate when it's properly maintained, either. It's also about it being more time-efficient, which customers will appreciate. When your equipment works well, it's likelier to satisfy your customers. Sustaining that satisfaction helps you build and keep customer trust in your brand, which is a big thing for any business.
That's why it's worth your while to plan a daily checkup or routine for your car wash equipment. Daily checkups let you detect and fix minor issues before they get worse. This helps you prevent major damage to your equipment that would cost more to repair.
To make sure that daily maintenance checklist will be effective, it should include the following tasks: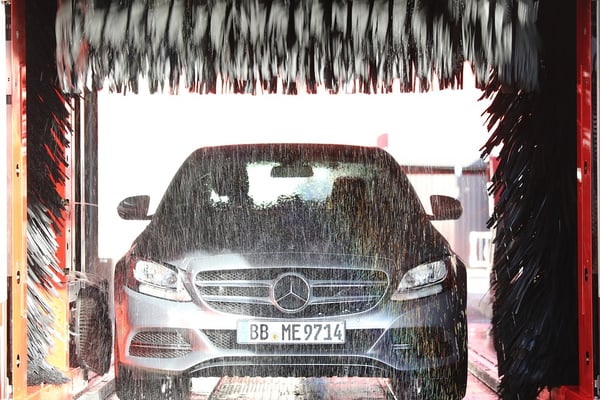 Check and Clean Everything
You must check everything in your car wash facility, especially the space where the cars are actually washed. Be sure to check the most used equipment in your car wash business.
This includes equipment like the following:
Soaker,
Foaming arches,
Wheel cleaner,
Friction curtains, and
Blowers.
Other than that, check and clean the walls and floors too. This can help you find out if your water and air equipment has any leaks.
You could end up paying a lot for utilities if your water and air equipment have leaks. That's why it's particularly important to observe this step. Check too if your tools are still in good condition. Using broken or failing tools can affect the overall service quality of your car wash.
If there are broken tools and equipment, list them as soon as possible. This is so you can repair or replace them before they even begin to affect your operations.
Inspect the Pay Stations
You also need to check pay stations. This is vital, and not just because they're used in every transaction at your business.
Pay stations are costly equipment to replace, you see. You need to decide whether you're going to buy or just lease new ones from car wash equipment financing companies if you do discover issues with yours.
Using failing equipment on your pay station can affect the service of your car wash business. It can cause problems regarding convenience and your revenue.
So make a habit to check the following parts of your pay stations every day:
Lights,
Viewing screen,
Keypad,
Voice module, and
Intercom system.
Also, be sure that there are no problems with your credit card reader (if you have one).
Choose How You Will Acquire Equipment
Now, let's say your daily maintenance and review reveals that it's time to replace some used piece of car wash equipment. What's the next step? Well, it's to decide how you're going to replace that equipment.
Using your working capital to acquire equipment is a risky move. This can cause financial problems in the future, particularly if you're running a small business and the equipment is costly. So if there's equipment that needs to be replaced, be strategic about how you're going to acquire it.
Keep in mind that most car wash equipment is expensive. Purchasing it outright can cause an imbalance in your budget. You have the option to get a loan from a bank to finance the equipment acquisition. Unfortunately, this is not a guaranteed solution.
Banks have very strict requirements for car wash equipment loan applications. There's always a big possibility that your loan request will be turned down by a bank, especially if you have a young business or have a poor credit score.
That's why your main solution will very likely be to approach car wash equipment leasing companies. Their leasing offers are more accessible than a bank loan to acquire new equipment. Many car wash businesses choose to lease equipment too because the equipment leasing structure favors their equipment cycles.
To know more about that, here's the difference between buying and leasing equipment.
Buying Car Wash Equipment
If you choose to buy car wash equipment, you will often have to shell out a lot of money. Just how much money depends on the equipment in question. It may also depend on your vendor or source for the equipment. You will usually pay less if you buy car wash equipment straight from the manufacturer or distributor.
That's because there will be no interest added to the base price of the equipment in such cases. That's if you pay its total cost up front, of course. However, you could have financial problems if you choose to buy equipment because it might take a big chunk out of your working capital. It's also worth noting that once you own the equipment, you're stuck with it. That can be problematic if new tech is adopted by the industry that renders your equipment obsolete all of a sudden.
Contrast that to the case if you were leasing equipment instead. Most car wash equipment leasing companies actually allow clients to upgrade leased equipment at the end of a contract. The manufacturer could take it in as a trade in and the equipment leasing company could forgive future interest and you get new equipment.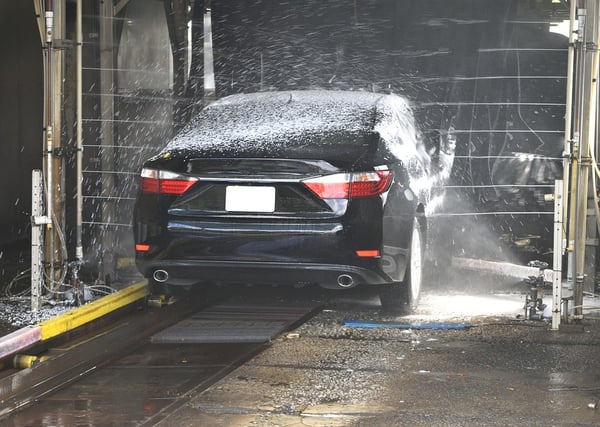 Leasing Car Wash Equipment
It's not hard to see the differences between purchasing car wash equipment and leasing it from car wash equipment leasing companies. If you choose to lease the equipment, the amount you pay is based on how long you choose to lease the car wash equipment. You don't pay for the total cost of acquisition (or purchase price).
Hence, you don't own the equipment. It's owned by the equipment leasing company.
You will only pay the equipment leasing company for the use of the equipment for a specific period. When you no longer have need of it, you can stop paying and just return it to the car wash equipment leasing companies.
Most equipment leasing companies have fairly relaxed requirements too when granting equipment lease approvals. There's a chance that they will approve equipment leasing even to startup car wash businesses. Trust Capital has helped several car wash companies get started.
With an equipment finance agreement and $1 buy out lease you'll pay 100% of the invoice cost plus interest. Some equipment leasing companies will charge you the aggregate amount of payments you signed up for when you buy out, some will give a small discount, some will forgive future interest and only ask you to the pay the remaining principal upon buyout of the equipment lease. With a FMV lease you'll pay 80-90% of the invoice cost plus interest over the agreed upon term. You will generally pay what you sign up for plus a residual balloon payment at the end. A common misconception of an equipment lease is that you'll only pay 30-70% of the total invoice cost and can return the equipment like a rental with out having paid all of the invoice cost. This misconception comes from the car industry. Car manufacturers offer leases like that but it's not how business equipment leases usually work. The reason is because the car wash manufacturers are not buying this equipment back in the end. The lenders don't want the equipment in the end. Compare equipment leasing companies to banks, which hardly ever approve equipment financing for start up car washes.
This is why working with car wash equipment leasing companies can be preferable for young car wash businesses. It can help you balance your budget even while updating or replacing equipment.
After all, you're not obliged to pay a huge amount of money (the total acquisition price) just to use the equipment. You also only pay for it as long as you still need it. You'll generally need first and last payment up front or possibly ten percent down.
You can even arrange flexible payment options with car wash equipment leasing companies. And as I said earlier, when your contract is done, they often give you the option to replace, upgrade, or buy the equipment. Equipment leasing can give several benefits to your business aside from that. However, the effectiveness of equipment leasing depends too on your choice of equipment leasing company.
So, to ensure that your equipment lease will be a fruitful one, you need to get it from the best car wash equipment leasing companies.
The Best Car Wash Equipment Leasing Companies
There are many car wash equipment leasing companies to chose from. However, not all of them can help you maximize car wash equipment leasing for your business. That's because some car wash equipment leasing companies take advantage of their clients. For example, they add "hidden" charges to the equipment lease. Having that in mind, be sure to study your options among car wash equipment leasing companies before signing anything. Choose the company that's most trusted by business owners like you. Choose only car wash equipment leasing companies that other business owners in your industry have vouched for.
For car wash businesses, for example, it would be a good idea to make a partnership with a company like Trust Capital.
Trust Capital is one of the most reliable car wash equipment leasing companies at the moment. This is due to the assistance they provide clients, no early pre payment penalties, and they can approve your company up to $350,000 with a simple one page application, which is something you want from a car wash equipment financing company. If you need more than $350,000 they can still lend you up to $2,000,000 with a little more information in a timely manner.
They offer flexible equipment leasing contract terms. Such as no payment plan for the first three months. They are also known for helping their car wash business clients make the most of their equipment leasing. Seek out such companies when looking for car wash equipment leasing companies. That way, you can be certain that your equipment leasing contract will be of benefit to your business.
Final Thoughts on Car Wash Equipment Leasing Companies
In this blog post, we talked about how to maintain car wash equipment. It's best to maintain your car wash equipment as well as review it regularly. Doing this can contribute to your business's success as well as cash flow because it ensures smoother operations. Reviewing the condition of equipment is also important when maintaining service quality. Even if you take good care of equipment, it will always reach a day when it needs to be replaced. Replacing your car wash equipment should be planned strategically, however. You could lose a lot of money in the process if you do it without considering your options with care.
With that said, decide if you're going to buy or lease your car wash equipment. Whether buying or leasing is best depends on your situation. For young car wash businesses or ones without a lot of spare working capital, however, equipment leasing is usually the better idea.
If you do choose car wash equipment leasing, make sure that you get it from one of the best car wash equipment leasing companies. Doing so can help you maximize your returns from the leased equipment.
To make a partnership with one of the best car wash equipment leasing companies, contact Trust Capital at (866)458-4777.