So you want to start or grow an embroidery business.

And why not?

The embroidery business is a booming segment of the multi-billion dollar apparel industry.

What's great about an embroidery business is that you can set it up in your own space. You can start your operations inside an empty room in your own home! You just need to have graphic designs and several sewing machines, and you're good to go.

So now that you are set on growing your embroidery business, you need to pick the best products to sell… to help you be most profitable.

That's why in this blog post I'll talk about the best embroidery products, and what machines are best to use. Then, we'll also discuss where to get embroidery machine financing to acquire your equipment.
List of Best Embroidery Products for Your Business to Sell

Clothing is a basic need.

Fashion, on the other hand, enhances clothing style and sets the trend. And many people -- fashion enthusiasts and trendsetters -- have always loved the unique and vogue decoration of embroidered apparels.

What's really great about embroidery is that it lines up with the fashion business. And fashion has never faded in the economic industry. That assures you that embroidery is a great business choice.

But then, of course, it's vital to pick the best products to decorate on. So, we'll talk about the best embroidery products.

These products are commonly for everyday use, but when decorated with embroidery, they become fashion trends.


1. Totes

Totes are women's daily to-go article. Not only could it carry plenty of essentials, but tote bags also match almost any style of clothing. And take note, women love bags. They're crazy for it.

Many women also prefer using tote bags, not just because it's trendy, but because it's eco-friendly. Tote bags are made from recycled fabrics. They're perfect for shopping, picnics, and strolling. Women will have the use for them anywhere and anytime they want.

Totes alone are a great fashion article, and they become even more stylish when decorated with designs and embroidery.

Indeed, totes are one of the good examples of embroidered products. You'll never go wrong with embroidered totes.

You may try to use Brother PE770 Embroidery Machine to create a modern digitally designed embroidered tote bag.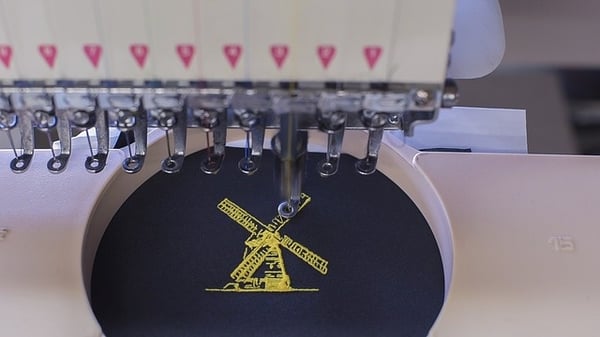 2. Polos and Button-Ups

Whether it's for formal wear or casual fashion outfit, polos and button-ups are always the best both for men and women.

And while it is true that simplicity is good, embroidery can make polos and button-ups simply better, modish, and even urbane.

For embroidering polos and button-ups, try Brother DZ820E Embroidery Machine for quality embroidery. You may acquire this machinery through embroidery machine financing companies.

3. Towels

Towels are a common necessity. Businesses like hotels, bed and breakfasts, and resorts want their complimentary towels embroidered. Many people like to personalize towels as well for personal and use or for gifts.

Towels have a broad category. These include bath towels, hand towels, specialty towels like rally towels, pool towels and even golf towels.

Indeed, towels are very useful, and embroidered towels are so in-demand.

Embroidering towels require proper digitizing, thread tension, proper hooping or clamps, and good backing material. You may try considering Singer Futura XL-400 for you to have a better-embroidered towel.

If you're thinking about embroidering towels, make sure you create samples in a variety of colors and fabric type. Customers like it when they have options to pick the color and fabric.


4. Caps

Athletes like golf players, baseball players, and outdoor people wear caps. And not just them, but a thousand other people that just love wearing caps as a fashion statement or fashion identity.

Not only are caps great for fashion, they also fit the head to cover your face from harmful sun rays.

Most people want their caps personalized. For example, sports teams want their caps monogrammed with their team name.

However, though, many of the commercial embroiderers avoid caps because they're tricky to make. Some caps like baseball caps need to be embroidered first before being assembled.

But if you have proper cap frames and stabilizers, you can become at ease working with any type of cap. Since a lot of embroiders refuses to create caps, you can have a more enjoyable profit from this product. Less competition means high profit.

For commercial caps, the best embroidery machine to use is Melco EMT16 PLUS. The Melco EMT16 Plus is a professional embroidery machine, engineered and designed with some specific features and functions, just for embroidery on caps.


5. Bathrobes

And lastly... bathrobes!

Like towels, bathrobes are essential not just at home, but even in resorts, spas, saunas, and hotels. People also love bathrobes as gifts. They're comfortable and can be personalized.

If you're thinking about embroidering bathrobes, you can use the Janome Memory Craft 400E Professional Embroidery Machine. This machine is a workhorse with all the power and features you need to turn out perfect projects every time. It is perfect for embroidered bathrobes.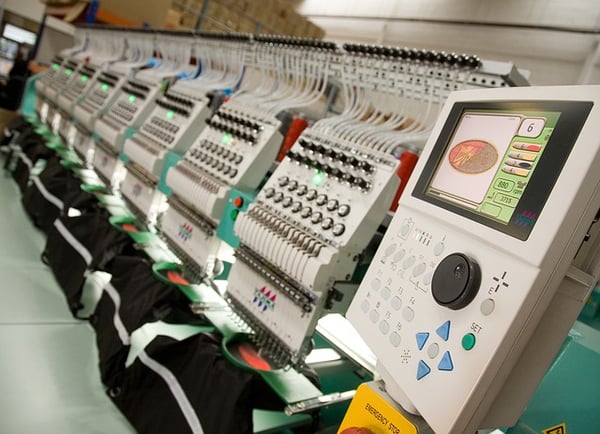 Getting Embroidery Machine Financing

Like what I've said earlier, producing the best products is the best way to drive your success in your embroidery business. However, the machinery for making the products mentioned in this blog post are expensive.

We don't recommend using your own savings or capital to acquire those embroidery equipment as it can be very risky. You see, when you shell out a big upfront payment using your capital, you might put your business financial stability into risk when problems occur in your business in the future.

Instead of using your working capital to acquire expensive embroidery machines, you can use it to market your business, deliver your products, hire employees, or improve the workplace.

That's why we highly suggest reaching out to equipment financing companies for your embroidery machine financing.

Getting a loan from a local bank is also a good option, but it's a long process. Not only that, banks are strict in giving a loan especially if you have a startup business. So, there's no guarantee that you'll get a loan approval. Most local banks require you to have a 700 FICO score or better and have over two years in business.

So to avoid wasting time getting a loan from a local bank, consider getting funds from equipment finance companies.

Most equipment finance companies offer embroidery machine financing. EqFinance companies offer embroidery machine financing to help embroidery businesses reach its full potential.


How to Apply for Embroidery Machine Financing

With the help of the Internet and search engines, finding finance companies has become a lot easier.
You can apply online for financing programs without the hassle of leaving your home or office. You just need to send them their required documents such as your credit report.

Unlike banks, a finance company will approve your application quickly. Equipment finance companies typically approve your application 2-4 hours after your submission on deals over $15,000. Some companies like Trust Capital have instant approvals on transactions under $15,000 and approvals in 2-4 hours over $15,000

Right after your approval, the equipment lease company will quickly fund the necessary equipment for your operation.

The Right Partner for Your Equipment Financing Needs

Your preferred embroidery equipment financing company will pay the machine supplier on your behalf. In return, you're going to repay the equipment leasing company for a specific period.

Your contract with the lessor will usually last for 2-6 years. A lot of things and possibilities can happen during this period.

Your partnership with a finance company could determine the success of your business. Therefore, it's important for you to make all of your payments on time and to get the embroidery machine financing from a reliable company like Trust Capital that will give you a nice grace period.

Trust Capital is the nations equipment financing leader in the embroidery industry. Their company provides the best service for their clients. Their company has a secure single page online application, and they're always reasonable and transparent about their pricing.

Trust Capital won't only provide the funds and machinery that you need for your operations. They'll also assist you in the growth of your business.

Final Thoughts on Top 5 Best Embroidery Products for Your Business

In this blog post, we talked about how embroidery machine financing can help earn a good flow of ROI. Having an embroidery business can generate you huge revenue because it's one of the most profitable businesses.

But to achieve success in your embroidery business, you need to produce the best products using the right equipment and machinery.

Operating with the necessary equipment and machinery will ensure you that you're producing high-quality products.

To acquire the necessary machinery for your embroidery business, consider getting embroidery machine financing. This type of financing is made specifically for your embroidery business. Look into start up embroidery machine financing if you're just getting started. Ask about deferred payments such as no payments for the first 90 days to help your business get started generating revenues before your monthly payments begin.

Ready to Apply online for a embroidery equipment leasing? We invite you to call Trust Capital and speak with an embroidery equipment lease specialist that can offer you a no obligation approval, run payment scenarios for you subject to credit approval and go over your tax benefits at 866-458-4777.