Are you looking to get better control of your job site? Skid steer financing will come straight to your rescue. There are a number of benefits of getting skid steer financing, both to your job site and directly to your business as well. Some of them are:
Skid Steer Financing is Affordable
A skid steer will cost you anywhere from $10,000 to $50,000 and if you do not have that much cash sitting in hand, the best affordable way to get the skid steer immediately on the job site is utilize equipment financing. Upfront costs will be more if you still need to purchase a truck and trailer to transport it.
Skid steer financing not only allows you to make smaller monthly payments that are affordable but can also be geared towards your need to make them flexible as well. What this means is that as per your requirement the monthly payments can be set so that it fits into your monthly budget.
Moreover, if you need to start work with the skid steer immediately but are unable to make payments for a couple of months, you even have the option to defer the payments for a few months till you have the needed cash flow into the business. Equipment finance companies offer financing programs such as no payments for the first 90 days and $99 for the first six months followed by a term up to 72 months.
Additionally, you can request a long-term equipment lease up to 84 months if you wish to make smaller payments for a longer period of time. If the equipment finance company won't allow you to pay off early with no pre-payment penalty than it's wise to budget for a 24 months skid steer financing agreement.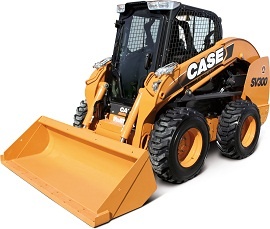 Skid Steer Financing Gives Leverage
The primary advantage of using a skid steer is its compact size and weight. Owing to this fact, it can easily be transported by a truck and trailer to construction sites. In fact, once the work on a particular job site is completed, the skid steer can quickly and easily be transported to a different construction site.
Another advantage of using a skid steer is that it allows for different kinds of attachments such as metal forks, ripper, trencher or snow blowers as suited for various jobs. This makes a skid steer a very versatile equipment on the job site.
Additionally, unlike the big and bulky front loaders, a skid steer has the flexibility to work in areas where pieces of heavy equipment cannot reach. A skid steer also offers more visibility to the driver and can even be operated by an inexperienced worker.
Skid steer financing helps you in getting the right skid steer you need that offers you versatility and flexibility of operation on the job site. This directly benefits the customers using the skid steer on the job site, to get the job done right.
Skid Steer Financing Brings More Business
Skid steer Leasing gives you the opportunity to purchase the right case skid steer immediately as per the current need on the job site or that of the customer.
This puts you in a better position to win bids. As a skid steer contractor your primary goal is to win construction contracts, whether they be private or government. Lease used skid steer that's in great shape, you will be making lower monthly payments, and this allows you to make competitive bids which raises your chances of winning them.
While finding skid steer work, the biggest advantage that you now possess with steer financing is the purchasing power of owning the most adequate and reliable skid steers. This gives your bid an edge over the competitors since you have the heavy equipment that will get the work done in the most efficient and timely manner.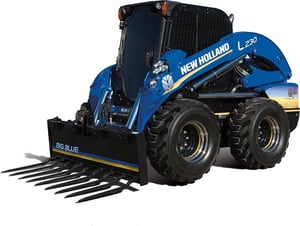 Skid Steer Financing Makes Businesses Profitable
The first question that might come to your mind might be how will skid steer financing make my business profitable? First of when opting for a skid steer loan you would be paying a fraction of the total cost of the skid steer monthly, as compared to the price that you would pay if you were to make an outright purchase of the equipment. Moreover, let's say if you were to make an outright purchase of a new skid steer worth $50,000, you would have to first earn $75,000 (assuming you are in the 33% tax bracket) to be able to buy the equipment. You can run that math again!
Now, the capital that business owners have saved with skid steer financing can be reinvested in the business. Business owners can now hire skid steer operators and buy additional construction equipment that will aid in getting the contract job done along with maintaining steady cash flow.
Skid steer leasing can also be tailored to meet the specific accounting and financing needs of your company. The best part is that skid steer financing eliminates the risk of owning the equipment, asset management and obsolescence giving you the peace of mind with which you can focus on smoothly conducting and growing your business.
Skid Steer Leasing Keeps You Current
A primary benefit that skid steer financing give you is the ability to buy the most current equipment. Apart from this, skid steer leasing gives you the option to either purchase, upgrade or renew the equipment. With the availability of high-end equipment at your disposal you never have to worry about losing work owing to an old machine that is not able to get the job done.
The display of new skid steer loaders on your portfolio is sure to win you more bids and give you the power to successfully complete the projects you undertake in a timely and efficient manner to grow your business.
Skid Steer Leasing Options
Skid Steer leasing companies may offer you a $1 buy out lease, 10% PUT Lease, FMV buy out lease (lowest skid steer financing rates) or a simple equipment finance agreement where you remain the owner the entire time and just make monthly payments back skid steer leasing company. The equipment financing agreement will usually come with the best early pre payment options.
EFA– An Equipment Finance Agreement is pretty much a loan on the equipment. However, the skid steer finance company does not put collateral on everything your business owns like a bank loan would do. You own the skid steer through out the term. Skid steer financing companies will be a lien holder on the skid steer by putting a UCC Filing on the serial number of the skid steer. You will be able to take advantage of section 179 benefits with an equipment finance agreement.
$1 Buy-Out Skid Steer Lease – Also known as a capital lease, this allows the company to lease the skid steer for the set period of time and then buy it outright at the end of the skid steer lease for $1. The monthly payments for this skid steer lease are likely higher than other leases, but it comes with a $1 buy-out at the end of the lease, so skid steer leasing companies may spend less money long-term.
FMV Skid Steer Lease – Also know as an operating lease, a Fair Market Value lease lets the company use the skid steer for a pre-determined amount of time. Terms typically from 24-60 months. It gives a few end-of-lease options, including continuing to lease the skid steer, returning the current skid steer and upgrading to something new, or purchasing the skid steer at it's fair market value price. Lease a skid steer to lower your taxable income.
10% PUT Lease – A 10% Purchase Upon Termination lease reduces the total lease amount so that the skid steer financing amount is 90% of the total cost of the skid steer. At the end of the lease terms, the company has a chance to buy the skid steer outright for a final 10% of the purchase price payment.
Skid Steer TRAC Lease – A terminal rental adjustment lease (TRAC) gives the advantages of skid steer leasing as well as provides you with the option to purchase the skid steer at the end of the lease. This primarily gives you 3 benefits. Firstly, you have the option to buy the skid steer or buy another skid steer when the lease is over. Secondly, the sale price of the case skid steer is predetermined so you do not have to negotiate or secure a price on the skid steer at the end of the lease. And lastly, you have the option to either choose a low purchase price and a higher monthly payment or make low monthly payments and opt to pay a higher purchase price at the end of the skid steer lease term.
One structure doesn't necessarily give you a better rate over the other. If you're applying for skid steer financing bad credit than you'll usually be offered FMV or TRAC Lease buy outs, not that those are bad structures but they just further protect the lessor if your company files for bankruptcy the lessor will be the owner of the equipment and won't have to fight other creditors for their asset.
Final Thoughts on How Skid Steer Financing Gives You Control of Your Job Site
Skid steer financing gives you all the purchasing power of buying the latest skid steer machines at affordable monthly payments. You can also look for used skid steers for sale and lease a used skid steer. The cash that you save can be leveraged towards re-investing in your business for operator staff and purchase of attachments and related accessories. This also frees up your cash flow and gives you the opportunity to apply and win more construction bids.
With equipment financing, you'll get to finance 100% of the equipment's cost with a flexible plan that suits your budget. You can even get working capital added onto the same equipment lease term. Add working capital up to 25% of the equipment cost to your agreement.
For the best skid steer financing deals contact Trust Capital, we are dedicated to supporting your business by helping you get the latest skid steer that meets the requirement of the job site. For the best skid steer finance rates in the equipment finance industry, get in touch with us by calling us toll-free at 866-458-4777.