Have plans to start a bakery but don't have enough funds?
If this describes your situation, bakery equipment financing can help you.
Unlike bank loans, this type of financing can benefit you in a lot of ways. It can help you set up your bakery with fewer problems or hurdles. But to ensure your success, you need to use it properly. That's why today, we'll give you tips on how to start a bakery.
Along with that, we'll tell you where and when to use easy equipment leasing and equipment financing for it.
Best Tips for Starting a Bakery Business
Just as there's a proper recipe for every pastry, there's a proper way to start a bakery business.
Rush into it haphazardly and you'll never get it off the ground. Do it with a solid business plan and knowledge of what you're facing, however, and you'll have a booming bakery in no time. It's especially important to have a road map if you plan to get easy equipment financing for this venture.
After all, the terms of your financing may have a long-term effect on your working capital budget. To help you with all of these things, we'll discuss the steps on how to start a bakery. We'll also talk about how and where to get easy equipment financing for your new business.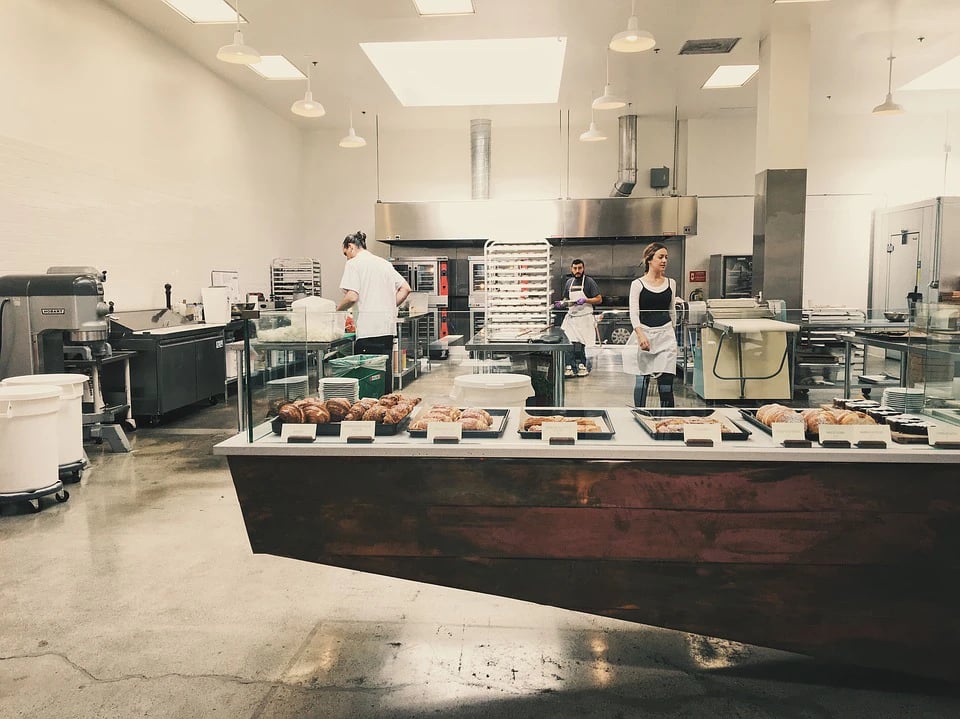 Determine the Type of Bakery You Want to Open
Before you make any decisions, think about what kind of bakery you want to open. This is important for your business plan. It can also decide how much you will get from easy equipment financing when you have a good credit score.
It's best to check the trends in the industry. Invest in a trend that you think will stay for a while so you can be sure of long-term profits. Make sure too that the type of bakery you choose matches the market in your area. The products or services that you offer should get the attention of your target market.
To help you with that, here are the different types of bakery you can set up:
Online - This allows you to operate without a storefront. You can start out online. You just need a good website with pictures of your work and a way to place an order. Some people even operate online bakeries from their homes.
Counter service - This type of bakery is the best choice if you're planning to work with a small commercial space. Your customers will just walk in and buy your products from an employee-managed counter.
Specialty service - This type of bakery works best if you're planning to sell a specialized baked good. You need a commercial space for this type of bakery but you can also operate in your own house.
Sit down - Many investors are capitalizing on the sit-down and dine option. This is now a growing trend in the bakery industry. This type of bakery is often set up like a restaurant, or a hybrid between a restaurant and a cafe.
A great business idea for a bakery if you're in a beach town is an ice cream cookie bakery. Whatever your choice, you can use easy equipment financing to get funds for your bakery's appliances.
Create a Business Plan
You need to create a business plan after deciding what kind of bakery you want to open. This will help in securing the success of your bakery by giving you a map to your goals. Your business plan will help you avoid poor decisions. It can also help you secure easy equipment financing. That's because most bakery equipment lenders prefer applicants with sound business plans. The plan can convince the bakery equipment financing company that you can repay any money they lend to your bakery.
Just make sure that your business plan will address every aspect of your business. It should also state your business goals and the way you're going to make revenue.
In addition to that, you must list your expenses so you can allocate your working capital properly. This also helps you use easy equipment financing the right way once you get it. Identify your customer base as well, along with the customer service you provide and examine your competition. This will give you an idea of how to market your bakery.
Finally, your business plan should outline how you're going to get funds for your bakery equipment, fixtures and furniture.
Detail The Funding For Your Bakery
The startup phase for bakeries is often costly. The amount of money that you need depends on the type of bakery you have. Most counter service, specialty service, and sit-down bakeries get started with some form of bakery financing or external investment.
Online bakeries usually get started on the business owner's personal capital. There are always exceptions, though. Whichever you use for startup, it's usually advisable to note potential sources of added funds in your business plan. For example, even if you have lots of working capital, you could still benefit from bakery equipment financing for your business.
Keeping additional working preserves more of your capital so you can use it for emergency expenses. This helps you avoid financial instability during the startup phase of your bakery. So many unforeseen delays and expenses can pop up out of nowhere.
Make a List of Equipment
In your business plan, make a list of the equipment you have or need too.
In most cases, startups need more equipment than they already have. Thus, it's likely that you'll spend a lot to acquire the important equipment and appliances for your operations.
With that said, make a list of equipment that you need and estimate its cost. This will help you determine how much you're going to borrow from the best bakery equipment finance company if you want to preserve your working capital.
So many bakery business owners make the mistake of paying cash for their equipment and then taking out an expensive short term working capital loan for inventory, hiring etc. You will need appliances like ovens and refrigerators. When making a list, also include smaller items like utensils, pans, mixing bowls, and the like. Bakery equipment finance companies can surprisingly finance all the dinnerware items too. Having a complete list will help you decide how much money you will get from easy equipment financing.
Find a Place and Set Prices for Your Products
If you choose to operate with a storefront, be sure to get the best commercial property. Be picky in choosing a commercial space. That's because your target market should be able to access your bakery easily. The location and environment of your bakery can also contribute to its success. A place with higher traffic and fewer competitors can mean better sales for you, for instance.
One in a seedy-looking area that puts off people might mean the opposite, on the other hand. Don't forget to set the right price for your baked goods or services too. You can check the prices of your competitors to get an idea.
Sometimes, the location may also affect the price of your offerings. A more upscale location may let you charge more, for example. Try not to overcharge, however, because that's a good way to lose customers. Don't undercharge either -- you'll be losing profits instead.
That can lead to problems for you in the long run. You'll have a hard time repaying the easy equipment financing if you can't find the Golden Mean for your pricing.
Find a niche bakery like having an ice cream sandwich bakery near the beach and watch the people line up around the block to get a delicious ice cream sandwich to cool off. Then once you have the constant foot traffic raise the prices and watch your profits soar.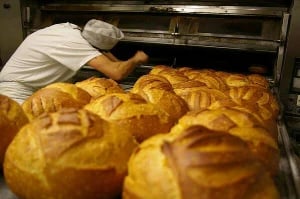 Acquire Equipment Through Bakery Equipment Financing
To get the appliances and tools for your bakery, it's best to get easy equipment financing. It's not advisable to spend your money on equipment.
You'll need to finance other aspects of your business to get it up and running. There are supply costs, operating expenses, marketing costs, and more. At least, with easy equipment financing, you won't have to pay for equipment acquisition up-front.
Now you're probably wondering why you shouldn't use a bank loan instead. When getting additional funds, a bank loan is usually the first thing that comes to mind.
Unfortunately, banks aren't likely to grant funds to startup bakeries. Banks rarely approve a loan application from startup businesses because it's risky for them. That's because there's no assurance that the startup business can pay the loan in time. Besides, startup businesses usually don't have collateral to cover the cost of the loan.
That's why many bakery owners are choosing easy equipment financing over bank equipment loans. Bakery equipment financing gives your reliable equipment vendor the funds they need immediately too purchase equipment from. Easy equipment financing applications take less than five minutes to complete. In fact, you can get an approval in minute's and a purchase order out to your vendors in hours and fund the bakery equipment vendors in one business day.
You can also get the equipment you need at an affordable monthly payment. Most bakery equipment finance companies offer flexible payment options to their clients. Such as little to no money down and deferred monthly payments for the first 90 days.
Get Easy Equipment Financing from Trust Capital
To get the best bakery equipment financing, you need to get easy equipment financing from a reliable equipment lender. This ensures you that you won't have a hard time repaying the loan. With that said, be sure to get easy equipment financing from lenders like Trust Capital. Trust Capital has experience in a number of industries. They can provide the funds you need and they can also help you use it properly.
They can even approve your easy equipment financing minutes after you submit your application. You'll be able to get your baking equipment quickly! This is possible because Trust Capital uses an easy one-page online application. The majority of their transactions are even application-only, with no need for extra paperwork.
Final Thoughts on Easy Equipment Financing
In this blog post, we talked about starting a bakery and how easy equipment financing can help. Starting a bakery is not an easy thing. You need to follow proper procedures to ensure your success.
Pick the type of bakery you want to open first. After that, you need to prepare a small business plan that can help you avoid making poor choices and bad decisions. Your business plan should outline your goals, your operations, and how you'll get funds for your startup.
If you need extra funds for your business, get easy bakery equipment financing. This type of business financing is more flexible and easier to get an approval from than a bank loan. With the right bakery equipment financing company, you can even get approved on the same day you apply. That means you can start shopping for equipment and baking quickly!
Interested in learning more about bakery equipment financing options for your business? Contact Trust Capital at 866-458-4777 to know more about easy equipment financing.