Are you wondering how you can finance all the necessary industrial equipment for your business?
Getting a loan from a business finance bank must be the first thing that comes to your mind. And yes, you can get a loan from a bank… but that comes with a lot of consequences and paperwork. Not to mention, it might be a grueling long & tiring application process.
Luckily, there are other forms of industrial equipment financing available to you. It can help you finance almost all heavy equipment and machinery. Yet, not everyone is aware of what it takes or what is available.
That's why I want to take the time to share with you about industrial equipment financing.
Improve Your Business With Industrial Equipment Financing
To acquire heavy equipment and machinery, companies use industrial equipment financing. This is because business financing can help them produce better output and better efficiency.
The reason why? Most of the heavy equipment and machinery are expensive to buy. Now many companies choose to lease equipment rather than buy them.
Let's talk about the key benefits of industrial equipment financing.
New Industrial Equipment Financing Benefits
There are several reasons why most companies should consider buying newer industrial equipment.
Common Problems of Old Industrial Equipment
Old or outdated equipment can be troublesome… It can even be more dangerous than you think. Some possible problems that can be caused by old equipment are:
Reduced productivity
Less capabilities than competitors
Incompatibility with new advancements
Legal and regulatory compliance
Breakdowns and repeat maintenance
Possible injury to employees
The risk and dangers that goes with using old equipment can increase almost every day. On top of that, the increasing need for maintenance and repair will also attack your budget. This can lead to more expenses than what was originally budgeted.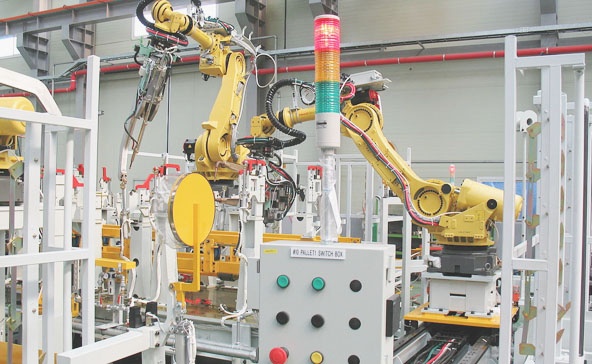 Advantages of New Industrial Equipment
To be able to keep up with an ever-changing world, industrial equipment intensive businesses need to have the most reliable and updated equipment. Since the technology is updating almost daily, the standards of the output of most businesses are also increasing.
Here are the most common reasons why you need new equipment:
New equipment provides better efficiency and productivity. The most common reason why equipment is upgraded is to improve productivity. When equipment provides more accurate, faster results with less rework, it can have a significant impact on the business.
New equipment can give more capability. When the equipment you have isn't enough to complete the job, you either have to subcontract the work or get new equipment.
New equipment improves workplace safety. Upgraded equipment can reduce the risk of malfunction, and has additional safety fail safes.
Benefits Of Industrial Equipment Financing
Acquiring new industrial equipment for your business requires a lot of working capital. Whether you're purchasing cnc equipment or leasing cnc equipment, a significant amount of money is needed to cover the cost of down payments, maintenance, and repair.
And if you use your working capital up… it can leave you in a pinch. You have less for cash flow or emergency situations. And if the business fails… you can be left empty handed.
If using your working capital, which is not recommended… that means you need to borrow the funds.
Here's a handy machine tool lease calculator to figure out what your industrial equipment financing payments could be.
Business finance banks are not recommended because the business loan process takes a lot of time.. and in business, every minute counts. Banks require you to "jump through a lot of hoops" and, aside from the lengthy process, you still only had a 50-50 chance of getting the loan.
Industrial equipment leasing companies will offer longer and more flexible terms than a local bank. Typically far less down and can offer deferred payments on your machine tool acquisition.
That's why it's better to get your industrial equipment financing from someone who provides equipment specialty financing. There are several benefits, including:
You can use industrial equipment financing to purchase or lease cnc equipment. Your choice depends on your business's situation. Proper usage of this loan will help your business save more capital.
Your business will be able to save even more capital if you choose to lease heavy equipment. Machinery leasing is the best choice for businesses with a tight budget. Since you will only lease the heavy equipment, you will only pay a fraction of its original price the first year. The money that you can save from leasing tormach equipment can be used in acquiring other necessities that your business needs.
Faster way to borrow money
Time is important for every business owner. That's the reason why many business owners use industrial equipment financing. This loan has a quick application process, and it is usually offered with affordable monthly payments.
Since most industrial equipment is expensive, replacing or upgrading them requires a lot of working capital. Getting a business loan from a business finance bank is a lengthy process. So if you're looking for a faster way to borrow money, industrial equipment financing is the best finance option.
A faster return on investment
Along with the upgraded equipment for your business, industrial equipment financing with a specialist will result in a faster return on investment.
We already mentioned the affordable monthly payment of this loan. Since the monthly payments are cheaper than most traditional lenders, repaying this loan will have less impact on the budget. Financing companies usually offer these business loans with affordable interest rates to help provide their client a healthy cash flow.
Many business financing companies pledge to help their clients to have a better cash flow, faster return on investment, and success. But how can you find the right ones that can really help your business?
Here's a handy machine lease calculator to see how much of a machine you can afford to lease.
By structuring your industrial equipment purchase on an industrial equipment financing agreement or on a $1 buy out machinery lease agreement you get section 179 tax benefits. With the passage and signing into law of H.R.1, aka, The Tax Cuts and Jobs Act, the deduction limit for Section 179 increases to $1,080,000 for 2022.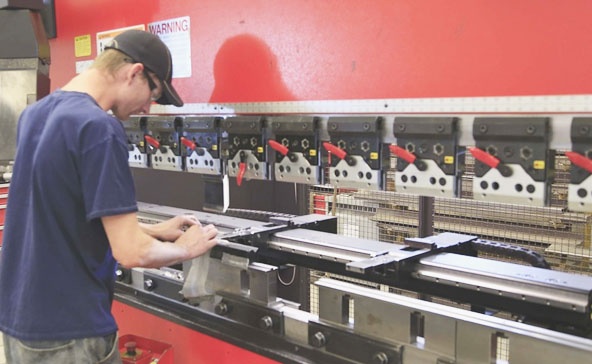 Make The Right Decision
When choosing your machine financing partner, their terms and policies must be appropriate to your manufacturing business. Make sure to study their interest rates carefully and determine if it suits your budget. Only borrow the amount of money that you think your business can repay. Avoid getting too much because debt is the number one reason why many businesses end up in bankruptcy.
Aside from the money related matters, also consider the process of their business loan application. If you immediately need the money, avoid business finance companies that require a long business loan application process. They usually talk in circles and you'll still end up being denied in the end.
However, among the machine financing companies that offer industrial equipment financing comes Trust Capital. The process for applying will only take a minute or two because they have a one-page application on their website. Trust Capital can also approve your application within 2 - 4 hours.
Trust Capital has everything you're looking for in a machine finance company… and more. They will help you gain a faster return on investment, provide affordable rates, and even introduce you to trusted vendors! Industrial equipment financing by Trust Capital doesn't require any down payment which also helps you save on capital. You can acquire the cnc machine loan within hours after your application's approval and have it even if you have bad credit.
Trust capital can easily approve your company for up to $500,000.00 by just filling out a one page online application to go and buy tormach equipment.
All you need is to visit their website and apply.
Final Thoughts About Industrial Equipment Financing Advantages
Having the most reliable and upgraded cnc equipment for your business, acquired with affordable and flexible monthly payments, can have a lot of benefits for your business. That's why I took the time to outline the advantages of industrial equipment financing for your machine tool business.
For more information about industrial equipment financing, you can contact Trust Capital at (866) 458-4777 and speak with an industrial equipment finance specialist