Need tips on how you can finance cranes for your startup business?
Starting a crane business isn't easy, since your operations will involve large and heavy machinery along with enough working capital to support your operations. As a startup business owner, you need to weigh factors first before you make a decision.
Never risk your capital without knowledge on how to properly start a crane business.
In this article, we will talk about some things you need to know about crane leasing. We'll also provide some tips on how you can use crane leasing effectively in your startup business.
Tips for Startup Crane Businesses and Crane Leasing
If you want to achieve success in your business, you need extensive preparation and knowledge of your niche.
Being impulsive will only lead to failures.
Prevent making poor choices and bad decisions. Take a look at these tips for a startup crane business and crane leasing or financing.
Study the Market
Before drafting any of your crane operation business plans, it's best to study the market and its behavior. The structure of your business plan will depend on the competition in your area. Usually new crane businesses are started from crane operators that have been in the industry operating a crane for a company for many years.
So go analyze the existing crane companies around you. The best place to start crane businesses is in places in need of one, or if the existing companies have bad reviews. Typically crane operators have been doing crane operating for years and have a good idea of where the needs are in their area.
If there are already other crane businesses in your preferred area, study the services they offer.
Take advantage of the aspects that they lack. Look for bad reviews for their company and see how you can use it for your company's benefit.
Plan Your Budget
The more successful businesses know how to budget its capital, regardless of amount. Planning your budget is essential.
The capital must be distributed evenly among the many aspects of your business to ensure that everything is well-funded and supported.
Another reason why you need to plan your budget is that cranes are expensive.
So if you're planning to have a crane business, you need to use your capital wisely. Prepare a large sum of money that can finance your employees' salaries, heavy equipment, equipment, insurance, and space.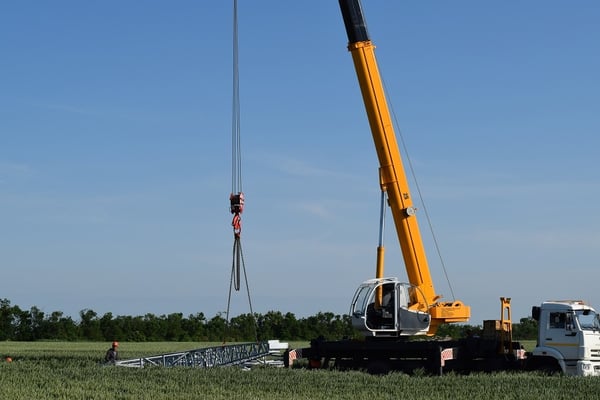 Crane Equipment Financing
Regardless of the amount of your cash-on-hand, you should never settle for cheap cranes. This type of buying equipment is a long-term investment, and may become your business' biggest asset.
Cheap cranes, especially those that are too good to be true, may pose some hidden problems such as costly frequent repairs or malfunctions on the boom, leading to operation interruption. They can also be a safety liability.
That said, you now may bey thinking of purchasing a new crane. But remember... doing so requires a huge amount of capital.
Can your startup crane business afford purchasing a crane with cash?
If yes, then good for you!
If not, then crane leasing is a good choice for your business. Leasing a crane is the best option, especially if you need the crane for several projects.
If you're curious what your crane finance payments could be than use our Crane equipment financing option calculator and use our Crane equipment lease calculator to calculate how expensive of a crane you can afford to purchase based on your monthly budget.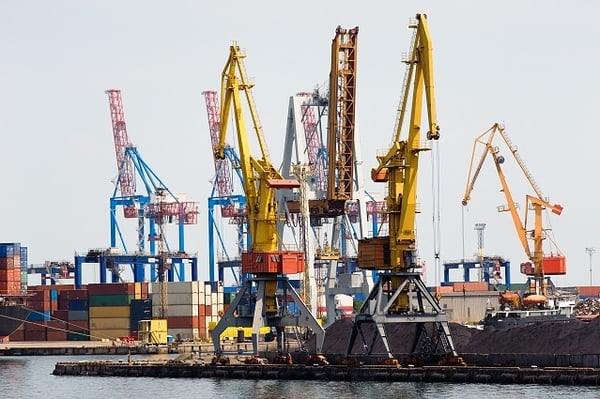 Crane Leasing Factors to Consider
When selecting crane leasing and financing over purchasing, there are certain factors you have to consider in order to make your decision more beneficial for your business.
Let's take a look at some of them.
Company Objectives
Remember your company's objectives before leasing a crane. This is to ensure your to-be-acquired equipment will be able to satiate your company's needs and goals, and you can maximize its usability all throughout your operations.
Also, before you lease a crane, your decision should also depend on the following:
What are the materials to be moved?

How often do the operations involving crane use occur?

Can the crane that you're planning to acquire support your future projects?
Working Area
As cranes have different types—each serving different purposes, your work environment is one of the key factors that will determine the type of crane that you're going to use for the long term.
Your choice will depend on the type of project and work area of your business.
Available Support After Acquisition
Before you decide to settle with crane leasing, make sure that the crane manufacturing company will offer support for maintenance and repair so your crane leasing company can wrap it into the financing.
Any type of equipment will always require periodic maintenance, regardless of the mode of acquisition. This is to lessen the potential problems that can slow down your operations.
Make sure the crane comes with regular maintenance from your dealer after the deal. The crane dealer must have experienced technicians to assist you in repairing and maintaining the good conditions of the cranes.
Benefits of Crane Leasing
Many crane operators turn to crane equipment leasing because it's designed to support a businesses' operations, regardless of its size, and helping them expand and grow faster.
But aside from this, there are many more benefits as to why you would do crane leasing options over purchasing a crane with cash.
Here are some of those crane leasing benefits:
Easy approval – Crane leasing

companies have requirements easier to achieve than those from your local bank.

Healthy budget and cash flow – Crane financing requires less money, and the cash you'll be saving can be used for the other aspects of your business. Some payment plans can include no payments for the first 90 days.
Maintenance included– Crane finance companies can wrap in maintenance plans for repairing or replacing broken cranes.
Crane Leasing Tax Benefits -

With a $1 buy out lease agreement crane operators can utilize Section 179

tax

code where business owners can accelerate depreciation and write off the entire purchase price in year 1 off there taxable income, the deduction limit for Section 179 increases to $1,000,000 for 2018 and beyond. With a crane TRAC Lease

you can write off 100% of your payments off of your taxable income.
Market Your Crane Business
Effective business marketing is needed for you to maximize your use of crane leasing. More projects mean more profit, and you'll get the best value out of what you're paying for.
Advertise your crane business using flyers, the internet, radio, or local newspapers. Also consider approaching construction companies and offer them discounts on your services.
Final Thoughts on Things You Need to Know About Crane Leasing
Before making any of your business plans, it's important to have a background on what field you will be playing on. This is to ensure that your business can have a chance at success, and you will stay ahead of the game.
You will also need to plan out your budget such that every aspect of your business can go about without any difficulties or shortcomings.
That said, crane leasing can help relieve your stress in financing the equipment factor of your budget with an online application . As it costs a lot lesser than purchasing new ones and the fact that it gets approved easier, businesses usually turn to crane leasing companies for help.
Maximize your crane leasing by marketing your business effectively. Having numerous projects lined up all year will bring you more profit.
If you want more details about crane leasing, you can call Trust Capital at (866) 458-4777. Trust Capital has helped many new and existing companies finance their first and second crane.