Financing a business, whether it's new or has multiple years of experience and sales, can be a challenge for many. Sometimes it means having to find funding, such as machinery lease funding, in order to open your doors for the first time. For others, it may mean upgrading existing equipment and acquiring new equipment in order to expand your business capabilities.
Check out the top 10 industries that are benefiting from equipment leasing today, particularly machinery lease options. If your business is in one of these industries and you're not utilizing equipment leasing, you may be missing out on opportunities to grow your business.
Cannabis Industry
The cannabis industry is steadily growing in select parts of the country. For the states that have legalized cannabis use, whether medically or recreationally, business owners can utilize machinery lease options to open their business or grow their business much quicker than if they tried to gather the funds on their own.
With all of the cannabis extraction equipment, raw materials, and other components to starting or growing a business in the cannabis industry, there's no reason not to take advantage of purchasing cannabis equipment with a machinery lease.
Information Technology (IT)
In IT, technology is the prevalent factor in the business (it's in the name after all!). IT businesses, both small and large, can benefit from IT equipment leasing because it will allow them to purchase additional equipment or more up-to-date equipment that will help them serve their clients more quickly and efficiently.
Due to the rapid evolution of technology, IT businesses have a distinct advantage over other industries because they can opt out of "keeping" the equipment at the end of their IT equipment lease in order to start leasing other, more advanced equipment later.
In order for IT businesses to succeed, they need to keep up with technological trends in our quickly advancing world and take advantage of the benefits purchasing IT equipment with your machinery lease.
Restaurant Industry
Restaurants of all types require different kinds of equipment to operate efficiently. The equipment that is a part of your restaurant can dictate the quality of the food and beverages you're producing and how quickly it can be produced. With restaurant equipment leasing, you'll be able to diversify how you're financing your business, as some restaurant equipment leasing companies may not provide enough funding for you to cover every single operating expense of your business. The restaurant industry benefits from restaurant equipment leasing when they're looking to expand, remodel or start up a restaurant.
CNC Industries
The CNC industry is among the industries with the most technologically advanced equipment. While their function may seem simple on the surface, CNC machines like vertical machine centers, Tormach PCNC milling machine, CNC lathes, and other CNC machines, require highly sophisticated computer software and interfaces in order to operate. However, when setup, CNC machinery helps manufacturers create the most precise end result products and a machinery lease is a great way to embrace the new technology and try out new equipment. Start up companies utilize tormach financing because this allows them to get the smaller personal cnc equipment to start a small business operation and scale there business up.
3D Printing
3D printing is gaining in popularity over recent years. While the public is becoming more familiar with 3D printers for the home or office, major manufacturers are already taking advantage of industrial grade 3D printers. These industrial 3D printers are capable of printing much larger products with higher precision and a wider range of materials. A machinery lease can be used for industrial 3D printers so that you can purchase your first 3D printer or upgrade with a 3D Printer lease to meet the growing needs of your market.
Farming & Agriculture
Farming and agriculture businesses are considered by some as the backbone to the country. Farmers allow residents all across the country to be able to eat a wide variety of different foods. Farmers and agriculture equipment is what farmers and other agriculture based businesses rely on to grow and harvest crops, as well as raise animals that we rely on for nutrition.
While not all farmers and agricultures need every type of equipment available on the market, they can use an equipment and machinery lease to acquire the large equipment and vehicular equipment that allows them to harvest fields of crops. Farmers and agriculture businesses look to set up seasonal payments when utilizing agricultral equipment leasing. This allows farmers to match up there equipment leasing payments with there incoming cashflow.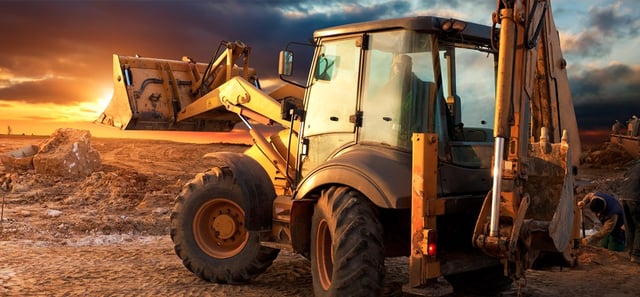 Construction Industry
Construction companies are commonly one of the first industries that come to mind when people think of "equipment leasing," especially when taking into consideration the large variety of heavy equipment options available in the market today. From bulldozers to forklifts to massive cranes, a machinery lease and heavy equipment lease is almost an essential part of any construction business.
A machinery lease gives businesses within the construction industry the opportunity to purchase and use equipment that would normally be well outside of the scope of their budget. Construction companies like the machinery lease process of being able to easily obtain construction equipment for an affordable price. Construction equipment leasing helps speed up the process when it comes to acquiring upgraded construction equipment. When you lease machinery, you get to have affordable monthly payments that fit your budget.
Towing Industry
Equipment leasing is another popular option in the towing industry. Towing vehicles can be considered a form of equipment to a business, as they allow them to help or relocate vehicles during accidents, for government purposes, to transport high end vehicles, and more. A tow truck lease is a great way to start or expand a business within the towing industry.
Shipping and Delivery Industry
Shipping and delivery is a must-have industry in our nation, as they allow us all to enjoy the benefit of ordering products online or getting custom-made products sent directly to our doorstep or office. Business owners can use equipment leasing to purchase different types of shipping vehicles that will improve the bottom line of their business and increase profits as the demands of their customers increase. A machinery lease can help business owners that need to buy mezzanines, fork lifts, conveyors and racking equipment for their warehouses to offer faster shipping options to their customers. Equipment leasing gives the shipping and delivery industry the opportunity to expand and improve their fleet of delivery vehicles and equipment for inside their warehouse.
Virtually Any Small Business
Don't automatically assume that just because your industry doesn't typically utilize a machinery lease or other forms of equipment leasing that you aren't eligible to utilize it. Any type of business that has equipment can benefit from a machinery lease.
Generally speaking, any small business can benefit from equipment leasing as much as larger corporations can. In fact, a machinery lease may be the catalyst a small business needs in order to get that head start on their competitors or catch up to other major players in their market. Sometimes its for cashflow purposes or tax pursposes.
What will a machiney lease cost?
Having the most reliable and upgraded machinery for your business, acquired with affordable and fixed monthly payments, can have a lot of benefits for your business.
Click here for a machinery lease calculator to calculate how much your machinery lease payments could be and how much machinery you can afford to buy based on your monthly budget.
How to get the most tax savings with a machinery lease
You can structure your machinery lease as a FMV buy out and write off 100% of your payments off your taxable income.
But
When you structure your equipment financing on an equipment financing agreement or on a $1 buy out lease agreement you get section 179 tax benefits. With the passage and signing into law of H.R.1, aka, The Tax Cuts and Jobs Act, the deduction limit for Section 179 increases to $1,000,000 for 2018 and beyond. The limit on equipment purchases likewise has increased to $2.5 million.
Contact Trust Capital today to learn more about how equipment leasing can help your business capitalize on market opportunities, keep cash flow up and increase revenues.
Ready to Apply online for a machinery lease? Feel free to call Trust Capital and speak with a machinery lease specialist that can take your application over the phone at 866-458-4777.