Are you planning to buy equipment for your forestry business?
Managing a forestry business can be a tough job. Like many other kinds of business, you may end up encountering roadblocks. Most likely, there will even be days where your business will have insufficient cash flow.
What if you experience a decline in business?
Several factors would then come into play, due to your employees, facility, weather, or equipment.
If your business is struggling because of its equipment, then the answer to your problem is forestry equipment financing.
In this article, we will talk about forestry equipment financing, and why it's beneficial to your business. I will also give you some tips on how you can choose the right financial partner.
Things To Know About Forestry Equipment Financing
Before you apply for any kind of loan, study the loan first, and think about how you can maximize it for your business.
Today, in specific, I'll help you understand equipment financing, and how it can benefit you and your business.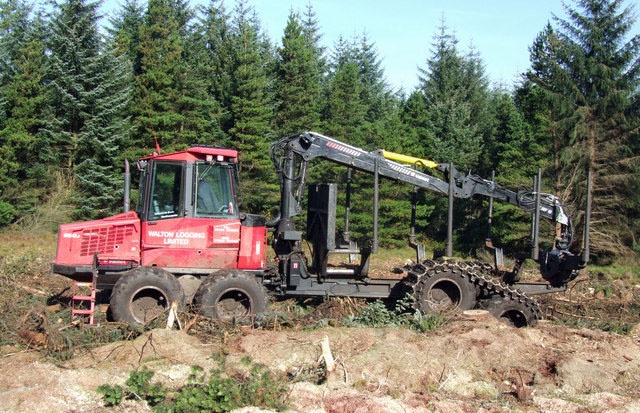 What Is Equipment Financing?
Equipment financing is a way of increasing the capital of your business by means of borrowing money. This financial loan will be used to purchase, lease, or upgrade the necessary business equipment that will help your business thrive and grow.
In other words, equipment financing can greatly help improve your business' cashflow and working capital. Many companies also look to equipment financing as part of their business recovery program, in order to save a declining business.
How to Get Equipment Financing
Businesses that are having a hard time getting additional capital through traditional funding from banks often use equipment financing. Such loans are offered by lenders, financing companies, banks, and government loans.
In most cases, acquiring equipment financing will need a business owner to present a satisfactory credit score. Also, the approval of your loan application will depend on your number of assets or business collateral. Most lenders often look for things that are of equal value to the amount of the acquired loan, just in case the borrower fails to repay the borrowed money.
Get Equipment Financing Fast
One great thing about this type of financing is that businesses could acquire their needed equipment within days. The application process for equipment financing is almost always fast.
Most financing companies offer equipment financing with a "same day approval" process.
How to Use Forestry Equipment Financing
This type of loan is useful and beneficial to a lot of struggling and startup businesses. It helps business owners to keep their capital within their business rather than being tied up in depreciating assets.
You could use equipment financing to purchase or lease medical equipment, heavy equipment, restaurant equipment, and other equipment that can be used in every kind of business, including forestry.
Here are some forestry equipment financing calculators to help you along your way.
Forestry equipment financing is beneficial to a lot of small and big forestry businesses. Let's take a look at the benefits that you will get from such a loan.
Benefits You Will Get from Forestry Equipment Financing
Forestry equipment financing leads you to acquiring your most beneficial assets: your equipment. Most importantly, once you purchase or lease the equipment that you need, it will help you repay the borrowed money.
You can easily gain a faster return on investment (ROI) because the new and upgraded equipment would improve the quality and quantity of your business' outputs.
Aside from a faster return on your investment, here are more benefits that you could see as a result of forestry equipment financing.
1. Increased Efficiency In New Equipment
Sadly, for forestry and logging businesses, the average lifespan of forestry equipment lasts only around 12,000- 20,000 hours. Frequent repairs will be inevitable, and you'll probably lose a lot of money in repairing your equipment.
Forestry businesses spend a lot of money repairing their equipment, compared to construction companies. Forestry equipment gets worn-out easily and once it's repaired, the frequency for repairs is quite high. This will slow down your business, as damaged and repaired equipment lessens your productivity and profits.
To avoid this, forestry businesses are using forestry equipment financing to acquire the capital to replace their old equipment with a new equipment. This new equipment will increase productivity, and it will lessen the expenses of constant repairs.
This financing will give you steady and an increasing cash flow that you are then able to use to acquire additional equipment.
2. Finance Over The Long Term
Purchasing forestry equipment can be a big financial burden for a company. Luckily, forestry equipment financing works quickly to fix this challenge. This type of loan will ease cash flow pressure as a result of equipment acquisition.
Most financing companies offer forestry equipment financing with an affordable monthly payment, in order to allow a company to maintain a healthy budget. This option is beneficial to many forestry businesses. Financing the cost of purchasing the equipment over the long term will lessen the impact of that purchase in the short term, where cash can be scarce.
3. Option To Skip Payments For Seasonal Trends
Seasonal factors influence the forestry industry, and the production of most forestry businesses slows down during this period.
Within such lulls, business owners are given the option by lenders to skip equipment payments. Of course, this is a great opportunity, and it is quite advisable to skip payments in order to save money while your company is unable to conduct business. The best forestry equipment finance companies will allow you to make 9 payments out of the year instead of 12.
4. Finance Used Equipment
If your company is really having a hard time right now, and cannot afford to finance new equipment, you could use forestry equipment financing to acquire used equipment.
Financing used equipment allows you to make more affordable payments. There are a lot of risks involving such a decision, but used equipment still can greatly improve your output, and could give you a much improved cash flow.
5. Save With The Atlantic Investment Tax Credit
For Atlantic Canada loggers, the Atlantic Investment Tax Credit is a huge incentive.
This tax credit is a 10% government rebate for acquiring forestry equipment in certain locations, including:
Newfoundland

Labrador

Prince Edward Island

New Brunswick

Nova Scotia

The Gaspe Peninsula
6. Save With Section 179 Tax Credit
Having the most reliable and upgraded forestry equipment for your logging and forestry business, acquired with affordable and fixed monthly payments, can have a tax benefits for your business. When you structure your forestry equipment financing on an equipment financing agreement or on a $1 buy out lease agreement you get section 179 tax benefits. With the passage and signing into law of H.R.1, aka, The Tax Cuts and Jobs Act, the deduction limit for Section 179 increases to $1,000,000 for 2018 and beyond.
Tips In Choosing The Right Equipment Financing Company
Applying for a forestry equipment financing is a critical move for you and your company. Most likely, such a loan will help you be successful, but that also depends on the leadership of the company.
It's advisable to choose the right financial partner for your company to ensure your success. As one important factor, make sure that your financial partner gives you a lot of breathing room in repaying the borrowed money.
Here are some tips on choosing the right forestry equipment financing company.
1. Great Reputation
Of course, your financial partner should have a great reputation. To check your financial partner's reputation, search their name in a search engine, and look for various reviews and other feedback.
Also, check to see whether there are complaints about your lender. If you come across a large number of complaints, it's better to look for other options and try another company.
2. Compare Companies
If ever your decision narrows down to two financial companies, look at each company's offerings and compare them.
As the borrower, you should pay close attention to the following:
term options

for how long can you finance?

niche market

specialization

types of products and services
Determine which company gives you more benefits, and if necessary, don't hesitate to call them. Ask useful questions that will help you decide the best lender for the individual needs of your business.
3. The Company's Track Record
As a business owner, your primary concern regarding borrowing money is to avoid scams. Before you make an application for forestry equipment financing, make sure that the lender or the financing company is legitimate.
Check if the lender is nationally recognized, or on the Inc. 500 (or another similar) list. Aside from that, look to see whether they have had a successful track record with financing. Also, while talking to them, determine if they are willing to partner with your business in the long term.
4. Customer Service
Always look for companies that offer good customer service. This goes for every situation, but especially financial service providers.
Don't settle for a company where you feel like they're just doing a routine transaction with you. It is advisable to choose a company that aims to build a relationship, and will help you every step of the way.
5. The Contract
Before finalizing the deal with the lender or financing company, review the contract that is offered to you. Look for the terms and clauses that you both have agreed on. Check if the lender has added terms that were not discussed before the contract signing.
Most importantly, if the lender or financing company will still not provide you the promised funds after signing the contract, then you should go and find another equipment lender.
Final Thoughts On Forestry Equipment Financing
In this article, we talked about many things you need to know about forestry equipment financing. This is a tough business, because it doesn't provide funding year-round, and that's why it's so valuable to look at financing. You can't stop the seasons from changing, but you can avoid the costly constant repair of old equipment.
In this article we talked about how to get the financing you need to build your business. We also talked about how to find the right source for your financing.
Forestry equipment financing is offered by many financial services companies, and it is comes with a lot of benefits. Most companies, such as Trust Capital, give you flexible payment options in order to gain a faster return on investment.
Ready to Apply online for Forestry Equipment Financing? Feel free to call Trust Capital and speak with a forestry equipment finance specialist that can take your application over the phone at 866-458-4777.