Looking to get more value in your equipment that you purchase?
If you need heavy equipment but your business is on a tight budget, then applying for a heavy equipment financing might help.
This financing can even be used at auctions, something often overlooked when it comes to purchasing of equipment being the subject to credit approval.
Unlike the traditional sellers, auction sellers allow you to purchase an equipment at a more preferred price. This makes it ideal for businesses with limited funds.
Most of the equipment sold at auctions are sold as is. This means buying equipment will be given to the buyer in its current condition. The buyer can no longer replace or return the equipment once he has won the bid.
Hence, bidding at auctions for the equipment can be extremely risky.
To avoid getting the worst heavy equipment for your business at an auction, I'm going to share some points to consider before proceeding to make a bid.
Identifying "Red Flags" When Buying Heavy Equipment at Auctions
Once you have acquired your heavy equipment financing that's pre approved on a soft credit inquiry, it is time to use it wisely.
Bidding at auctions for construction equipment and dump trucks open a lot of opportunities, but at the same time, expose you to various scams and frauds.
Make sure to follow the tips that are shared in this post to help you avoid pitfalls during auctions.
What is Equipment Financing at an auction?
Equipment financing is the process of getting additional working capital for the purpose of acquiring equipment from an auction. The convenience and flexibility it offers attract companies to begin using it, particularly when it comes to acquisitions of heavy equipment and commercial dump trucks.
In fact, many businesses that operate with heavy machinery often opt to use equipment financing at auctions.
How does equipment financing work at an auction?
The company that needs to borrow the working capital will send an application to the equipment financing company. Once it has been approved, an arrangement will be created.
The contract, in most cases, state that the equipment financing company retains title to the acquired equipment, and payment for the borrowed capital must be given on an installment basis.
Choosing to acquire equipment financing instead of using existing working capital can give your business a big lift in the long-run. Companies like Trust Capital will pre approve your business before the auction application only up to $350,000 so you can go shopping. Once you won the auction bid you'll send Trust Capital your auction paperwork. Trust Capital will then send you the loan paperwork so they can get the auction paid.
However, there are still things you need to consider before acquiring equipment at auction.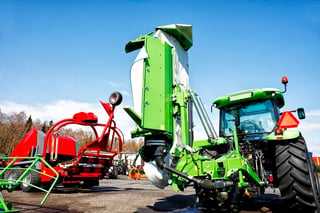 Things to Consider Before Acquiring Equipment at an Equipment Auction
If you have insufficient working capital to replace or purchase new heavy equipment, then heavy equipment financing will be your best bet.
However, it needs to be used wisely to guarantee that you get the best value for your money and business.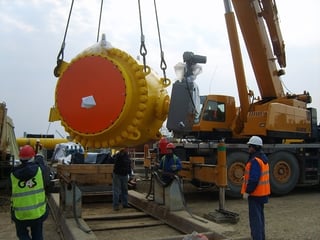 How to Avoid Pitfalls When Acquiring Heavy Equipment at Auctions
Buying used equipment at auctions can be beneficial. However, it doesn't mean that you're free from all the risks and scams that may happen during the buying process. To avoid the worst possible outcomes of your auction bidding, consider following these tips:
Inspect The Heavy Equipment First
Most used heavy equipment you'll find at auctions are sold in the condition they are seen in. This makes it possible for potential bidders to inspect them before making the bid, an important step to remember in auctions finance program.
It's advisable to have a qualified mechanic or experienced operator with you to conduct the inspection.
But if you're viewing equipment in an online auction, ensure that the information provided is complete and that pictures are shown. Try to make sure you only rely on websites that provide complete information, and pictures of every single part of the equipment is shown.
Ask for The Maintenance Record
Never purchase a piece of heavy equipment that has a long recorded history of repairs.
Ensure that the equipment is in good condition and well maintained. The only way to do it is by asking for its maintenance record.
The maintenance record will give you signs and clues of how the previous owners have used the heavy equipment in the past. Doing this will help you avoid getting equipment that needs frequent repairs.
Signs of Wear
When you're checking used heavy equipment, it is not at all uncommon to come across scratches or signs of wear.
Dismiss the equipment when it is beginning to display hairline cracks, rust, or damage that could be a major financial burden in the future.
The Equipment Must Have a Clear Title at The Time of Purchase
Once you have found a piece of heavy equipment that is in good condition, make sure that it is free from any liens before paying.
Ask the seller for a document showcasing proof that they have a clear title on the equipment to avoid any legal problems. They could have a property tax document showing they paid property tax on it if they don't have anything else. They could also have the original invoice and proof of payment from when they bought this piece of equipment.
Common Scams to Avoid at an Equipment Auction and an Auctions Finance Program
A lot of great deals are found on the Internet, which is why most business owners would rather conduct their purchases online. However, the vulnerability of the Internet makes it possible for frauds and online scammers to be present and victimize unknowing individuals.
To ensure that the purchase you are making is legitimate, here are some tips to avoid the common scams at online auctions.
Never send money if the seller or the owner of the heavy equipment is asking for a wire transfer. Wire transfers give you no protection whenever your deal with the seller goes bad. Instead use a credit card or an ACH payment because you can retrieve your ACH payment with in 90 days.

Be cautious whenever the seller prefers to use escrow. It's the common and easiest way for scammers to get money from their clients.

Online sellers with a good reputation and high credibility are prone to hacks and impersonations. Verify the seller before making a deal.

Choose the best option for payment methods. Opt to use credit cards for more protection.

Keep in mind that the website that hosted the auction is not liable for anything. They are simply providing the platform for the sellers and buyers to conduct transactions. If a deal goes wrong, you cannot count on them to provide a refund.

If you're new to auction sites, always start with a small bid.

Be cautious if the seller told you to take the transaction offline. Many online sellers are putting advertisements of equipment that they don't actually have. When a buyer makes a bid, the seller will then ask to continue the deal offline so they can communicate directly and persuade them to send the payment via wire transfer.

It's time to walk away from a deal once you notice that something is wrong. When a deal seems too good to be true, there's a high possibility that you're dealing with a scammer.
Final Thoughts on Red Flags to Avoid on Heavy Equipment Financing
In this blog post we talked about how heavy equipment financing can help you purchase or acquire the heavy equipment you need for your business. You can use it to make your purchases in any method you please, even if it means participating in an auction.
Although great rates can be expected in an auction, it's important to be mindful of the equipment that you are buying.
Make sure to conduct a thorough inspection for any signs of major wear and tear. It is recommended to request for its maintenance record to give you a clearer insight on its condition. Most importantly, ensure that the seller is the owner of the equipment to avoid any legal problems.
The risks can be even greater when participating in an online equipment auction. The anonymity and freedom the Internet offers makes it possible for scammers and frauds to flourish, particularly in equipment auctions.
Using an equipment finance company like Trust Capital can help make the auction construction equipment buying process smooth and more safe.
If you have questions or want to know more about heavy equipment financing, you may reach Trust Capital at (866) 458-4777. Trust Capital will give you a no obligation approval with just a soft credit inquiry so you can go buy new and used equipment from any auction you chose.