If you're a business owner, we know that you're always looking for ways to help improve your business, increase your cash flow, grow your number of clients, and otherwise raise awareness about who you are and what you do. This is why marketing is such an important component for any business, including construction and independent contractors business.
Marketing is what allows you to get the word out about your business and be seen by people who can potentially become your clients. And there are so many different ways to market your businesses.

With effective marketing, your business will grow, you'll get more clients, and you'll be able to take on bigger projects. It wouldn't be unsurprising to need construction equipment financing shortly after finding your most effective forms of marketing to keep up with the demands of your new clientele.
When you have construction equipment financing as an asset for your growing business, you'll be able to acquire more pieces of construction equipment or upgrade to better and more efficient tools. When you have additional, better, and more advanced construction equipment through construction equipment financing, you'll be able to take on more clients and bigger projects to help starting a business of construction or contracting that can grow even more.
Some methods of marketing will work better than others, so you may need to experiment with a few different options to find your sweet spot and figure out which method works most effectively for your business and your area.
Don't forget that you can leverage construction equipment financing to help you with your business: by being able to finance new or additional equipment, you'll be able to take on bigger jobs, take on new clients, and more. As you market, you may find that you'll need construction equipment financing and more employees to help you with the additional flow of incoming work for the long term.
Today we're going to look at 7 major tips on how to effectively market your construction or contracting business. If you have questions about these methods or how you can leverage construction equipment financing in your business, give us a call or send us an email and we'll be happy to help!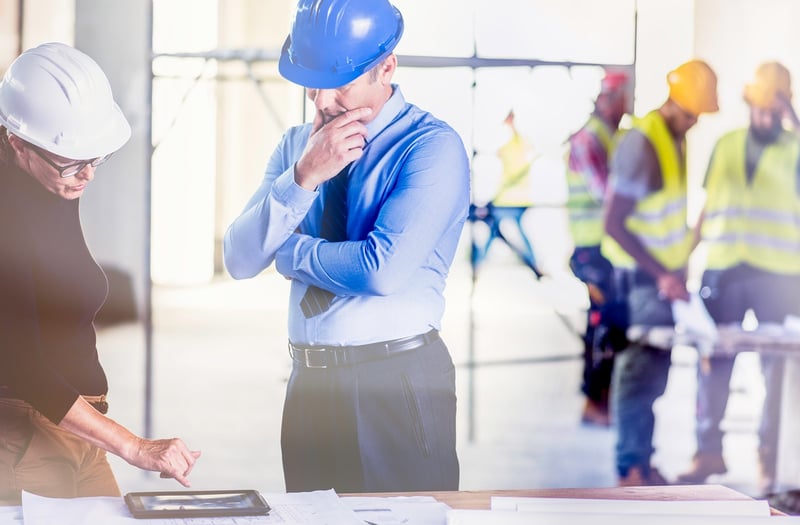 1.) Advertising Diversity
What many businesses do, not just in the construction/contracting business for general contractors, is that they'll find a method of marketing and getting clients that works for them and they stick with it, forever, and do nothing else.
It's great to have a tried-and-true method of getting clients and if it's working, don't give it up. But consider how many more clients you could be having if you started exploring other methods of marketing that might work for your business plan.
There's no rule that says you can't market in other ways too, and no rule says you can't keep marketing once you find a good way to get clients.
If you already have a great marketing method, great, but we encourage you to keep trying other avenues of marketing. You don't want to put all of your eggs in one basket.
Not every method of marketing is going to last forever, and if you only use one form of getting clients and it suddenly becomes ineffective, then you'll be out of luck while your competitors scoop up all of your could-be clients.
Always be open to exploring, considering, or trying different advertising avenues to ensure that you're not leaving any rock unturned. As you start to gain traction with your construction business, remember that construction equipment financing can help you handle the increased workload by giving you more equipment to work with!
2.) Local Organizations
You can leverage local organizations to help you get the word out about your contractor business. This is an alternative way to get potential clients without having to directly try and convert people into clients.
Local organizations like a trade organization, Chamber of Commerce, and local retail stores are great places to advertise your business within the construction industry . Some businesses will have a place you can easily put information up about your business so that visitors can see it while they're at a particular location.
Other local organizations can offer more direct help in promoting your business to people who have an immediate, direct need of the type of service you provide or the states require. As you start to take on new clients from these places, construction equipment financing will be something to look into to help you acquire more equipment to handle the increased workload.
3.) Internet
The internet is becoming one of the most effective forms of marketing in today's era. Having a simple website and basic social media accounts are great ways to get started in the online world.
Hire an SEO company to help you with your organic visitor traffic. An SEO company can help you target the keywords and help you gain the right visitors to your website that need your services. This is a slow moving investment but pays off big time in the end. You can also get on youtube and learn how to do this yourself if you don't want to pay someone to do it.
Hire a google ad words marketing company to help set up a google ad words campaign to attract the right customers to your website. Or get on youtube and learn how to do this yourself. It will take you 3-6 hours of video to watch to get good enough at it.
Websites, yelp and social media help you to exist in the online world, where many people are now spending their time these days. When someone needs a particular service, more people than ever are using online searches like Google instead of the printed Yellow Pages with the help of their contractor license .
And if you don't have a website or social media, then you essentially don't exist to those people because they may never pick up a printed Yellow Pages.
Having an online presence allows you to not only get discovered but help you establish credibility in your market through construction blog sites, interviews, testimonials, and more.
4.) Trade Magazines
Trade magazines can be especially important for businesses in an industry where people still regularly consume content and news through printed formats, like specialty magazines, professional newsletters, and local news on licensing requirements.
Getting into a trade magazine can help to establish you as a credible business in your market and showcase to potential clients that you're serious about your line of work. Getting work through these mediums can even be a good reason to consider construction equipment financing to acquire equipment to take on bigger and more ambitious jobs that these clients may need.
5.) Newspaper / Phone Book
The newspaper and phone book are both great ways to get eyeballs on your business. Even if the world is moving more and more to digital, there are still plenty of people who are reading newspapers the "old fashioned" way.
You can display ads in the classifieds, generate news stories about your business or the industry, and utilize editorials and other community resources only available in the newspaper and phone book.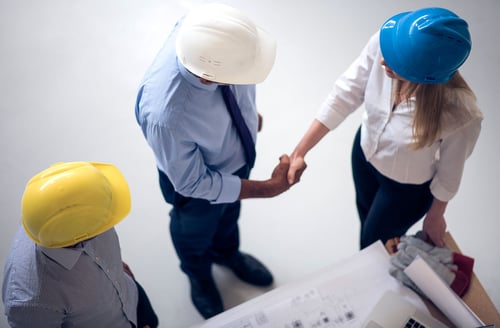 6.) Word of Mouth
Word of mouth is one of the most effective forms of marketing out there today and it's not likely to go away anytime soon for general contracting. If you deliver great service, it will be hard for people in your area not to talk about you to their friends.
Effective word of mouth is not something you can necessarily force or engage in directly as a form of marketing, but there are some things you can do to help encourage it.
For starters, you can offer a bonus to clients and customers that use referrals. Referrals offer an incentive to people who already enjoy working with you to effectively market for you and get a little bonus for it.
But at the end of the day, offering a great service or product is at the core of word of mouth. Your service needs to be as great as it can be for people to talk about you and recommend your service to their friends and organizations.
And as you start growing, you may find you'll need construction equipment financing to cover an influx of new customers that are being referred to by existing customers.
7.) Non Traditional Marketing
You can also market in nontraditional places, like billboards, flyers, and moving billboards. Construction projects and contracting small businesses may not necessarily be seen in these places very often, but that means that there won't be a lot of competition there either and you might stand out if your advertisement is done strategically along with offering some great customer service.
Remember, there's no one specific method you should be using to market your business. In fact, the more methods you can try, the better as you'll be able to find what works and what doesn't.
If you want to learn more about how to market your business and utilize construction equipment financing, give Trust Capital a call today at 866-458-4777! We'll be happy to answer any questions that you have about construction equipment financing and how to leverage it into your growing business.