You are shopping for a new or used forklift for your business. You see forklift leasing companies advertising very attractive forklift financing rates. These offers look too good because these rates are meant for businesses that have excellent credit and have been in operation for more than two plus years.
Now, I am going to take a guess – you don't have perfect credit. Perhaps, you are just getting started with your business. That is perfectly okay, every business started someday.
Now, how do you go about leasing a forklift when you don't have perfect credit? Or you haven't been in business for that long? Or if you're just starting out?
Before we proceed, I would like to cover two things – forklift usage and forklift requirements. It is extremely important for you to understand these when you go about financing your forklift.
Forklift Usage
First things first, do you know your forklift usage? If you don't stop everything you are doing and first understand how much you plan to use your forklift in your business.
How much you plan to use your forklift on an annual basis plays a significant role in determining if you should purchase or lease the forklift.
Forklift Purchase – your business needs a forklift but it is not going to be used much, you don't foresee any need for frequent repairs or maintenance, and you plan to use it as long as it runs (aka run it to the ground), then financing your forklift purchase would be the right route to take.
Forklift Leasing – your business needs a forklift and it is going to be heavily used, which means you foresee periodic repair and maintenance required, which also means there is more wear and tear and a shorter lifespan for the forklift. If this is the case, then leasing the forklift would make perfect sense.
Companies waste a lot of money every year by making wrong financial decisions every single year without taking forklift usage into consideration.
Now let us take a look at what affects your forklift financing rates.
Forklift Requirements
If you are new business or a startup you forklift requirements may change over time. If your requirements change, then you are stuck with a forklift that is obsolete and you are looking at another purchase or lease decision.
In addition, you might not have the cash reserves to make a capital investment or even if you did, you might not want to put a dent of on your working capital.
For all reasons above, it might make more sense for you to lease a forklift to stay flexible and scale up as your business grows.
Factors Affecting Forklift Finance Rates
As I mentioned, there are two primary factors that determine how much your forklift lease rates are going to be - . However, there are a few other ones that can play a role in raising or lowering your financing rates:
Are you buying a new or used forklift?
Are you trying to finance through the forklift dealer, a bank, or another financier?
What is your credit score?
How many years have you been in business?
Do you want a small forklifts or a large forklift?
How long do you want your forklift financing to last?
Do you want a forklift loan or a forklift lease?
These are all questions that forklift leasing companies or financiers of any kind will want to know. They'll play a role in determining exactly how much your monthly financing rates will be for your new or used forklift.
In most cases, businesses like yours don't have perfect credit or haven't been in business long enough to qualify for the cheapest options. As long as you have decent credit, you can still get fair forklift leasing rates.
Naturally as credit scores go lower, payment rates go higher. On top of that, the less time you have been in business, the higher your rates will get, too.
What's my forklift lease interest rate?
It's very tough for a business owner to calculate an interest rate on a lease when you're not a financial professional. Use this equipment lease interest rate calculator to calculate what your annual percentage rate is on your forklift leasing agreement. This calculator computes the lease rate based on a known payment amount, lease amount, residual amount and lease term.
Many forklift leasing companies won't put the forklift lease interest rate on the equipment leasing agreement. Almost all equipment leasing agreements don't put your equipment leasing interest rate information on the equipment lease documents.
Also you can use the amortization schedule that comes with the lease calculator to give to your accountant during business tax season to help him decide the best way for you to get the best tax write offs now and in the future to lower your taxable income.
Click here to get access to the most trusted forklift lease interest rate calculator. This forklift lease calculator computes the lease interest rate based on a known payment amount, lease amount, residual amount, and lease term.
If your forklift leasing company isn't be up front with you about your rates. We invite you to request a quote so we can give you the best deal up front.
Forklift Dealer Financing
The cost of forklift varies by size. The larger the forklift the higher the price. For example, a small Toyota forklift costs about ~$15,000. At the high end, large forklifts could cost in the neighborhood of $100,000 to $120,000.
It's less common that you'll meet "perfect conditions" by most dealers and financiers, but it's not impossible.
If you happen to have great credit, have been in business for a while, and are willing to buy brand new equipment, then going to a dealer is most likely going to be your best option because you can get 0% financing on your equipment.
As I mentioned earlier whether you purchase or lease a forklift is a business decision. Don't forget the golden rule – "Know your forklift usage."
It's hard to beat those kinds of rates, so make sure to grab the opportunity if you qualify! If you don't have perfect credit and years of experience, don't rule yourself out. There are other opportunities available.
Don't forget! Even if you have the credit and business credentials to purchase a forklift, it makes sense if and only if you get the desired mileage out of it.
If you are going to be using your forklift heavily, then you can expect associated repairs and maintenance costs, and a shorter lifespan for your forklift.
If you have a steady predictable high usage for the forklift through the year, then leasing may still be a better option for you.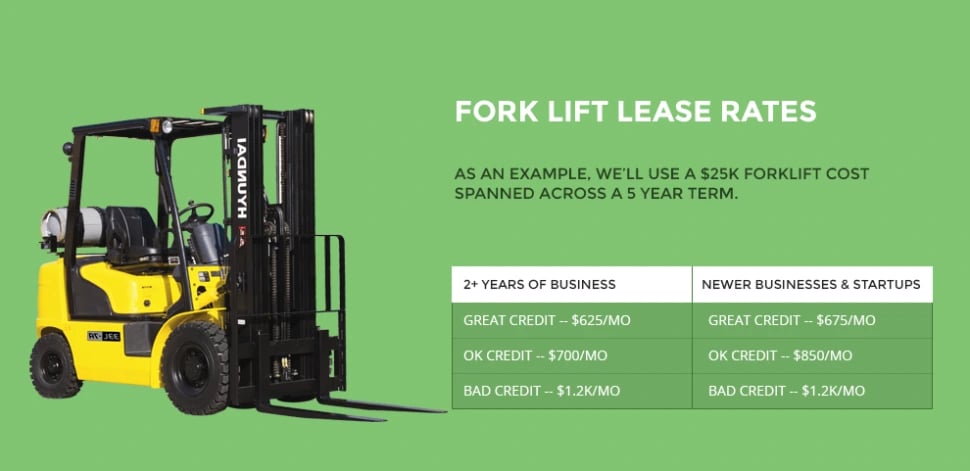 Forklift Leasing Costs
After you've decided that forklift leasing is right for you, you know what your credit is, and how long you've been in business, you can start to figure out how much your average monthly payments will be.
What will my forklift equipment lease payments be?
Click here for a resourceful forklift equipment lease calculator tool to see what your forklift equipment lease payments could be. Also includes an amortization schedule for your accountant. Use this amortization schedule to give to your accountant during business tax season to help him decide the best way for you to get the best tax write offs now and in the future to lower your taxable income.
As an example of forklift lease payments we've seen before, we'll use a $25K forklift cost spanned across a 5 year term.
2+ Years of Business
Great Credit -- $625/mo

OK Credit -- $700/mo

Bad Credit -- $1.2K/mo
Newer Businesses & Startups
Great Credit -- $675/mo

OK Credit -- $850/mo

Bad Credit -- $1.2K/mo
If you have decided to go forward with leasing, a good rule of thumb would be to consider leasing it for four to seven years.
The exact numbers will vary based on forklift age, pricing and the forklift leasing company that you work with, the term you want to pay off your lease or loan, cost of forklift, and your other business financial statements could come into play if it's a large forklift.
How expensive of a forklift should I lease?
Figure out how nice of a forklift you want to buy based on what you want to spend monthly. Click here for access to the most trusted forklift lease calculators.
We do finance big container mover forklifts.
More Resources
Ready for a Quick Forklift Lease quote? Click the link below! or Call 866-458-4777