Starting a business in the construction industry is both exciting and terrifying for many people.
One upside? If you have experience in the construction field, then you at least have an upper hand over people who have never worked in the industry of construction in any way.
While there are many facets to starting a business, today we're going to look at how construction equipment loans play a significant role in helping you start up your construction business.
Here's everything you need to know about kickstarting your business with construction equipment loans:
Figuring Out Your Construction Business Credit Profile and Financials to Kickstart the Construction Equipment Financing Process
The first thing you need to do when considering construction equipment loans for your business is to learn and understand what your financials are for yourself and your business.
There are a few things that construction equipment finance companies are going to look at when considering your eligibility for construction equipment loans.
These eligibility factors are:
Credit score. Figuring out your credit score is fairly easy with different websites offering credit score services online. The higher your credits core is, the better off you'll look to the construction equipment leasing companies. Although don't rule out heavy equipment financing as an option even if your credit score isn't great. Having a history of 5 Credit grantors over 5 years per credit grantor is how you want your credit report to look. Your paynet score and your D & B score will play a factor in the heavy equipment financing companies decision.


Time in business. The longer you've been in business, the more "secure" you will look to construction business loan companies. Of course, if you're just starting out, then naturally you won't have much (if any) time in business, yet. There are other ways to make up for a lack of business time, so don't rule out construction equipment loans if you're new. Such as:

Prior to starting your new construction company you filed as a sole proprietor or have an old business license showing you were in business prior. This will help you prove more time in business.


Additional Collateral. This is what construction equipment loan places will typically use when your credit score is low, charge offs, bad pay history, collections or financials aren't where we'd prefer. Collateral can come in different forms, such as:



additional equipment owned out right (dozer, backhoe, wheel loader, crane, excavator, paving equipment)
real estate
larger down payment when signing an agreement for construction equipment loans.




Ability to make payments. Regardless of what your financials are like, as long as you are capable of demonstrating that you'll be able to make payments, you'll make it easier for a construction equipment financing company to provide you with the construction equipment loans that you need to operate your business.

Good cash flow in a business is king.

If you can supply all these factors, you'll be on your way to getting a great construction equipment loan.

But…

There's one more step you'll need to take before applying:
Identify What Construction Equipment You Need to Finance
What's the one thing needed before starting any project?
Preparation and research, of course!
The same goes for applying for a construction equipment loan.
Before you can go to a heavy equipment finance company to apply for construction equipment loans, you need to know what you're looking to buy.
Start browsing around to see what kind of construction equipment is available in your area and learn what types of heavy equipment (wheel loaders, backhoe, dozer, etc) you'll actually need to operate a successful construction company in your area.
A good starting point is to look to existing construction companies in your city or in neighboring cities to start getting an idea of what's common.
Once you have an idea of the types of heavy equipment you want for your business, then you can move on to creating a business plan to bring to heavy equipment financing companies.
Creating a Business Plan to Secure Construction Equipment Financing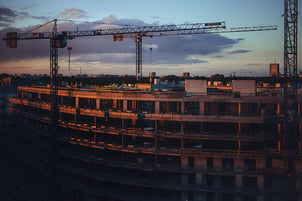 Getting a construction equipment loan up to $150,000 is quite simple.
You'll generally only need:
650 FICO score or higher
But applying for a loan higher than $150,000 is a bit more difficult:
Large construction equipment loans aren't quite as simple. With loans over $150,000, there's a larger process involved,
But remember...
It's all important to helping your business thrive in the beginning, so stick with it.
If you haven't already:
Create a business plan that will act as your business overview and blueprint for success in the coming months and years.
It's typical for start up construction operators to overlook this step if they're just branching out on there own and not starting a large business.
A blueprint of your business can be used by you, your employees, and other individuals or businesses who are going to get involved with your construction company. It's a good practice to have to have, owning a business plan, as it acts as a great summary of everything that's important for your business and its success.
A few things to consider adding to your business plan:
An executive summary/snapshot of your business.
Description of your business.
An analysis of the market.
Type of equipment needed. (wheel loaders, backhoe, dozers, skidsteer, excavator, crane, etc.)
How management and organization is structured.
The product and/or service you provide.
Your marketing and sales plan.
Your specific requests for business funding (i.e., your construction equipment loans that you need).
Projection of all financials in your business. Make sure to highlight your expected revenue growth by monthly, quarterly and yearly.
What you put on your business plan will vary based on:
your specific type of construction services in the construction industry
where you operate
what kind of construction equipment leasing companies your applying too.
Equipment type (forestry equipment, drills, trenchers, aggregate equipment, concrete equipment, construction attachments, asphalt equipment, etc)
Having a business plan will help whoever is financing your construction equipment loans get a better feel for who you are and how serious you are to starting a large successful construction business.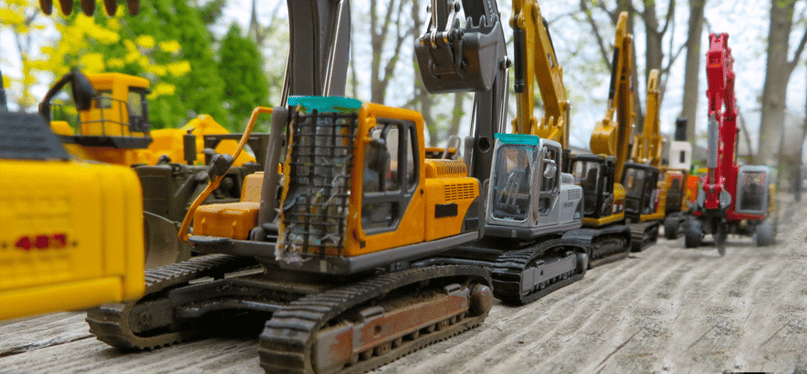 Finding the Right Kind of Construction Equipment Loan
Not all construction equipment loans are created equal!
Some are financially more efficient while others are easier to acquire.
Your business financials, funding goals, and overall patience will dictate which of the construction equipment loans will be right for you.
Some businesses need crane financing which could cost up to a million dollars for large cranes. Some operators just need $50,000 for cat used equipment financing.
So how do you determine exactly that?
In order to determine what construction equipment loan is right for you, you need to know the different construction equipment loan types.
Here are the construction equipment loans you'll most likely be choosing from in the construction industry:
Business Bank and SBA loans. Typically, heavy equipment loans from a traditional bank and/or the Small Business Administration (SBA) is the best option if you have great financials and a lot of time on your hands.

Most businesses are new and might not have great credit (yet) and need funding sooner, rather than having to wait for 2 - 4 months.
Construction equipment loans. We know that you're already interested in construction equipment loans.

But…

Getting a business loan from a private construction equipment financing company outside of a business bank or a construction equipment financing division of a bank is a great way for businesses to get a business loan. If your financials are strong enough you could get a good rate and no early pre-payment penalty on terms up to six years.

Use our construction equipment loan calculator to calculate how much your exact construction equipment loan rates and how much construction equipment you can afford to buy based on your monthly budget.

If you're in it for the long haul, then getting a business loan over an equipment lease will usually be your best choice. It's important to note.

You can take advantage of tax code section 179 and depreciate the entire asset your first year with possible bonus depreciation. When you structure your heavy equipment loans on an equipment financing agreement or on a $1 buy out lease agreement you get section 179 tax benefits. With the passage and signing into law of H.R.1, aka, The Tax Cuts and Jobs Act, the deduction limit for Section 179 increases to $1,000,000 for 2018 and beyond. The limit on construction equipment purchases likewise has increased to $2.5 million.

If you're looking for a more temporary option, the next loan option is for you…
Construction equipment leasing. If your equipment needs are more temporary, then getting a heavy equipment leasing might make more sense to start exploring lease options to purchase and own construction equipment.
Generally, payments are lower on construction equipment leasing terms than equipment financing terms. If you're serious about starting a construction company, then a lease may only be ideal for pieces of equipment that you're not intending to own long term.
You can give the construction equipment back at the end of the equipment lease term and easily upgrade to something new while enjoying the lower monthly payments a construction equipment lease provides. You can structure your construction equipment lease with an open ended buy out to write off 100% of your payments off your taxable income. Construction equipment lenders have different ways of structuring these types of agreements. TRAC Leases and FMV Leases are common structures. Trust Capital will make leasing construction equipment very easy for you to understand.
Business cash advances. These types of business loans give business owners cash and are only good if you have consistent revenues every month. These business loans can be used for payroll, marketing and emergency repairs. It can be a strategy for coming up with the down payment for construction equipment financing required for bad credit construction equipment customers trying to get approved for an equipment lease. If all else fails and you can't secure a construction equipment loan or a construction equipment lease with bad credit. This isn't always applicable and is a costlier option, but it can be a great last resort for some companies. It works by providing you funds and you repay it through a percentage of your future sales.
Using Your Construction Equipment Loans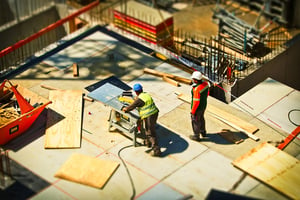 Once you get your business funding pre-qualified from construction equipment leasing companies, it's time to go out, purchase your construction equipment and get to work!
You can get pre approved for heavy equipment financing and then use your approval at an auction. These days you might try to use it at an online auction.
Keep in mind that getting the heavy equipment financing for your construction equipment is only a small part of the equation of starting up a business but choosing the right kind of heavy equipment loans is a great initial step.
If you have questions about construction equipment loans, feel free to reach out to Trust Capital and let us know and we'll be happy to help! Trust Capital will give you a no obligation approval up front, so you can go purchase equipment from any private party, construction equipment auction, construction equipment dealer/manufacturer you choose.
Once you start your business with a construction equipment loan be sure to read about 7 tips for marketing your construction business.
As soon as you're ready to Apply online for a construction equipment loan. Feel free to call Trust Capital and speak with a heavy equipment leasing specialist that can take your application over the phone at 866-458-4777. We will give you a no obligation approval in two hours that you can go use at an auction, dealer or private party seller.